Race Roils Final Senate Contest of 2018 Midterms in Mississippi
(Bloomberg) -- Senator Cindy Hyde-Smith was supposed to cruise to victory in Tuesday's Mississippi runoff election. Then came her remarks that she'd be willing to take a front seat at a "public hanging," drawing charges of racism as she faces a black opponent in a state with an ugly history of lynchings.
The resulting uproar triggered a backlash from corporate donors such as Walmart Inc. and Pfizer Inc., which demanded refunds of campaign contributions, and prompted Republicans to mount a rescue operation that included two rallies by President Donald Trump on Monday in an effort to turn out GOP voters.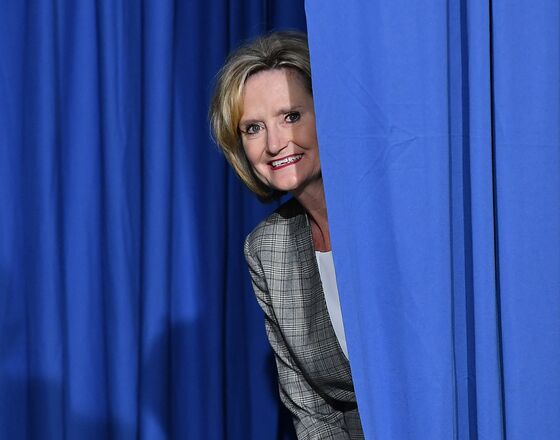 Hyde-Smith is facing a runoff against Democrat Mike Espy after neither was able to get a majority of votes in the midterm election earlier this month. It's the only outstanding Senate race of 2018, and will decide if Republicans have 53 seats in the chamber this January or face another upset in the Deep South.
The contest has drawn comparisons to the Alabama Senate special election last December 2017, when Democrat Doug Jones won a narrow victory against Republican Roy Moore, who was accused by multiple women of sexually assaulting them when they were teenagers.
But in Mississippi, the only state that still has a Confederate symbol on its flag, allegations of racism don't carry the same political toxicity as accusations of sexual impropriety that involve minors. The last Democrat Mississippians sent to the Senate was ardent segregationist John Stennis in 1982 for the last term of his four-decade career.
"Mississippi is a tougher terrain than Alabama. It's more rural and it's less urban, less suburban, and more conservative. This state is more polarized than Alabama was," said Joe Trippi, Espy's campaign strategist, who also filled that position for Jones. "That doesn't mean that we can't win here, it does mean we have to have a lot of things go right and if we do win it's going be by thousands of votes, not numbers of points."
In the four-candidate election on Nov. 6, Hyde-Smith got 41.5 percent of the vote to Espy's 40.6 percent. However, a second Republican candidate, Chris McDaniel, drew 16.4 percent, an illustration of the challenge for the Democrat.
Trippi said Espy's formula for victory is a big Democratic turnout, particularly African-Americans, and winning about 25 percent of white voters by peeling off some Republicans who are younger, female or college-educated. But Espy won just 15 percent of white voters on Election Day, while the two Republicans in the race won a combined 84 percent of white voters.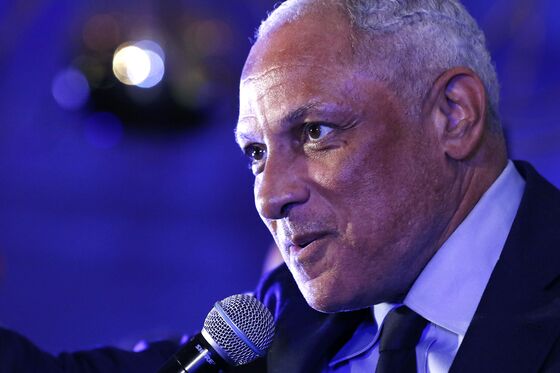 "Look, it's Mississippi — probably the most conservative state in the country. It's an uphill fight," Trippi said. "This is all going to be turnout. Our vote is going to come out. The question is: will hers?"
After initially refusing to back down from her remarks, and as the national firestorm grew, she sought to limit the damage by offering a qualified apology during a recent debate to those who were offended, while accusing her opponents of twisting her words. She said she was reacting to a rancher standing next to her who had invited her to a speaking engagement.
"Cindy is so important, so respected. But if we win tomorrow, we'll be at 53-47," Trump said in Tupelo, Mississippi, at the first rally on Monday. "This election's about judges, jobs, borders, protecting opportunities for our children."
Earlier Monday, as he was leaving for Mississippi, the president said Hyde-Smith "felt very badly" about the reaction to her remarks.
In a television ad, Espy's campaign urged voters to reject a candidate it argues would give Mississippi a bad image.
"We can't afford a senator who embarrasses us and reinforces the stereotypes we've worked so hard to overcome," the ad says.
Jonathan Winburn, a professor of U.S. politics and public policy at the University of Mississippi, said he expects the race to be "more competitive than the norm in Mississippi," but said he's not convinced the Hyde-Smith controversy will be enough to deliver her the same fate as Moore.
"I just don't think it rises to the same level," Winburn said. "The Roy Moore case was exceptional and had all these continuing allegations of sexual impropriety. And while these racial comments are controversial and have definitely turned some people from Hyde-Smith, I don't know that it's enough to get the larger number of white voters necessary for Espy."
GOP groups including the National Republican Senatorial Committee and the Mississippi Victory Fund have poured resources into the race to bolster Hyde-Smith's campaign.
Hyde-Smith, a former state agriculture and commerce commissioner who was appointed to succeed ailing GOP Senator Thad Cochran, is portraying the race as a battle of ideologies in her final appeal to voters in the ruby-red state. "On Tuesday, you can reject Espy's liberal policies by voting for Cindy Hyde-Smith — the Republican who stands strong for our conservative values," her campaign said Monday a statement.
Espy has served in Congress and was a secretary of Agriculture under President Bill Clinton. His campaign spokesman, Danny Blanton, said Hyde-Smith's "toxic comments are scaring away the kind of investments our state needs to move forward" and costing Mississippi jobs. "This is the number one issue at the ballot box on Tuesday," he added. "Mike Espy is the clear choice when it comes to showing the nation who Mississippi really is."