Raab Letter Sparks U.K. Tory Anger Over 'Meaningful' Brexit Vote
(Bloomberg) -- Brexit Secretary Dominic Raab angered backbench lawmakers in his own Conservative Party with a letter suggesting that the vote Parliament is given on Prime Minister Theresa May's eventual Brexit deal will be a choice between that and a no-deal Brexit.
Raab's letter -- and a six-page memorandum outlining the procedure for the vote -- were published online Wednesday by the House of Commons Procedure Committee. In it, he says "anything other than a straightforward approval of the deal will bring with it huge uncertainty." He urged the committee to ensure the vote doesn't undermine the intention of the European Union (Withdrawal) Act.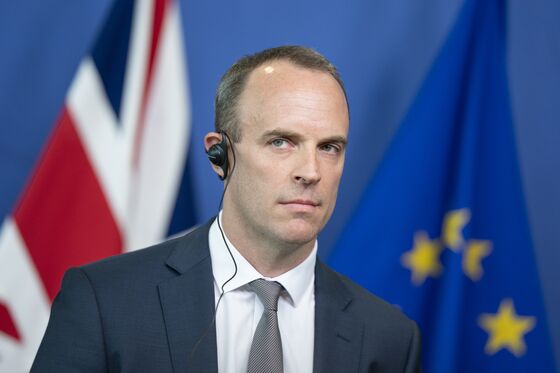 "Once the deal is presented to Parliament, the procedure through which it is voted upon must allow for an unequivocal decision, and one which is clear to the British public," Raab wrote. In the accompanying memorandum, he presents a procedural option that would allow the government's motion to be voted on before any amendments are made. If approved, there would be no chance to then amend it because "the House will have expressed its will."
With Brexit talks still deadlocked in Brussels, where May addressed fellow leaders on Wednesday, Raab's intervention laid bare divisions in the premier's party back at home. It was interpreted by both pro-EU Conservatives and the opposition Labour Party as an attempt to undermine Parliamentary authority.
"This appears to be an attempt by the Executive to frustrate our sovereign Parliament," former Education Secretary Nicky Morgan wrote Twitter. Another Tory, Sarah Wollaston, tweeted: "Given Govt claims restoring'control of our laws' to Parliament is a red line #Brexit priority, MPs won't put up with an underhand attempt to block the #MeaningfulVote they repeatedly promised on the final deal."
Lawmakers secured the so-called meaningful vote on May's Brexit deal after a rebellion last December by 11 Tory lawmakers who, along with Labour and other opposition parties, argued the House of Commons should have a say in accepting whatever Brexit deal May eventually secures, with the possibility of sending her back to the negotiating table if it rejects it. Labour's finance spokesman, John McDonnell, said in an ITV interview late Wednesday that presenting the vote as May's deal or no deal wouldn't wash with lawmakers.
"That is not acceptable and Parliament will not accept it," McDonnell said. "We're not going to let one government try and fix us into a situation where they undermine the sovereignty of Parliament on this one issue just to save their own skins, of course we're not."
Tory Party Deputy Chairman James Cleverly told the same program that the government wasn't trying to block a meaningful vote, but added that "votes are always binary: it is the thing that is in front of you, or not that." He said it wasn't "credible" for lawmakers to send May back to the EU to renegotiate a deal that's taken two years to reach.