Quebec Voters Sour on Liberal 'Austerity' Ahead of Fall Election
(Bloomberg) -- In Quebec at least, fiscal discipline doesn't buy you love.
Having run surpluses for three straight years, cut taxes and presided over a booming economy during his first term in power, Premier Philippe Couillard finds himself trailing in popular support before a fall election in the French-speaking Canadian province. Seven out of 10 respondents in a recent poll said they want a change in government.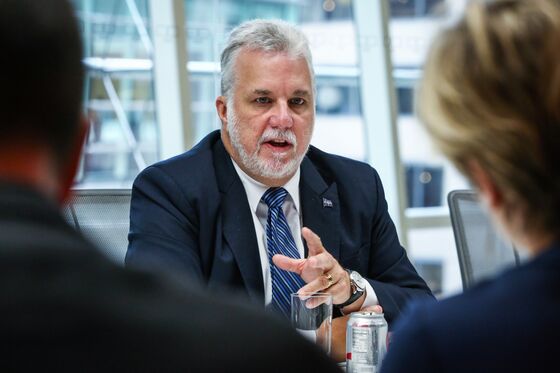 The trend highlights the challenge facing Couillard, a former health minister whose Liberal Party has been in power almost continuously for 15 years, with the exception of an 18-month interlude between 2012 and 2014. While the Liberals have won praise from bond investors and ratings agencies for their rigorous expense management, the strategy has left many Quebeckers disillusioned with overflowing emergency wards and decrepit public schools.
"People are in a sour mood," Harold Chorney, an economist and political science professor at Montreal's Concordia University, said in a telephone interview. "Politically, austerity is not a winner. Yes, unemployment has fallen in Quebec but young people tell me all the time they are not too happy about not having job opportunities outside of minimum wage jobs. Healthcare too is a problem -- people complain bitterly about wait times to see a doctor."
Couillard's Liberals would have lost to the upstart Coalition Avenir Quebec had an election been held this month, according to a Leger poll published May 12 by Le Journal de Montreal and Le Devoir newspapers.
Thirty-five percent of respondents would have voted for the seven-year-old CAQ, compared with 26 percent for the Liberals and 22 percent for the separatist Parti Quebecois, Leger said. That's the lowest score for the Liberals since Couillard won a first term as premier in April 2014. Even more ominous for the incumbent party: 69 percent of those polled want a change in government.
"Normally when the economy is going well, you bring back the government for another term, but after 15 years of Liberal rule, there is a weariness among the population," Jean-Marc Leger, president of the research firm that bears his name, said in a telephone interview. "Today, the most probable hypothesis is that the CAQ will form a minority government."
In recent weeks, several high-profile Liberal ministers have said they won't seek re-election. They include Public Security Minister Martin Coiteux, Justice Minister Stephanie Vallee, Tourism Minister Julie Boulet and Immigration Minister David Heurtel.
Finance Minister Carlos Leitao, who does plan to run in the Oct. 1 vote, brushed off concern about recent polls. "I work on what I can control. I manage public finances in a responsible and efficient way," he said. "I don't think there is much appetite in Quebec to return to a structural deficit story, with a rapid growth in the debt."
This is the first time Quebec has had fixed-date elections. Under the previous system, the government held the right to call an election at any time, putting the opposition at a disadvantage. "In the past, the premier would pick the optimal moment to call an election," Leger said. "A fixed-date election is better for democracy, but not that good for the governing party."
As the election nears, Couillard has been trying to reverse months of declining popularity by offering tax breaks and increased spending on health care, education and families. Quebec residents are among the most heavily taxed in North America.
The province's economy is the strongest it's been in years, with the April unemployment rate of 5.4 percent hovering near all-time lows and companies desperate for workers in some industries. Joblessness across Canada averaged 5.8 percent by comparison.
Paced by robust consumer spending and real-estate gains, gross domestic product in Quebec expanded 3 percent in 2017 and will probably rise 2.1 percent this year, according to Leitao's budget released in March. The province's debt is rated Aa2 by Moody's Investors Service and AA- by S&P Global Ratings. S&P upgraded Quebec from A+ last year, marking the first time it has enjoyed a better standing than neighboring Ontario.
To be sure, even a Liberal loss is unlikely to alter the province's fiscal course. CAQ Leader Francois Legault, a former executive at airline and hotel operator Transat A.T. Inc. who's been branded a "populist" for his calls to better control immigration, generally expresses a desire to cut taxes and balance the budget while reinvesting in healthcare and education.
"The danger for the CAQ now is that they have become too popular too soon," Leger said. "You want to enter the election on an upswing."
The pollster, who has been surveying Quebeckers for more than 30 years, won't rule out a return to power of the incumbents, whom he calls the province's "natural governing party."
"Never count the Liberals out," he said. "If you get a move of three or four percentage points from the CAQ to the Liberals, the discussion changes completely. It's still an open election."