Putin Warns of Security Risks as Russia Puts On Show of Power
(Bloomberg) -- President Vladimir Putin called for efforts to strengthen international security amid rising tensions with the U.S. over a potential new arms race, as Russia showed off its military might at the annual Victory Day parade commemorating the end of World War II.
"Collective resistance to the bearers of deadly ideas is crucial once again," Putin said Thursday on Moscow's Red Square, where the Kremlin said more than 13,000 troops and 130 units of modern weapons including tanks and nuclear-missile forces paraded past the president. "We call on all countries to realize our shared responsibility for creating an effective, balanced security system."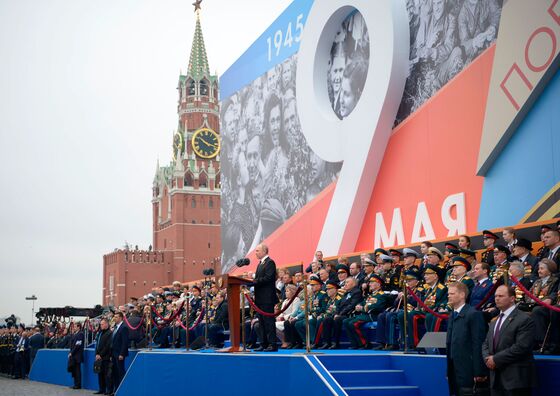 Russia has "done everything and will continue to do everything necessary to ensure the high combat capability of our armed forces, the most modern defense potential," Putin said.
The parade took place after President Donald Trump pulled out of the 1987 Intermediate-Range Nuclear Forces treaty in February, prompting Putin to warn that Russia will aim new weapons at the U.S. if Washington deploys missiles banned by the accord. There have also been no talks so far on extending the other key nuclear deal between the U.S. and Russia, the New START treaty, that's due to expire in 2021. Putin showed off a range of new "invincible" nuclear weapons in a speech to lawmakers last year, warning that Russia would seek to maintain strategic parity.
Still, after spending billions on a massive decade-long program of rearmament, Russia cut its defense budget last year amid belt-tightening because of a stagnant economy. It slipped out of the top five nations for defense spending last year for the first time since 2006, ranking sixth, according to a report last month by the Stockholm International Peace Research Institute.
Russia and the U.S. are also at odds over Iran after Trump withdrew from the international agreement restricting the Islamic Republic's nuclear program. The U.S. said last week that it's deploying an aircraft carrier strike group and bomber force to the Middle East to send an "unmistakable message" to Iran, citing "a number of troubling and escalatory indications and warnings" it suggested were linked to Tehran.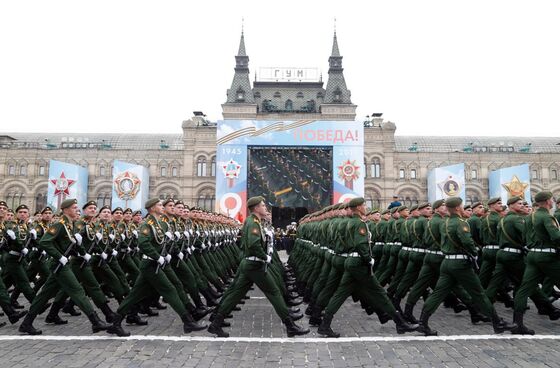 U.S. Secretary of State Michael Pompeo is visiting Russia's Sochi next week for talks with Foreign Minister Sergei Lavrov and may meet Putin, Kremlin spokesman Dmitry Peskov said Tuesday.
There was a notable absence of foreign leaders at this year's Victory Day event, with only former Kazakh President Nursultan Nazarbayev joining Putin on Red Square.
Still, the day is a source of pride for many ordinary Russians who mark what's known as the Great Patriotic War by honoring the memory of family members among the millions of Soviet citizens killed during the defeat of Nazi Germany. Almost half of Russians planned to attend May 9 military parades or to take part in ceremonies organized in towns and cities across the country, according to a May 3 poll of 1,600 people conducted by the state-run VTsIOM research organization.