Bolton Says Trump and Putin Will Meet in Paris Next Month
(Bloomberg) -- Vladimir Putin and U.S. President Donald Trump will meet on the sidelines of a World War I commemoration in Paris next month, White House National Security Adviser John Bolton said after a 90-minute meeting with the Russian leader in Moscow.
The two leaders plan a "normal, bilateral meeting" on Nov. 11, Bolton told reporters Tuesday. It would be the first such encounter between the two presidents since July, when they met in Helsinki. That meeting was marked by Trump's apparent acceptance of Russian statements that Moscow didn't meddle in the 2016 election, a view quickly refuted by top U.S. intelligence officials and lawmakers from both parties.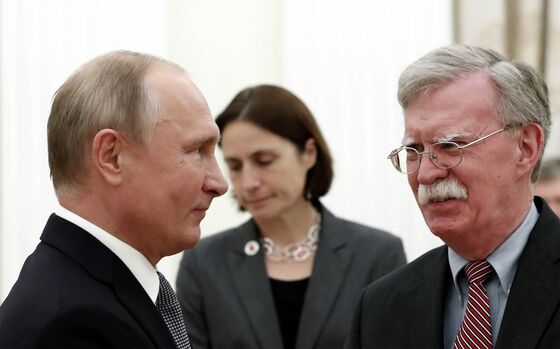 The new agreement to meet couldn't mask continuing tensions between the former Cold War foes. Bolton reiterated Trump's vow to formally withdraw from the 1987 Intermediate-Range Nuclear Forces Treaty "in due course," saying Russian violations of the agreement are "long and deep." Russia disputes that charge, and Putin started off the meeting saying that U.S. sanctions and other actions against his country are "absolutely unprovoked."
Bolton said he raised the issue of Russian meddling in the 2016 election, adding that while evidence suggests the interference didn't change the final outcome, it taught Moscow a lesson: "don't mess with American elections." Putin has repeatedly denied those charges and a Russian official said the issue was raised but not discussed.
Bolton pointed to the civil war in Syria as one area where Russia and the U.S. can find common ground, though the two sides have struggled to translate that into action on the ground. In a sign that both sides are still seeking a way to improve ties, Bolton said previously suspended meetings between lower-level officials on counter-narcotics and counter-terrorism will soon resume.
"Despite our differences, which exist because of our different national interests, it's still important to work in areas where there is a possibility of mutual cooperation," Bolton said.
Bolton reiterated Trump's contention that the INF is an outdated agreement that doesn't address a rising Chinese military threat. And he cited Russia's alleged testing and deployment of weapons in violation of the agreement. Trump suggested that the U.S. withdrawal would be followed by a nuclear arms buildup.
"We have more money than anybody else, by far. We'll build it up," Trump said after being asked late Monday if he was prepared to build up the U.S.'s nuclear arsenal. "Until they come to their senses. When they do, then we'll all be smart and we'll all stop."
While Trump has been criticized at home for his reluctance to criticize Putin or blame him for meddling in the 2016 election, the U.S. president has taken a confrontational stance on the prospect of a new arms race.
"It's a threat to whoever you want," he said in his remarks Monday, when asked if it was a threat to Putin. "And it includes China, and it includes Russia, and it includes anybody else that wants to play that game. You can't do that. You can't play that game on me."
Trump's decision follows a broader push within his administration to leave international compacts large and small, including the Paris climate accord, the 2015 Iran nuclear deal and the Universal Postal Union treaty.
The INF has been hailed as a cornerstone of nonproliferation from the Cold War, helping eliminate more than 2,000 ground-based Soviet and U.S. missiles on the European continent. Under the 1987 agreement, the U.S. and the former Soviet Union committed to eliminate all ground-based nuclear and conventional missiles with a range 310 to 3,420 miles (500 to 5,550 kilometers.) Those close-up weapons were seen as placing decision-makers on a hair trigger to decide whether to retaliate against a perceived attack.
The U.S. plans to leave the INF treaty follows increased sanctions on Russia to punish the Kremlin for its 2016 election interference and for the attempted nerve-agent assassination of a former Russian spy in England earlier this year. Bolton said the administration hasn't decided on a second wave of sanctions for Russia's chemical weapons use scheduled for November.
"It's sometimes surprising to see how the United States makes absolutely unprovoked steps with regard to Russia," Putin told Bolton through a translator. "We practically haven't reacted to a single one of your steps but they just go on and on."
In another sign of the tensions, at the start of their meeting, the Russian leader asked Bolton if the eagle on the seal of the U.S., which clutches olive branches in one claw and arrows in the other, "has eaten all the olives, leaving only arrows?"
Bolton responded: "I didn't bring any more olives."
"I thought so," Putin said.