Putin Says 'Tens' of Covid-19 Cases in His Kremlin Entourage
(Bloomberg) -- An outbreak of Covid-19 primarily among staffers has sickened dozens of people working close to Vladimir Putin, the Russian president said Thursday, highlighting the scale of the spread in one of the country's most carefully guarded areas.
"It's not one or two people but tens of people," Putin told a televised video link with other leaders in the Collective Security Treaty Organization. "I will have to observe self-isolation for several days."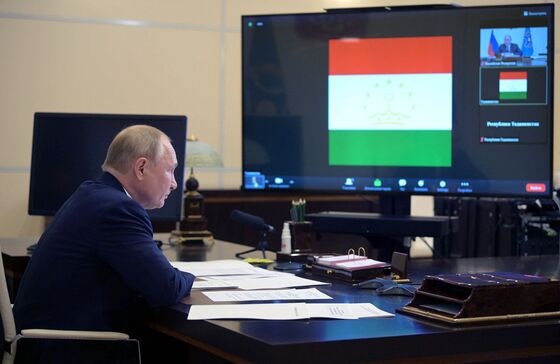 Kremlin spokesman Dmitry Peskov said later Putin will remain in self-isolation for "at least a week" and is likely to use online voting to participate in this weekend's parliamentary elections. Putin is working on his typical schedule, Peskov said.
Putin, 68, said Tuesday he'd been in close contact for a full day with an aide who was later diagnosed with Covid-19, and thus was going into self-isolation. Peskov said Thursday that the outbreak around the president took place this month and mainly affected a range of staffers including security workers. He said he wasn't aware of any severe cases, noting that the vast majority of staff were vaccinated.
Putin received the Russian Sputnik V vaccine earlier this year. He said the aide who was infected also had been inoculated but got sick a few days after getting a booster shot. 
Since the pandemic began, the Russian leader has taken strict precautions to avoid becoming infected, requiring staffers and visitors quarantine for weeks before meeting him in person. He's done more in-person public events in recent months since getting the vaccine, however.