Putin's Party Suffers Rare Losses as Russian Protest Votes Grow
(Bloomberg) -- President Vladimir Putin's United Russia party lost governorships in three regions as the fallout from popular anger over a plan to boost the retirement age makes usually tightly controlled elections more competitive.
Candidates from the populist Liberal Democratic Party of Russia beat United Russia incumbents in the Khabarovsk and Vladimir regions, according to the Central Election Commission. Another United Russia candidate withdrew his name from the run-off ballot in Khakassia over the weekend after coming in second in the initial round of voting.
While United Russia won in 18 of 22 gubernatorial races held this month, losses for the ruling party are unusual in Russia's heavily choreographed elections. They came as Putin's approval rating slumped to the lowest in more than a decade after the government announced a plan to raise the pension age by five years for men and women, to 65 and 60 respectively. The unpopular reforms also led to protests earlier this month, with over 1,000 arrested in nearly 40 cities across Russia.
"This is unequivocally a protest vote," Alexander Kynev, a specialist on regional politics at the Higher School of Economics in Moscow, said. "People are unhappy with the Kremlin's policy and they're ready to vote for anyone who isn't a representative of United Russia."
Though it benefited from popular discontent, the LDPR is routinely loyal to the Kremlin and the electoral losses aren't likely to cause major changes in policy. But they are sign of the growing political challenge for Putin and his allies.
"On the one hand, this was a protest vote, but I wouldn't directly link it to United Russia," Alexei Makarkin, deputy director of the Moscow-based Center for Political Technologies, said. "They had a good showing at elections on a regional level for the most part."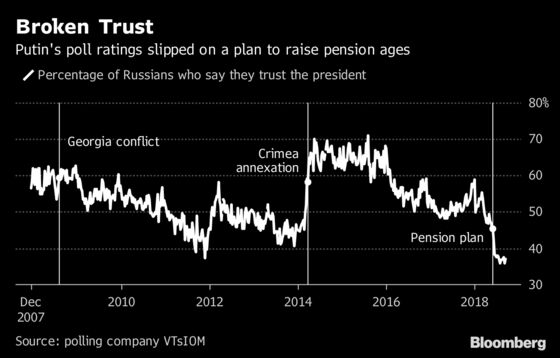 For the Kremlin, Sunday's losses were "unexpected to a certain extent" but the authorities were pleased to see peaceful and competitive elections, spokesman Dmitry Peskov said.
LDPR's Vladimir Sipyagin won the election in Vladimir in central Russia, unseating United Russia's Svetlana Orlova. In the Far Eastern region of Khabarovsk, Sergey Furgal beat acting governor Vyacheslav Shport.
The acting governor of Khakassia in Siberia, Viktor Zimin, withdrew his candidacy from the second round of election for head of the region after losing to Communist party candidate in the previous round. In the Far East's Primorye region, the results of a runoff were invalidated after officials found irregularities in a victory by United Russia member and acting Governor Andrey Tarasenko.
In a sign that the authorities still maintain a firm grip over how far protests can go, Russian opposition leader Alexei Navalny was detained Monday, his spokeswoman Kira Yarmysh announced on Twitter. He was charged with violating protest laws moments after being released from jail following a 30-day sentence on the same charge.