Tank Putin Praised May Be Too Expensive for Russia's Military
(Bloomberg) -- Russia's new flagship T-14 Armata battle tank, praised by President Vladimir Putin as "noticeably superior to its foreign peers," may be too costly for its military.
Armatas are "rather expensive" and there's no need to "flood the army" with them when the older T-72 combat tank remains in huge demand and is more effective than U.S. and European rivals, said Deputy Prime Minister Yury Borisov, who's responsible for the defense industry, the RIA Novosti news service reported on Monday. The initial model of the T-72 was produced by the Soviet Union in the 1970s.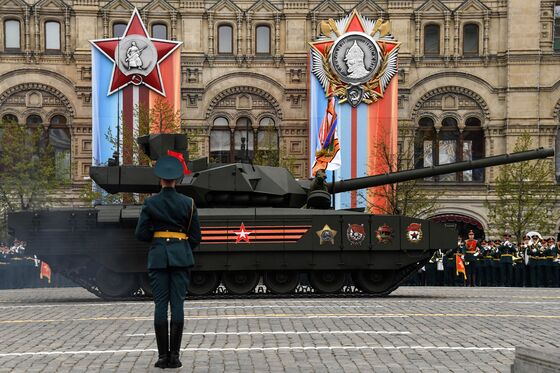 Russia's Defense Ministry has been scaling back plans to obtain the Armata, which made an unhappy debut in 2015 when a tank broke down at the annual May 9 Victory Day parade on Red Square. Putin said in March that he's sat inside the tank, which has an unmanned, remote-controlled turret while the three-man crew is protected by a separate armored capsule.
The manufacturer Uralvagonzavod's then chief executive officer, Oleg Sienko, said in 2015 that the ministry would get as many as 2,300 Armatas before 2020, according to the Tass news service. Last year, however, Borisov said the ministry had a contract for just 100 of the battle tanks by that date, Tass reported.
Putin told a meeting of defense officials in May that Russia must continue to provide its military with the latest weapons and equipment, including the Armata. After a decade of massive investment to modernize the armed forces, however, Russia's military budget was cut to 2.77 trillion rubles ($44.4 billion) this year from 3.05 trillion rubles in 2017 amid belt-tightening as the economy struggled to emerge from the longest recession this century.
"The new tank is still passing through a test phase, while the current geopolitical situation requires a rapid answer to the threat from NATO," said Igor Korotchenko, head of the Moscow-based Centre for Analysis of World Arms Trade. "Buying a modernized T-72 solves this."