Japan Rejects Putin's Offer to Abe of Peace Treaty by Year-End
(Bloomberg) -- Japan rejected a surprise offer by Russian President Vladimir Putin to Prime Minister Shinzo Abe to conclude a peace treaty between the two countries by the end of the year.
While the two leaders have held "frank talks" on a peace agreement at regular summits to try to resolve a territorial dispute over four islands, "there is absolutely no change to our country's perspective of resolving the problem of rights over the Northern Territories before sealing a peace treaty," Japanese Chief Cabinet Secretary Yoshihide Suga said in Tokyo on Wednesday.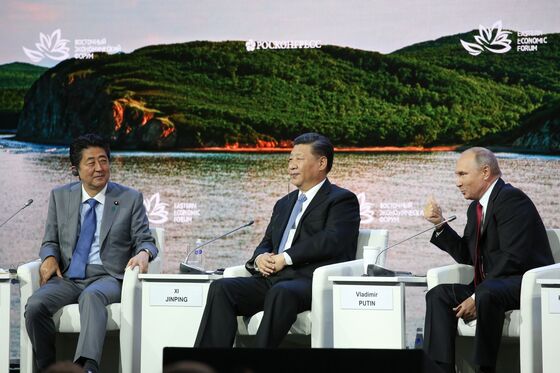 "We have been negotiating for 70 years. Shinzo said let's change our approach," Putin earlier told the audience at the Eastern Economic Forum in Vladivostok as Abe sat on the stage with him. "So here's the idea I came up with -- let's conclude a peace treaty not now, but before the end of the year without any preconditions."
Abe didn't respond to the invitation, which drew applause at the forum. Since he came to power in 2012, he and Putin have met 22 times to try to make progress in the dispute over the sovereignty of four islands -- known as the Northern Territories in Japan and the Southern Kurils in Russia. That's prevented them signing an official peace treaty to end World War II for seven decades.
Putin urged patience in the search for a solution to the issue when the two leaders met at the Kremlin in May, disappointing Abe who's waged a charm offensive to try to reach a deal. He's eager for an agreement with Russia partly to counterbalance China's growing economic and military clout in the region, while Putin has shown little sign that he's in a hurry to resolve the dispute.
The Soviet Union seized the islands at the end of the war, expelling all 17,000 Japanese residents. Japan's official position is that the islands -- home to rich fishing grounds -- are an inherent part of its territory and are under illegal occupation. Russia insists it owns the islands.