Navalny's Grudge Match With Russian General Takes New Turn
(Bloomberg) -- Russian opposition leader Alexei Navalny, who was released after 50 days in jail on Monday, made up for lost time in his feud with the head of Russia's National Guard.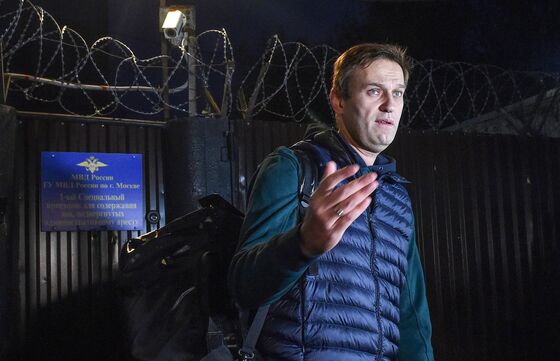 In response to a bizarre call for a duel made by General Viktor Zolotov while Navalny was behind bars last month, the 42-year-old anti-corruption crusader answered using his favored weapon, YouTube, where he has an army of 2.2 million followers.
In the sarcastic, 16-minute video published Thursday, Navalny compared Zolotov to a Sacha Baron Cohen parody of a tinpot dictator and alleged Zolotov's immediate family has amassed a real estate portfolio worth 3.5 billion rubles ($53 million) using corrupt schemes.
"As for the challenge to a duel, thank you for that more than anything else," Navalny said, addressing Zolotov directly. "It's a gift not just to me, but to the entire country, because now you can't wriggle away" from a live debate on national television.
Navalny uses social media like YouTube and Twitter to reach his audience because he says it's impossible to get on the state-backed channels that dominate Russia's airwaves. His latest act of bravado comes as he seeks to take advantage of President Vladimir Putin's falling ratings in the wake of an unpopular decision to raise the retirement age. Trust in the president fell to 39 percent in September, from 48 percent in June, according to a survey by the Levada Center.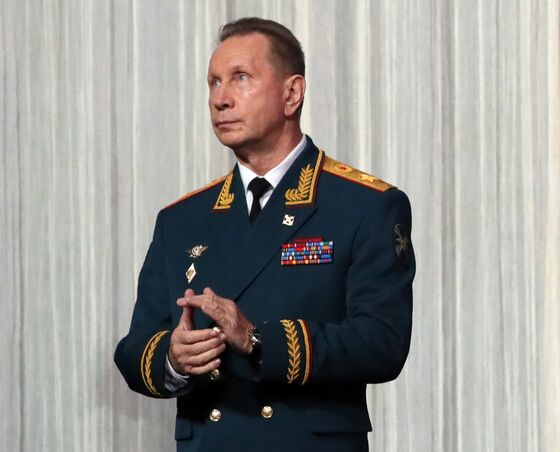 Zolotov, who once headed Putin's personal bodyguard detail, is a daunting opponent. The general heads a sprawling domestic army of more than 300,000 and threatened to beat the opposition leader to a pulp in a matter of minutes. The challenge, Zolotov said, was the result of Navalny's previous allegations against him and his family, which he denied.
Zolotov said he won't participate in a debate and wants a court to decide if Navalny's allegations are true, Tass reported Friday. "I invited him to something different," Zolotov told reporters in Tashkent, Uzbekistan, according to the Russian news service.
Opposition members are frequently subject to violence and intimidation. U.S. President Donald Trump said in an interview with 60 Minutes last weekend that Putin "probably" is responsible for assassinations and poisonings. Boris Nemtsov, a former deputy premier who helped lead anti-Putin protests, was gunned down within sight of the Kremlin in 2015.
A severed goat's head and a funeral wreath were sent this week to the newsroom of Novaya Gazeta, along with threats against its journalist Denis Korotkov, who has reported extensively on Russia's use of mercenaries. Two investigative reporters who worked for Novaya Gazeta, Anna Politkovskaya and Natalia Estemirova, were shot dead in 2006 and 2009.