Pushback Against Orban Solidifies Among His Allies in EU's North
(Bloomberg) -- International opposition to Hungarian Prime Minister Viktor Orban hardened as Nordic and Baltic members of his political family presented a united front against his government's campaign targeting European leaders, saying he needs to change tack or leave the group.
Orban's Fidesz party is part of the European People's Party, the biggest force in the trading bloc's parliament. While the EPP has been openly critical of Orban, with most of its lawmakers backing a European Union probe into alleged rule-of-law violations in Hungary, the group has rejected calls to expel his party before the European Parliament election in May.
Nordic and Baltic leaders of parties that belong to EPP now went further, signaling that he needs to tone down his rhetoric or find a new home for Fidesz. Finnish Finance Minister Petteri Orpo signaled that a "good discussion" with Orban at the EPP summit last year failed to bring a lasting result, as demonstrated by a propaganda campaign targeting European Commission President Jean-Claude Juncker.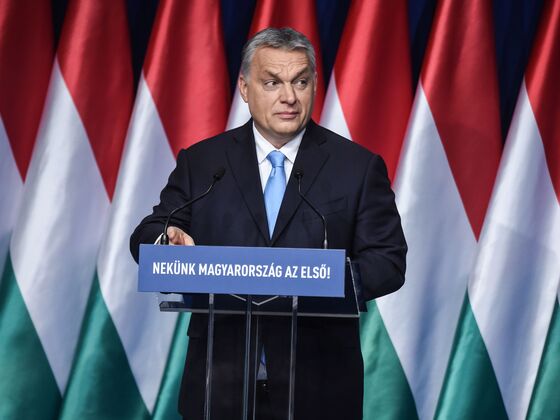 "We send a clear message to Fidesz that they have to change their politics," Orpo told reporters on Tuesday at a gathering of the Nordic and Baltic EPP members in Helsinki. "We are considering what could be the next steps to evaluate their membership in the EPP. We are concerned about what has happened."
Orban has rankled EU leaders in the past eight years, with a drive to build what he describes as an illiberal state. The Hungarian government this month started a billboard campaign depicting Juncker, who was elected head of the EU's executive as a candidate of the EPP, as doing the bidding of Hungarian-born, U.S. liberal donor and billionaire investor George Soros, a frequent foil in its anti-immigration rhetoric.
Orban has defended the posters as being "based on facts," which the cabinet says intends to inform the public of the "EU's plans."
The campaign also drew a sharp rebuke from German Chancellor Angela Merkel's Christian Democrats, also part of the EPP. Annegret Kramp-Karrenbauer, who succeeded Merkel as leader of Germany's CDU party, said the goal of a united Europe growing together is endangered by the Hungarian government's campaign. The CDU may break off contact with Fidesz if "it's no longer possible to come to an understanding," Kramp-Karrenbauer, told Der Spiegel magazine.
"I think it went too far," Finland's Orpo said of the billboard campaign. His comments were echoed by Gabrielius Landsbergis, leader of the Lithuanian opposition party Homeland Union, and Ulf Kristersson, head of the opposition Moderate Party in Sweden. Kristersson reinforced the message that Fidesz has to change or "they have themselves to make the decision to leave the EPP."
Orban, undeterred, plans to continue the campaign with a letter to Hungarian voters on his allegations about Juncker, the Budapest-based news website HVG reported Tuesday, citing Zoltan Kovacs, a spokesman for the government. In it, the government will say that the European Commission's response to the Hungarian poster campaign has amounted to an admission that the posters' allegations were right, according to HVG.
"It's important to send a clear message from the Nordics and Baltics," Landsbergis told reporters. "I don't want to find EPP in the position where it would be complacent with populist rhetoric."