Virus Data Fiasco Fuels Fury Against Bolsonaro in Brazil
(Bloomberg) -- President Jair Bolsonaro, battling to reopen the Brazilian economy even as the coronavirus pandemic shows no signs of easing, is facing protests and allegations of an attempted data cover-up to hide the true toll of the disease.
State officials and Brazil's biggest news outlets have joined efforts to publish their own figures after the government changed the way it accounts for and releases information on cases and deaths from Covid-19. Meanwhile, congressional leaders mulled passing a bill forcing the government to be more transparent.
Doubts about the quality of official numbers grew on Friday when the health ministry pulled the entire historic database for Covid-19 from its website. It then announced it would only publish new cases and deaths recorded over the past 24 hours, omitting fatalities from previous days that hadn't been immediately diagnosed as being caused by the virus.
Amid growing backlash, the ministry on Sunday resumed the publication of historical data using a new accounting methodology, but questions remained. Later that day, it released two different death tolls for the previous 24 hours: 1,382 and, later, 525. Only on Monday it explained that it had corrected the data to account for "duplications."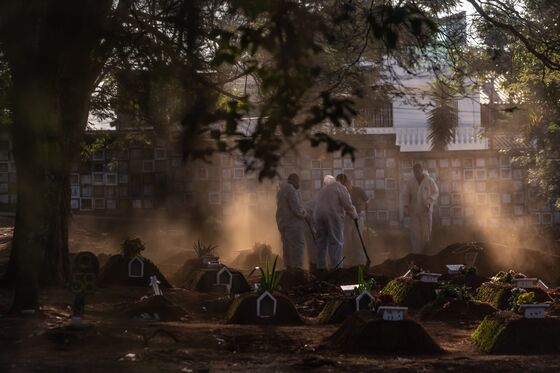 "It is very important that we are able to rely on our partners in Brazil to provide that information to us, but more importantly to people," World Health Organization Executive Director Mike Ryan told reporters when asked whether the WHO trusts Brazil's figures. "Therefore we hope and we trust that any confusions that may exist at the moment can be resolved."
Bolsonaro's press office justified the ministry's decision to change the way data are counted by saying total deaths and cases don't provide a picture of the moment, because they "don't show that most of the population no longer suffers from the illness."
But experts including Pedro Hallal, an epidemiologist and dean of the University of Pelotas, said the government's strategy is to create confusion about the real numbers. "It's another smoke screen created by the government, like chloroquine, to confuse people and to avoid discussing the outcome of the pandemic in Brazil."
Bolsonaro's office didn't immediately reply to a request for comment on accusations of data cover-up.
By any measure, as of Monday Brazil has more than 707,000 cases and over 37,000 deaths from Covid-19. Latin America's largest economy trails only the U.S. and the U.K. in number of fatalities, and just the U.S. in cases.
Bolsonaro, a former Army captain who has described the coronavirus as just a "little flu," has become one of the biggest critics of quarantine measures imposed by state governors against the pandemic. He continues to call on Brazilians to resume work to avoid an economic catastrophe he considers worse than the virus. After two health ministers left their post since the beginning of the crisis, he put a military general in charge of the ministry.
"The health ministry is suffering a military occupation," Luiz Henrique Mandetta, a former health minister who was fired by Bolsonaro in April, told Globonews TV on Sunday. He had previously compared the government's move to a data blackout during a meningitis epidemic in the era of the nation's military regime.
Bolsonaro has increasingly relied on members of the armed forces to govern, and military officials currently hold ten of 22 cabinet positions, including the health ministry.
In reaction to the federal government's move, health secretaries from all states -- the primary source for coronavirus data -- have said they'll release a compilation of their own numbers for Covid-19. On Monday, the states' tabulation matched that of the federal government.
Lower house leaders agreed to vote as soon as this week on a bill that would obligate the health ministry to release detailed Covid-19 figures, including categorizations by gender, age and ethnicity. And public prosecutors started investigating the new procedures adopted by the health ministry, which came under heavy criticism by health experts.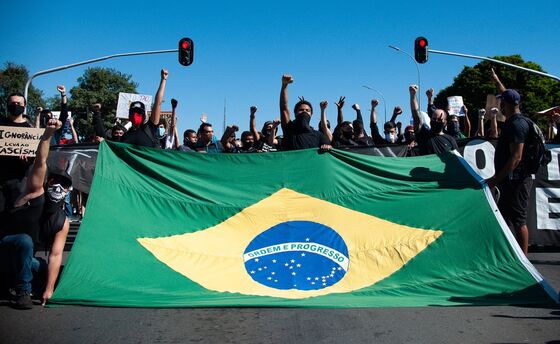 "The numbers are a cover-up attempt to say mortality isn't that high so you can reopen the economy faster," Sergio Cimerman, ex-president of the Brazilian Association of Infectology, said in an interview.
Bolsonaro's handling of the pandemic was part of the list of grievances of protesters who marched against his government in many Brazilian cities on Sunday.
Carrying signs in defense of democracy and against racism, thousands gathered in Brazil's largest cities, many encouraged by U.S. demonstrations that followed the death of George Floyd. Pro-Bolsonaro marches also took place in some cities, in smaller numbers.
In Sao Paulo, protesters paid tribute to Floyd and Marielle Franco, a Brazilian councilwoman and black activist who was murdered two years ago in Rio de Janeiro. In Brasilia, Bolsonaro greeted supporters in front of the presidential palace, but unlike previous weekends, didn't join those who rallied in his defense and against quarantines imposed by state governors.