Protesters Block Roads After Police Halt Rally: Hong Kong Update
(Bloomberg) -- Hong Kong protesters blocked downtown roads after police abruptly halted a mass rally following some clashes with demonstrators during a New Year's Day march to pressure the Beijing-backed government.
Protesters began building road blocks in the busy areas of Wan Chai and Central, using materials such as a Mahjong table, umbrellas and bricks. The sudden escalation came after thousands of people wearing black and holding up their hands -- signaling the five demands they want leader Carrie Lam to meet -- had marched peacefully across Hong Kong Island Wednesday afternoon holding signs and waving American, British and Hong Kong independence flags.
After the rally turned tense, the Civil Human Rights Front, which has organized some of the biggest protests to rock the Asian financial center over the past six months, announced that police asked them to dismiss demonstrators. Some protesters and political groups began leaving, while others continued marching to the central financial district.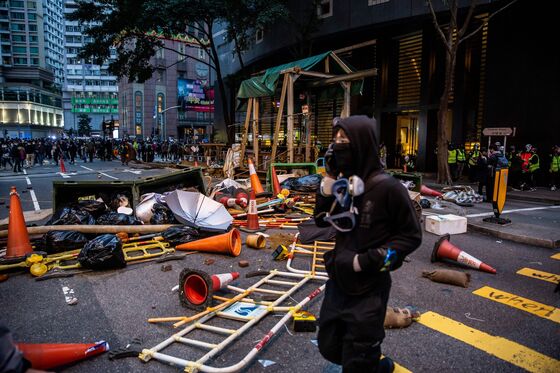 Historic protests erupted in June in opposition to now-withdrawn legislation that would've allowed extraditions to mainland China and quickly morphed into a broader movement against Beijing's rule. The Communist Party and its local appointees have so far refused to meet demonstrators' demands, which include an independent inquiry into police violence and calls for direct leadership elections.
Here's the latest (all times local):
Bank services, ATMs suspended (11:53 p.m.)
Services of some bank branches and ATMs are temporarily suspended because of vandalism, the Hong Kong Monetary Authority said in a statement. The authority condemned repeated acts of vandalism against the facilities.
400-plus arrests (11:18 p.m.)
At least 400 people were arrested Wednesday and that number could increase as operations continue, Ng Lok-chun, a senior superintendent of the Hong Kong Police, said at press conference. The police had to end the protests early as the demonstration was no longer peaceful, he said.
Ng cited damage to a bank branch and the use of petrol bombs.
More than 1 Million (8:47p.m.)
More than 1.03 million people participated in the march today, organizer CHRF said, adding the estimate might not be accurate as police called off the demonstration abruptly. Police said 60,000 showed up at the lawn area of Victoria Park, where the march began. CHRF said the police figure lacked credibility given how crowded the areas around Victoria Park were.
HSBC condemns vandalism (7:32 p.m.)
HSBC Holdings Plc condemned acts of vandalism against its property on Wednesday, saying it believes they are "unjustified." Protesters lit a fire at one branch and sought to deface iconic lion statues in front of its Hong Kong headquarters.
"We strongly condemn the acts of vandalism and damage directed at our premises repeatedly in the last few days. We believe these are unjustified," a spokesperson for HSBC said in a statement Wednesday evening, adding that some of its ATMs and banking facilities had been suspended. "We believe the rule of law is essential to Hong Kong's status as an international financial center and we look forward to the speedy resolution of the issues."
The bank has become a target in recent weeks after it closed the account of a group linked to the protests. Police last month arrested four people for suspected money laundering linked to the pro-democracy protests and froze HK$70 million ($9 million) in funds related to the Spark Alliance, a group that helps protesters pay legal fees.
HSBC defended its decision to close the account, saying it was unrelated to the December arrests and followed a "direct instruction" from the customer in November.
Protesters block roads, light fires (7 p.m.)
Protesters blocked roads and set two street fires in Wan Chai even as the crowds thinned out after police halted the rally. Police said in a statement that "rioters" had damaged the traffic lights in the vicinity of Des Voeux Road Central and Pedder Street in the central neighborhood, and built road barricades using items like traffic cones. Officers at one point deployed a water cannon.
Government calls for calm (5:42 p.m.)
The Hong Kong government issued a statement appealing to participants in the march to disperse soon after it ends and to avoid any illegal or violent acts.
"To safeguard the rule of law and public peace, the police will enforce the law strictly," said the statement, attributed to a government spokesman. It mentioned that most protesters had expressed their views "in a lawful, peaceful and rational manner."
The government "has all along respected people's rights and freedoms to participate in peaceful processions and assemblies and express views rationally, as these are the important core values cherished by Hong Kong people," the statement said.
Police ask for march to be dismissed (5:36 p.m.)
CHRF said Hong Kong police had asked it to cease protesting and dismiss demonstrators, vice convener Figo Chan told reporters. An earlier police statement didn't mention the request, but said officers had used the minimum force required to deal with the incident in Wan Chai. A police spokesperson reached by phone had no immediate information.
After the request CHRF called for people to stay calm, with one organizer urging police not to threaten crowds who were walking peacefully in Wan Chai.
The police said in a statement that "rioters" had thrown trash and petrol bombs at Luard Road and Hennessey Road, posing a "grave threat to public safety." "Police are deploying the minimum necessary force, including tear gas, to effect dispersal of protesters," it said. "Police warn all lawbreakers to stop their unlawful acts immediately."
At a regular briefing on Monday, police officials said that they could order a stop to the rally if they deemed it unsafe.
Police fire tear gas in Wan Chai (5:13 p.m.)
Police fired tear gas in Wan Chai district near a branch of HSBC Holdings Plc. Protesters were shown nearby using umbrellas as shields, as small fires burned in the street.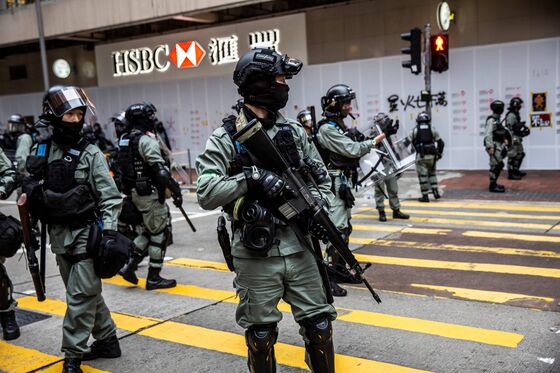 Police confront protesters outside HSBC branch (4:54 p.m.)
Riot police confronted protesters who were seeking to vandalize an HSBC branch in Wan Chai. Television images showed officers forming a cordon around the bank, and threatening demonstrators with pepper spray. One person was shown getting arrested.
Elsewhere, Stand News showed a lion statue outside of HSBC's headquarters in central district covered in red paint with a slip of yellow paper covering its eyes.
Protesting, not celebrating the holiday (4:31 p.m.)
"Instead of celebrating New Year's Day like the rest of the world, we are out here in the streets fighting for our government to answer our demands," said a protester who gave her name as Sarah, 28. The crowd of black clad protesters around her sang "Glory to Hong Kong" -- a song that in recent months has become an anthem of the pro-democracy movement.
"We have to send a message that we will keep coming out this year, in three years, or in five years. We have given up too many times in the past to back down now," Sarah said.
Supporting the 'yellow economy' (4:20 p.m.)
Along the march route we spoke to Jimmy, an employee at Durian Land, a dessert shop that opened last month in Causeway Bay and is part of the so-called "yellow economy" -- a group of local businesses that support the protesters and get their business in return. During Wednesday's rally the store handed out free bottles of water, masks and protest posters.
Jimmy told the demonstrators to take care of themselves and keep fighting. As he spoke, crowds of passing protesters chanted in the background.
By late afternoon the march had made its way to Central and Admiralty, a swath of the city near consulates and hotels that's been ground zero for clashes between protesters and police during some past marches. There were also still crowds at Victoria Park, the start of the rally.
Education worries (4 p.m.)
In a late afternoon statement, CHRF said the city's government "has commenced retaliation against the education sector in this city. Government officials accuse teachers of inciting students to protest on the basis of the posts of teachers' personal social media accounts. Principals are intimidated to discipline the staff, otherwise they can be dismissed."
A 25-year-old primary school teacher who gave his name as Rodman advocated for a trade union to defend teachers and to strike for freedom and democracy, a response to Hong Kong's Education Bureau saying principals or teachers could be disciplined or even suspended from duty for their views. Protesters now see more unionizing across different sectors as a precondition before attempting a general strike, which has been a frequent form of demonstration during the protests.
Traffic snarled (3:29 p.m.)
Riot police were stopping cars and buses outside the city's Western Harbour Tunnel, causing a major traffic jam, the local Apple Daily reported. Some families, including those with babies, were asked to leave the buses and line up for inspection, the news outlet said. Many people living in the city's New Territories -- which abuts the mainland Chinese border -- rely on cross-harbour buses to get to and from Hong Kong Island, especially if the subway system, or MTR, is interrupted as it has been during previos protests.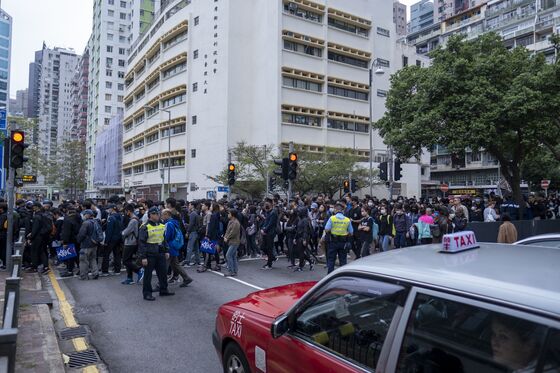 Past protests have also snarled traffic at this popular crossing.
Elderly citizens turn out (3:22 p.m.)
A number of elderly residents gathered outside Sogo Department Store in Causeway Bay, along the march route. One woman passed out fliers to protesters, some of whom were clad in black and wearing surgical masks to conceal their identities. They were among the people waiting outside Sogo to join the rally once marchers reached the site. People in the neighborhood, which is usually packed with tourists and shoppers, also lined up to patronize local shops known to be sympathetic to the city's pro-democracy movement.
As they have at past rallies, CHRF collected donations from protesters.
Families join march (2:46 p.m.)
Excitement was building in Victoria Park, the starting point of the march. It was full of families, including parents pushing babies in strollers. Kids played on the playgrounds as their parents chanted "five demands, not one less." A small group of protesters waved British flags and called for right of abode in the U.K. for British National Overseas passport holders.Like previous peaceful protests,
A 25-year-old protester in a "V for Vendetta" mask who gave his name as Mr. Lai said his New Year's resolution for Hong Kong this year will be to have protesters' demands met soon by the government and that the demonstrations would conclude in an "optimistic way."
"The government still hasn't responded to our demands, so we keep going out," he said.
Protesters gather in Victoria Park (2:13 p.m.)
Thousands of demonstrators packed centrally located Victoria Park, the starting point for Wednesday's march and some of the city's biggest demonstrations last year, ahead of its kickoff. They planned to follow a similar walking route as prior rallies toward the Central shopping and business district.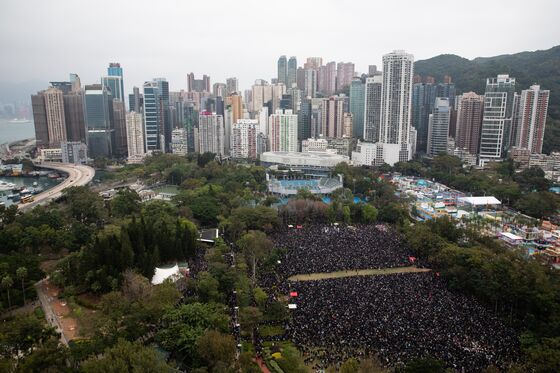 School teachers and principals may lose their jobs if they express a view that differs from the government, and civil servants may be the next targets, CHRF convener Jimmy Sham said at a press briefing ahead of the march.
"Such political suppression is unacceptable and we must show our support and stand with them," he said.