Protesters Throng Poland's Streets to Oppose Ruling on Abortion
(Bloomberg) -- Thousands of Poles braved freezing snow and defied a nationwide virus lockdown for a second night running to protest a court decision that effectively bans abortion.
Resuming some of the biggest anti-government rallies since the 1989 collapse of communism, supporters of abortion rights thronged streets from the capital, Warsaw, to about 50 other towns and cities nationwide on Thursday.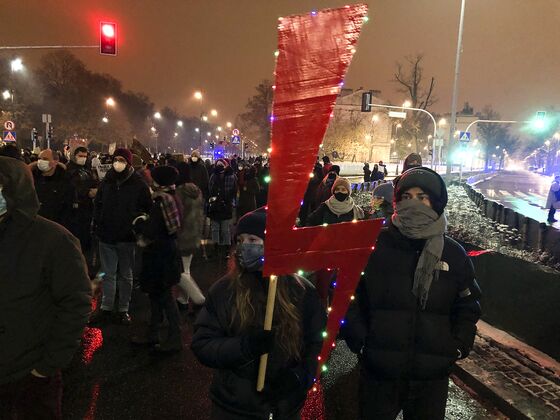 The Constitutional Tribunal published a 154-page clarification of an October ruling on Wednesday, declaring abortion admissible if there's high probability of irreversible or lethal damage to the fetus along with danger to the life of the mother. It also remains legal in cases of rape.
The ruling by the top court, which is stacked with appointees allied to the nationalist ruling Law & Justice Party, was applauded by the government. Led by Prime Minister Mateusz Morawiecki, who has said his dream is to "re-Christianize the European Union," it has vowed to return Poland to what it calls "traditional values."
A crowd of about a thousand people gathered in front of the Tribunal on Thursday, chanting anti-government slogans and waving Polish red-and-white as well as rainbow colored flags.
Some held signs saying "It's the choice of women, not bishops" and "We want a secular Poland." Police lined the fence to the nearby government buildings but -- unlike in last year's protests -- most were not in riot gear.
"I'm here to tell my fellow women that they're not alone," said Renata Domianska, an office worker in her mid twenties. "Our bodies are our business, not the government's."
While Poland is one of Europe's most Catholic countries, a majority of people opposed tightening the ban on abortion, surveys showed.
The county has had three decades of restrictive laws on terminating pregnancies since the collapse of communism, largely because of the dominant role played by the Catholic Church and the strict views of Polish-born Pope John Paul II, a strident opponent of abortion and contraception who died in 2005.
Poland officially recorded only 1,100 terminated pregnancies in 2019, with all but 26 because of a threat to the life of the fetus or mother, according to latest available data from the Health Ministry.
But according to the Federation for Women and Family Planning -- a women's rights group -- there are an estimated 80,000 to 120,000 illegal abortions each year. By comparison, the neighboring Czech Republic reports less than 20,000 abortions a year, with just over a quarter of Poland's population.
The original ruling by the Constitutional Court triggered weeks of protests in October and an escalation of tensions following brutal police crackdowns on demonstrations. Marta Lempart a leader of the protest said the court's ruling isn't legal and can be challenged by individual judges, including the EU's top court in Strasbourg.
"The state wants to further restrict women's rights, risk their lives and condemn them to torture," state Ombudsman Adam Bodnar said on Twitter.