Protest Erupts in Venezuela's Capital After Nicolas Maduro's Inauguration
(Bloomberg) -- A large crowd blocked a major avenue in eastern Caracas on Friday to protest President Nicolas Maduro's swearing-in, a ceremony that perpetuated what the opposition and U.S. Secretary of State Mike Pompeo have labeled a "usurpation."
About a 1,000 people gathered to listen to Juan Guaido, the 35-year-old head of the National Assembly. The body is the country's only remaining opposition-controlled authority and Maduro left it virtually irrelevant when he created an all-powerful body stacked with loyalists in 2017. People in the crowd Friday chanted "Guaido for President!" and "Yes, we can!" and held posters with Maduro's face bearing the word "tyrant."
"Is it enough to abide by the constitution?" Guaido asked. Venezuela's constitution grants presidential powers to the head of the National Assembly in the absence of a legitimate president. "It must be the people of Venezuela, the armed forces, the international community that lead us to assume our mandate."
It was the first major political protest since hundreds of thousands of Venezuelans took to the streets in 2017 over hyperinflation, rampant shortages and a soaring crime rate. Organized demonstrations fizzled over the past year as Maduro consolidated power and cracked down on dissent. Demonstrations now largely consist of small, spontaneous gatherings over faltering public services and food programs. Guaido is calling for a nationwide protest Jan. 23, the date in January 1958 when opposition parties and soldiers overthrew military dictator Marcos Perez Jimenez.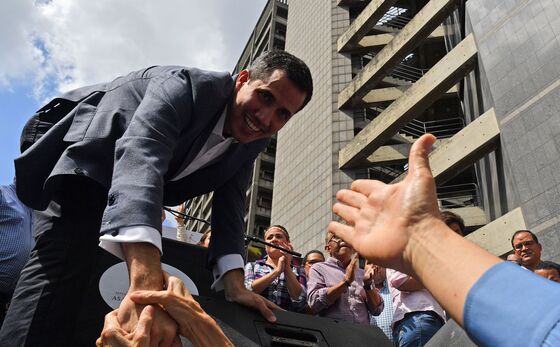 A former student leader and industrial engineer by training, Guaido is a confidant of Leopoldo Lopez, a former presidential candidate who was jailed in 2014 after leading major anti-government protests.
Maduro won re-election last year in a vote widely condemned as fraudulent following a boycott of major opposition parties and was sworn in Thursday. Last week, 12 Latin American nations plus Canada -- the so-called Lima Group -- urged the unpopular president to hand over power to the National Assembly and call fresh elections.
Few believe Maduro will change course despite crippling sanctions and growing isolation. On Tuesday, the politically omnipotent National Constituent Assembly passed a measure that could be the first step to enable congress's disappearance altogether. The assembly also threatened treason investigations against dissident lawmakers.
"It's not easy to know they way forward," said Magda Gonzalez, a 62-year-old retired teacher. "But we have to protest and disown the government."