Progressives Prod Biden to Act on Own After Manchin's Roadblock
(Bloomberg) -- Progressive Democrats are pressing President Joe Biden to use his executive authority to accomplish at least parts of his economic agenda after Senator Joe Manchin effectively killed the current legislation.
Representative Pramila Jayapal, head of the Congressional Progressive Caucus, said Monday that Biden may be able to take action on some climate issues and easing of student loan burdens, without giving details.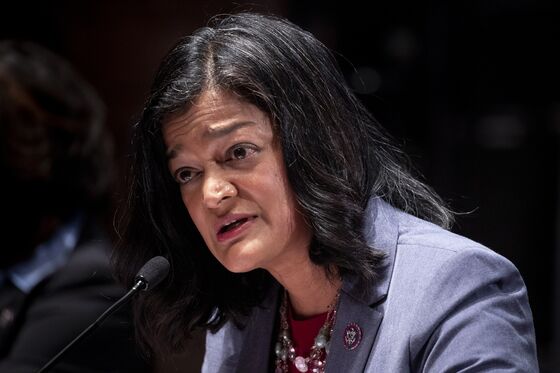 She said Democrats can't wait for a restart of negotiations with Manchin and expect a different outcome.
"We cannot make the same mistake twice," Jayapal said on a conference call with reporters. "It is abundantly clear that we cannot trust what Senator Manchin says."
Jayapal said she spoke Monday morning with Manchin, a day after the West Virginia Democrat announced he wouldn't vote for Biden's Build Back Better bill. His decision blindsided the White House and Democratic congressional leaders and exacerbated the existing tension between the party's moderate and progressive wings.
Jayapal, of Washington state, gave no details about her conversation with Manchin. She said if his aim is to shrink the legislation beyond what has already been done, progressives "will not go along with that."
In an interview Monday with WV MetroNews radio, Manchin said his stance on the size and scope of the legislation had been known for months. But he said White House staff kept pressing the same issues while some fellow Democrats tried to bully him to go along, including by encouraging protests directed at him.
"They figure surely to God we can move one person. Surely, we can badger and beat one person up," Manchin said. 
Jayapal said progressives would now "call on the president to keep his commitment to us." She said the almost 100-member Progressive Caucus has yet to settle on what they will ask the White House to do.
"We don't have all the details of that," she said. "Obviously, we've mentioned climate and, you know, specifically around fossil fuels. We've mentioned student loans."
While presidents in recent years have expanded the use of executive authority -- and been criticized by opposing parties for doing so -- their power still is limited. The president can direct how agencies interpret regulations but can't change laws. Biden has been resisting pressure from progressives to extend a moratorium on student loan payments or to have the federal government forgive those loans.
At the White House Monday, Press Secretary Jen Psaki said Biden hasn't given up on trying to get the roughly $2 trillion plan passed by Congress.
"We're going to continue to take steps, work like hell to get it done," she said.
Jayapal she had no regrets about progressives giving in to pressure from Biden and party leaders to help pass the $550 billion bipartisan infrastructure bill without getting a vote on the Build Back Better legislation.
Given what is known now, she said that had the infrastructure bill not been passed in early November, she believes Manchin would have walked away and killed the economic legislation then, and that "would have turned the country against us."
"I don't have any regrets," said Jayapal, about that.