Biden Ties Infrastructure, Smaller Social Bill: Congress Update
(Bloomberg) -- President Joe Biden told Democratic lawmakers on a visit to Capitol Hill that the infrastructure bill awaiting a vote in the House will depend on getting a deal on what's set to be a slimmed-down social spending package.
Biden met with the party's congressional caucus as House lawmakers were trying to break a stalemate that's holding up a vote on legislation for $550 billion in new spending on infrastructure.
House Speaker Nancy Pelosi had set plans for a vote Friday as she and the White House attempted to negotiate a deal on a framework for a separate, expansive tax and spending package that will carry the bulk of Biden's plans.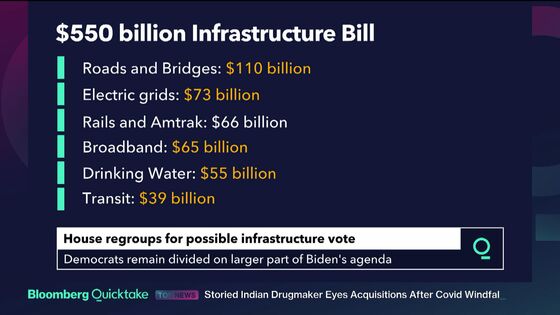 Disagreements between Democratic moderates and conservatives on the size and shape of the larger plan delayed a vote on the infrastructure bill Thursday. 
Key Stories and Developments
All times are U.S. Eastern Time:
Biden Says Social Spending Bill to Be Slimmed Down (5:11 p.m.)
Biden, in his meeting with congressional Democrats on Capitol Hill Friday, told lawmakers that the so-called reconciliation bill that spans higher taxes and ramped up social spending will need to come in below the initial outline of $3.5 trillion.
"Even a smaller bill can make historic investments," Biden said, according to someone who was in the room. Representative Jimmy Gomez of California said Biden threw out a $2 trillion figure as a hypothetical number for a potential deal. Biden also noted that he had spent 100 hours with moderate Democratic Senators Joe Manchin and Kyrsten Sinema in an effort to reach agreement on the social-spending bill.
The president explained that the party doesn't have the type of majorities the Democrats enjoyed under Lyndon Johnson when they implemented major social reforms.
The infrastructure bill "ain't going to happen until we reach an agreement on the next piece of legislation," Biden said, according to the meeting participant. -- Billy House and Erik Wasson
Biden Says Infrastructure Can Wait (4:52 p.m.)
Biden told Democrats at the Capitol to pass both components of his economic plan but said a vote on infrastructure legislation can wait until a deal is reached on the rest of his economic agenda.
"I'm telling you we are going to get this done," the president said after leaving the meeting. "Doesn't matter when. It doesn't matter whether it's in six minutes, six days or six weeks."
Biden didn't give any direct guidance on passing the infrastructure legislation that's already cleared the Senate, sapping momentum from a drive by some moderates to finish it this week. Lawmakers said they didn't know when a vote might take place.
"He didn't detail how he wants us to vote or path or what have you," Representative Mike Quigley said. -- Laura Litvan and Erik Wasson
Biden Aims to Prod Democrats on Agenda (3:55 p.m.)
Biden will advocate for passage of both pieces of his economic agenda when he meets with House Democrats Friday, with the party in a standoff between its moderate and progressive wings.
"These are his proposals. These are his bold ideas. This is his plan that he's outlined," press secretary Jen Psaki said Friday before Biden headed to the Capitol.
She added that Biden isn't going to insist that the House vote on infrastructure legislation or any particular next step.
"The president is not going there to litigate the legislative path forward," Psaki said. "What we're working toward is unifying a path to get both of these packages done." -- Nancy Cook
Biden Visit Raises Democrats' Hopes for Deal (1:53 p.m.)
Biden's plan to meet with House Democrats on Friday raised hopes among some in the party that a deal between moderates and progressives that will break the stalemate over the president's economic agenda may be near.
"Presidents don't come to caucus to make a case, they come to close the deal," Representative Dean Phillips of Minnesota said. "This is going to happen, and I suspect quite soon."
Biden was scheduled to meet with Democrats at 3:30 p.m. In an effort to stem leaks from the meeting, a notice sent to members said that mobile phones won't be permitted.
New York Representative Hakeem Jeffries, a member of Pelosi's leadership team, said House Democrats hoped to get some clarity soon on the position of their colleagues in the Senate on the expansive tax and spending plan that encompasses much of Biden's agenda. That could clear the way for a vote on the $550 billion infrastructure bill, which has already passed in the Senate. -- Emily Wilkins, Erik Wasson and Billy House
Biden Heading to Capitol Amid Negotiations (1:05 p.m.)
President Joe Biden plans to head to the Capitol Friday as Democrats remain stalled on passing the two main components of his economic agenda.
The White House said Biden will speak with Democrats at a caucus meeting Friday afternoon.
House Weighs Highway Fund Patch Amid Stalemate (11:59 a.m.)
Transportation Chair Peter DeFazio told fellow Democrats in a meeting Monday that the House may pass a 30-day reauthorization for highway funding, a signal that the Democrats aren't likely to immediately move ahead with a vote on infrastructure legislation.
Authorization for surface transportation funding expired at the end of Thursday. The Senate-passed bipartisan infrastructure bill was supposed to take care of that, but the legislation is mired in the House in the stalemate over Biden's larger tax and spending package.
The deadlock among House Democrats on a $550 billion infrastructure bill means that roughly 3,700 Department of Transportation employees are temporarily furloughed. -- Keith Laing and Erik Wasson
Democrats Pessimistic on Infrastructure Vote (11:00 a.m.)
Progressive Democrats in the House said more time will be needed to work out a deal with moderates in the Senate before they'll go along with a vote on the bipartisan infrastructure plan.
Washington Representative Pramila Jayapal conceded the final price tag likely will be less than the $3.5 trillion in the original plan but that there's no immediate sign of how they will end up bridging differences to get support from Senators Joe Manchin and Kyrsten Sinema.
"It takes time to put together a transformative piece of legislation," Jayapal said heading into a meeting of House Democrats. "The resolution is with two senators."
Asked whether there would be a vote on the infrastructure plan on Friday, Representative James Clyburn, one of Pelosi's chief vote counters, said, "I have no idea." -- Laura Davison and Erik Wasson