Pro-Trump Group Plans Tour to Build Support for Nafta Rewrite
(Bloomberg) -- A nonprofit group supporting Donald Trump plans to organize a tour of key electoral battleground states to try to build public support for the president's re-write of the North America Free Trade Agreement.
The tour will begin in Jacksonville, Florida, on May 20 with an event featuring Vice President Mike Pence, said Brian Walsh, president of America First Policies, a nonprofit linked to a super-political action committee that backs Trump. Such nonprofits aren't required to disclose their donors and are sometimes described as "dark-money" groups.
The group is planning stops in Georgia, Ohio, Pennsylvania, Michigan, Florida, North Carolina and Wisconsin -- all states that Trump's campaign believes it must retain in 2020 for the president to be re-elected.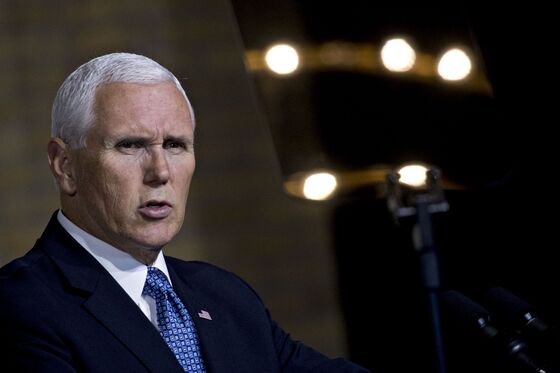 The Trump administration reached agreement with Canada and Mexico last year on an overhaul of the trade pact that would rename it the U.S.-Mexico-Canada Agreement, or USMCA. But ratification of the new deal by Congress was thrown into doubt after Democrats captured the House of Representatives last November.
House Speaker Nancy Pelosi has said she wants to get to "yes" on the deal but has demanded changes that would strengthen labor and environmental protections and ensure enforcement of the agreement.
The America First Policies tour will be similar to a 26-stop tour the group held to promote Trump's tax overhaul, which generated local news coverage organizers believe helped build support for the law. Pence appeared at at least one of those events, in Detroit, according to the group's Facebook page.
Pence has independently appeared at about a dozen events so far to promote the USMCA, his spokeswoman Alyssa Farah said Thursday. He'll speak on the trade deal in Minneapolis on Thursday.