China Warns Hong Kong Journalists' Club After Activist Speech
(Bloomberg) -- China warned Hong Kong's foreign journalists' club that it risked repercussions after hosting an independence activist's speech, signaling a potential escalation in the city's latest battle over political freedoms.
In a harshly worded statement Tuesday, the Chinese Ministry of Foreign Affairs accused the Foreign Correspondents' Club, Hong Kong, of abusing the former British colony's right to free speech by giving the activist a platform. The ministry said the address by National Party founder Andy Chan, in which he denounced China as a "colonial master," touched Beijing's "red line" against challenges to its rule.
"Hong Kong is Chinese Hong Kong and the Hong Kong Foreign Correspondents' Club is by no means a place outside the law," the ministry said. "Anyone whose words and actions try in vain to split Hong Kong from China will be punished according to the law."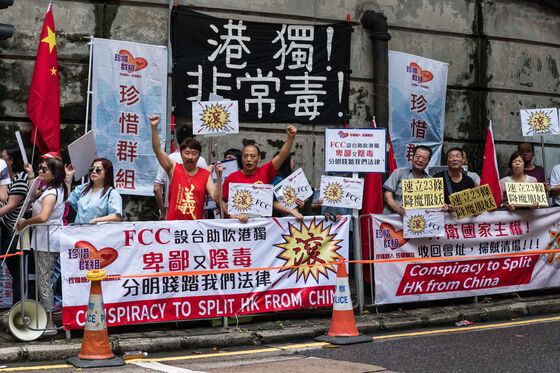 The FCC, whose more than 2,000 members include journalists from some of the world's best-known news organizations, went ahead with the event despite calls by the city's former top official to reconsider the group's lease on government property. The dispute highlights how Beijing's push to silence a small but vocal independence movement could undermine the political freedoms guaranteed to Hong Kong before its 1997 return to Chinese rule.
While freedom of speech and assembly are among the rights enshrined in Hong Kong's charter, Beijing has moved to narrow the definition of legal behavior over the past few years. In 2016, the Chinese government retroactively reinterpreted local law to ban independence activists from taking office, while city authorities secured jail sentences for activists involved in aggressive protests.
In his remarks, Chan, 27, hit back at the government's unprecedented effort to ban his party, comparing it to campaigns to suppress opposition in democratically run Taiwan and China's regions of Tibet and Xinjiang. As he spoke, the chants of several dozen pro-China protesters gathered outside the club could be heard.
"If Hong Kong were to become truly democratic, sovereignty must rest with the people and there is only one way to achieve this: independence," he said.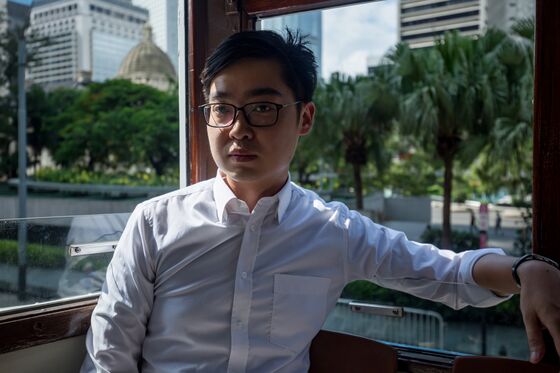 Several groups of protesters -- some pro-China, some pro-independence and other more moderate democracy advocates -- gathered around the FCC's colonial-era clubhouse, separated by police. One Beijing supporter, Sandy Li, called for the government to kick the club out of the centrally located building.
"Hong Kong is part of China -- this is irrefutable," Li said, while standing in front of a banner that denounced the group as "mean and sinister." "Would the United Kingdom let London become independent? Is London a country? This is treason."
Chan's speech comes a year after President Xi Jinping visited the city and warned that he would tolerate no challenges to Chinese authority. The club refused a request by Ministry of Foreign Affairs to cancel the event, saying it championed free speech and welcomed speakers of all views.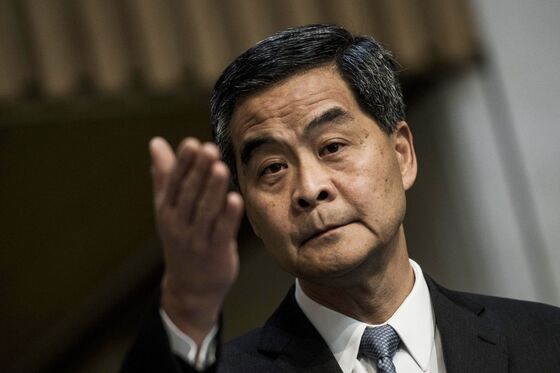 Former Hong Kong Chief Executive Leung Chun-ying fanned tensions with an Aug. 4 open letter questioning whether the FCC would also host "criminals and terrorists." Leung said the club's premises had been leased for a "token rent," and subsequently called for the space to be put out for an open bid. His call was echoed by the pro-Beijing demonstrators.
Hong Kong's No. 2 official, Chief Secretary Matthew Cheung, told reporters Tuesday it was "totally inappropriate and unacceptable" for the FCC to provide a platform to Chan. He said that the club's lease, which expires in 2023, contains a clause requiring compliance with local laws.
"There isn't an issue now, but we don't want to see it happen again," Cheung said.
Chan argues that the "one country, two systems" model that was supposed to ensure a "high degree of autonomy" for the city hasn't worked given China's growing influence over the city. He says he's concerned that China wants to curtail the freedoms credited with maintaining Hong Kong's place as a global financial hub.
"The situation is so dire that I dare say Hong Kong has never experienced such colonialism until 1997," Chan said told the FCC. "Peking is now our colonial master."
The idea of an independent Hong Kong is widely seen as unfeasible, a position shared by the U.K. when it handed over sovereignty to China in 1997. The city doesn't have its own military and gets most of its food, water and electricity from the mainland, which also represented about half of its global trade.
The move to ban the National Party has fed fears that authorities want to set a precedent for clamping down on other opposition groups. They may be laying the groundwork to revive a shelved national security law.
Victor Mallet, a Financial Times journalist and first vice president of the FCC, thanked the government for allowing the event to go ahead. "All of this, actually, shows that Hong Kong is still a place at the moment where freedom of speech applies," Mallet said.