Pro-Brexit Lawmakers Mull Temporary Norway-Style Arrangement
(Bloomberg) -- Some leading lawmakers backing Brexit are examining plans to keep the U.K. in the European Economic Area until the government reaches as a trade agreement with the bloc, the Sunday Telegraph reported.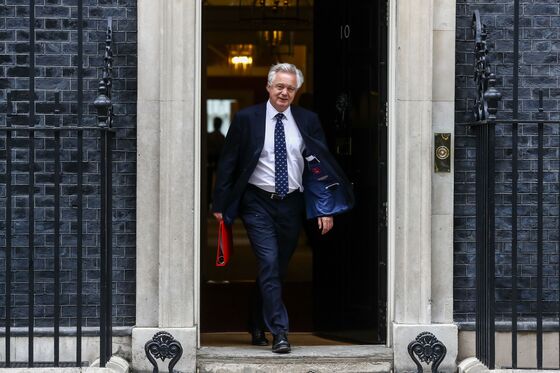 The "Norway for Now" plan, so-named because it would temporarily give the U.K. similar EU trading rights as Norway, is gaining support from hard-line Brexit advocates such as former Brexit Secretary David Davis, the newspaper said.
Nick Boles, the former Conservative minister pushing the plan, said it picked up cross-party support and on Saturday he wrote on Twitter that he would be keen to talk to the pro-Brexit European Research Group about it. Senior Brexiteers are also seeking to meet with Boles, the Telegraph said.
"I haven't received the invitation yet, but I'd be delighted to talk to friends and colleagues from the ERG about the potential of 'Norway for Now,' " he wrote on Twitter.
Norway stands outside the EU but has full access to the single market as a member of the EEA. Crucially, however, it doesn't have voting rights on new EU laws agreed by the bloc, and is instead subject to a number of laws including the Air Quality Directive. That's led some lawmakers to describe a Norway-style deal as the worst option.
While the EU has said it would accept a Norway-style deal as a long-term solution, its not clear if it would consider it for just a short-term, interim period. 
Boles is proposing to scrap the two-year transition period the EU has endorsed and instead keep the U.K. inside the EEA for three years alongside a temporary customs union. During that period, the two sides would be able to agree on a free-trade deal similar to the accord between the EU and Canada.
Jacob Rees-Mogg, who leads the influential ERG group of pro-Brexit lawmakers, said in response to a question that the idea has hurdles.
"I think it is difficult, when would it end, would the EU entertain subsequent negotiations so does it merely postpone the WTO option?" he said in a texted response.