Privacy Groups Blast U.S. FTC as Digital Ad Industry `Lapdog'
(Bloomberg) -- Leading privacy watchdog groups lashed out at the U.S. Federal Trade Commission for siding with the advertising industry as part of a Trump administration initiative to update consumer-data protections.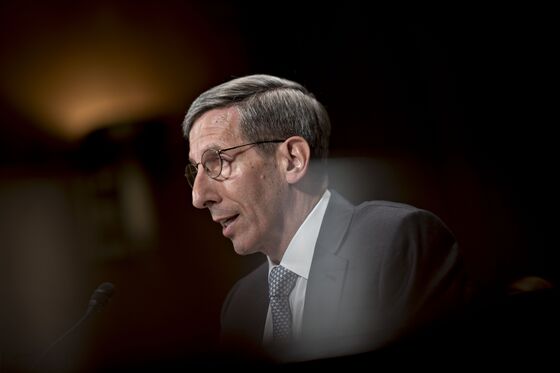 The organizations, which include the Consumer Federation of America and the Electronic Frontier Foundation, told FTC Chairman Joe Simons in a letter Monday that the agency relied on a "self-serving study" by the ad industry to warn against a policy in which consumers are opted out of online advertising by default.
"Instead of squarely defending the privacy rights of consumers it really capitulates to a pro-industry position using industry research," said Jeff Chester, the executive director of the Center for Digital Democracy, which joined the letter. "It removes what little credibility the FTC under Chairman Simons has."
Chester said the FTC should be replaced as the agency responsible for protecting consumer privacy.
"They're incapable of standing up for the public and taking on these powerful interests," he said. "We need a real watchdog not a lapdog."
Simons has vowed to make privacy and data security an enforcement priority under his watch, and he has called for legislation that would expand the agency's authority. Simons is leading the commission as it investigates Facebook Inc. for possibly violating a privacy order imposed in 2011.
The FTC didn't respond to a request for comment about the privacy groups' criticism.
In early November, the FTC submitted a comment to an arm of the Commerce Department as part of a Trump administration initiative to gather public input on ways to protect consumer privacy and data online. The agency said giving consumers control over collection and use of their data online can be beneficial but can also be costly to implement and may have "unintended consequences."
"For example, if consumers were opted out of online advertisements by default (with the choice of opting in), the likely result would include the loss of advertising-funded online content," the FTC said.
That comment drew the ire of the privacy watchdog groups because, they say, the FTC based it on a survey commissioned by the Digital Advertising Alliance, which is made up of advertising associations. Participating companies include some of the world's biggest companies, such as Amazon.com Inc., Alphabet Inc.'s Google, General Motors Co., and Walmart Inc.
"As federal privacy legislation is contemplated, the FTC should be a strong voice for advancing Americans' privacy interests in a meaningful way, not parroting the advertising industry's talking points," said Susan Grant, the director of consumer protection and privacy at the Consumer Federation of America.
A spokesman for the Digital Advertising Alliance declined to immediately comment.