Prince Charles Says Slavery Stains U.K. as Barbados Sheds Crown
(Bloomberg) -- The Prince of Wales said slavery is a blot on the U.K.'s history as Barbados became the world's newest republic, removing Britain's Queen Elizabeth II as its head of state. 
President Sandra Mason, who had been serving as the island's governor general, was sworn in as its first president on Monday night amid fireworks and a 21-gun salute, and the country became a republic as of Tuesday.  
"From the darkest days of our past and the appalling atrocity of slavery, which forever stains our history, the people of this island forged their path with extraordinary fortitude," Prince Charles, the heir to the British throne, said during the event in Bridgetown.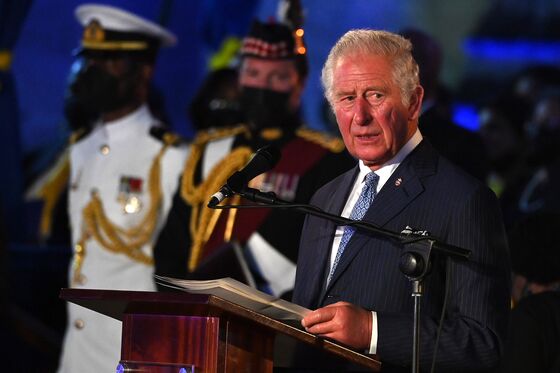 His mother, Queen Elizabeth, remains the honorary head of 15 other "commonwealth realms," more than half of them in the Caribbean. 
In her inaugural address, Mason, 72, said the new republic would have to make its way in a "complex, fractured and turbulent" world and asked the nation of 287,000 to "dream big dreams."
Barbados, along with other tourism-dependent economies in the region, suffered a deep slump during the pandemic, and is grappling with one of the world's heaviest debt burdens. The economy is expected to grow 3.3% this year, after collapsing 18% in 2020, according to the International Monetary Fund.