Pressure Builds on Center-Right Alliance Ahead of Swedish Vote
(Bloomberg) -- Two months after Sweden's inconclusive election the country still has no government and the center-right Alliance coalition risks splitting up amid deep disagreements over whether to accept support from nationalists.
Sweden is facing what could be the most tumultuous week yet after the Sept. 9 vote, which saw the anti-immigration Sweden Democrats emerge as king-makers with none of the two establishment blocs emerging with a majority.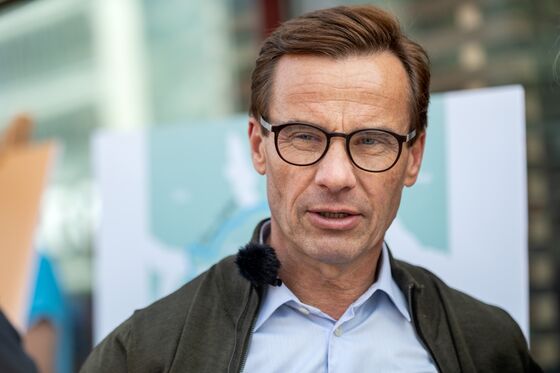 Parliament will on Wednesday vote on whether to make opposition and Moderate Party leader Ulf Kristersson prime minister. But with two of his opposition allies unlikely to back him, his path to victory is all but blocked in this round.
Kristersson was on Monday formally picked by the speaker and said he will seek to form a small minority government with the Christian Democrats, which would need backing from the Sweden Democrats and the other center-right parties on key issues.
He conceded that his push for power was a long shot, since his Center and Liberal party allies declined to take part in his government.
"I don't feel secure that I'm going to win, but I feel a duty to try," he said at a press conference.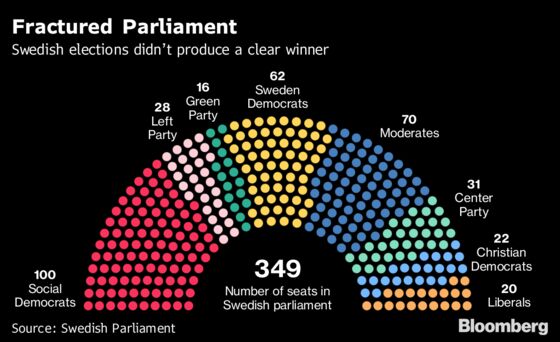 Christian Democrat leader Ebba Busch Thor said on Monday that it would be "historic" if her Alliance colleagues vote against a center-right prime minister candidate, especially since they have over the past four years allowed a minority Social Democrat-led government to rule.
The coming vote was forced by the speaker of parliament, Andreas Norlen, who's trying to speed things up after two months of gridlock. The two biggest parties, the Moderates and the Social Democrats, have rejected all talk of a grand coalition, while Kristersson's partners, the Center and Liberal parties, refuse to have anything to do with the Sweden Democrats.
The party that has grown out of Sweden's neo-Nazi movement and captured 17.5 percent of the vote in September looks so far to be the big winner from the standoff. A recent poll by Demoskop published in Expressen showed it's now backed by 21.1 percent, backing its claims that it stands to gain from another vote.
The constitution stipulates that parliament can vote on a new prime minister four times before a snap election has to be held. While the chance of a new vote sometime next year is clearly growing, the strength of the nationalists could give the establishment second thoughts about testing the voters again.
"We haven't had a snap election since 1958 and I think it's very unlikely," said Peter Santesson, head of analysis at Demoskop. "I think the parties would go to extreme lengths to avoid it. Swedish political culture is that a snap election would create chaos, no one wants to be the one to cause it."
The talks are already at a record for Sweden and if Kristersson fails this week it would be the first time ever that a speaker proposal for a prime minister loses.
While Kristersson struggles to convince his allies, the Social Democrats are waiting in the background. Social Democratic leader Stefan Lofven has repeatedly said that he'd like to cooperate with the Center Party and Liberals, but has stopped short of clarifying what he's be prepared to offer.
The Liberals have said a clear no to backing or taking part in a Kristersson government that relies on active or passive backing from the nationalists, while the Center party has been more circumspect. The two could abstain and let a narrower right-wing coalition through.
Center party leader Annie Loof has lobbied for a chance to see if she can forge a big coalition, but has so far been rebuffed by Kristersson. The relationship between the parties in the Alliance is increasingly tense and the vote on Kristersson is a way of forcing them to show their cards.
The Liberal and Center party voters are divided on whether the party should let Kristersson become prime minister on Wednesday, a SIFO poll in Svenska Dagbladet showed. Only 18 percent of Liberal voters agree with party leader Bjorklund's no, while 27 percent argue for abstaining and 24 percent advocate a yes. Among Center Party backers, 40 percent say no, 19 percent want to abstain and 15 percent argue for a yes.
"Whatever they do, some of their voters will get very angry," said David Ahlin, an analyst at pollster Ipsos. "It's going to cost them. That's why they are trying to postpone this choice."