The Kremlin Is Tired of Talking About the U.K. Poisoning Case
(Bloomberg) -- Pressed for the second straight day to respond to allegations that one of the men accused of the nerve-agent poisoning in the U.K. is an officer in Russian military intelligence, Kremlin spokesman Dmitry Peskov said he's tired of talking about it.
"We don't want to participate in a continuing discussion of this question, especially with the media," Peskov told a conference call with reporters.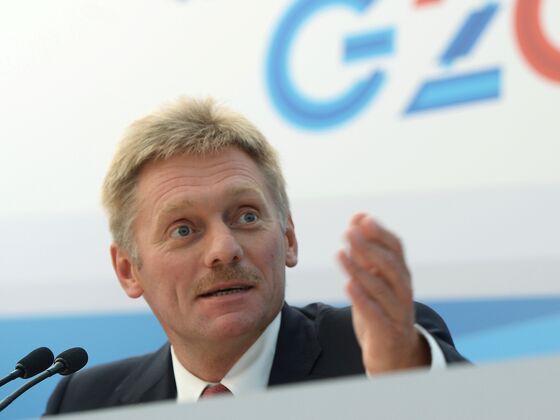 The latest wave of pressure came this week after western and Russian investigative websites released a joint report showing that one of the two suspects in the March attack -- identified by U.K. police as using the name Ruslan Boshirov -- appeared to be Col. Anatoly Chepiga, a decorated officer in the GRU intelligence agency.
On Thursday, Peskov said the Kremlin was standing by President Vladimir Putin's statement on Sept. 12 that the suspect was a civilian. The day after Putin appealed to them to go public, state television broadcast an interview in which Boshirov and the other suspect said they were in the sports-nutrition business and had been visiting Salisbury as tourists at the time of the poisoning.
British officials have rejected those claims, saying the operation was likely authorized at the highest levels in Moscow.
Peskov said, "I do not have information" that Chepiga had been awarded the Hero of Russia medal, usually a presidential-level honor. He dismissed the suggestion that Chepiga and Boshirov resembled each other with a reference to historical impersonators who cater to tourists in Moscow, "As for all these debates over who looks like whom, here on Red Square we still have 10 Stalins and 15 Lenins running around and they all look quite like the originals."
While the reports of Chepiga's alleged role have been front-page news in the U.K. this week, the story has gotten less attention in Russia. The Kommersant newspaper reported Thursday that it had found one resident of Chepiga's remote hometown who confirmed he resembled Boshirov and that he was an officer in military intelligence. Another local said he looked different.
The state-run RIA Novosti news agency interviewed the former commander of Chepiga's military school, who said he'd graduated from the Far East Command Academy and fought in the breakaway region of Chechnya but wasn't trained as a secret agent. The report didn't indicate whether he confirmed that resembled Boshirov, however.
Neither Boshirov nor the other suspect, Alexander Petrov, have appeared publicly since their state-TV interview.
The only way for the Kremlin to salvage its position with Western public opinion would be to hold a press conference with both Boshirov and Chepiga at the same table, said deputy director of the Moscow-based Center for Political Technologies Alexei Makarkin. "If that's impossible and it probably is, then all you can do is make such statements," he said of Peskov's refusal to comment further.