PM and President Set Up Future U.K.-US Clashes: Trump Update
(Bloomberg) -- Donald Trump waded deeper into Britain's fraught political arena, predicting a "phenomenal" trade deal with the U.K. that puts the country's free health-care on the table, praising leadership candidates Boris Johnson and Jeremy Hunt, and revealing that he refused to meet with the opposition leader Jeremy Corbyn.
Trump and May met at Downing Street and held a joint press conference in the Foreign Office
President talked of "very, very substantial trade deal," a message that's likely to boost pro-Brexit hardliners including Boris Johnson
Trump asked to meet Tory leadership contenders Michael Gove and Jeremy Hunt but was turned down by Johnson, who had a 20-minute phone call instead
Labour leader Jeremy Corbyn offered to meet Trump but the president declined
Trump to Hold Private Talks with Hunt (4:30 p.m.)
The president will meet Jeremy Hunt -- the Tory leadership candidate and Foreign Secretary -- for private talks. Earlier, Boris Johnson, one of Hunt's rivals, said he couldn't meet the president because he had to prepare for a campaign event.
The decision over whether or not to meet Trump is an awkward one for Tories who are hoping to become prime minister. On the one hand, if they win, they will need a good relationship with the U.S. On the other, being seen to get too close to such a divisive figure could hurt the next Tory leader's chances in a general election.
May-Trump Finale Sets up Future Clashes (3:30 p.m.)
During their final press conference together, the president and the prime minister tried to highlight the enduring strength of the so-called special relationship. Trump even cracked a joke or two, prompting May to chuckle when he asked if she thought Environment Secretary Michael Gove would do a good job as prime minister when she steps down.
But any warmth that was there could not disguise the tensions that are opening up in key areas, as the U.K. refuses to back Trump's hard-line stance toward Iran, and is wary of the president's intentions towards Britain's state-run, free health service in any trade deal.
"Like Prime Ministers and Presidents before us, and no doubt those that will come after – we can also differ sometimes on how to confront the challenges we face," May told Trump in the press conference.
May Resists Trump Over NHS in Trade Talks (2:35 p.m.)
Theresa May pushed back at comments by Trump on the U.K.'s revered National Health Service at the joint press conference after their talks in London.
The role of U.S. companies in the publicly funded service - which is currently free to use - has been a key argument of those opposed to a post-Brexit transatlantic trade agreement. And Trump did nothing to calm fears when he said "when you're dealing with trade everything is on the table -- so NHS or anything else."
May was quick to respond that it wouldn't necessarily be on the block. "The point about making trade deals is both sides negotiate and come to an agreement about what should or should not be in that trade deal," she said.
Corbyn Denounces Trump as Protests Continue (1:50 p.m.)
Jeremy Corbyn, leader of the opposition Labour Party, joined protesters in the street outside May's London office to denounce Trump and reject right-wing populism which he said provides "no answers" to the problems facing working people.
Corbyn defended London Mayor Sadiq Khan, who was attacked by Trump yesterday, telling the crowd that "I'm proud that our city has a Muslim mayor" before criticizing Trump's policies on climate change, minorities, healthcare and refugees.
Later, Trump revealed (and Corbyn's team confirmed) that he had declined an offer from the Labour leader to meet.
Boris Johnson Rejects Trump's Offer of Meeting (1:10 p.m.)
Boris Johnson, the favorite to succeed Theresa May as prime minister, spoke to Donald Trump for 20 minutes by phone but declined the president's offer of a face-to-face meeting, a person familiar with the matter said.
Trump called Conservative former foreign secretary Johnson to offer a meeting, the person said, but Johnson declined, saying he needed to prepare for a leadership campaign event later Tuesday.
The conversation was friendly and productive and the pair looked forward to meeting in the future, the person said.
Hammond Looks to U.S. Ties Beyond May, Trump (12 p.m.)
Chancellor of the Exchequer Philip Hammond said the close relationship between the U.K. and U.S. was not dependent on a specific prime minister or president, according to a person familiar with his comments at Tuesday's meeting with business leaders (see 9:50 a.m.). The U.S. is Britain's closest ally and the partnership operates on many levels to ensure prosperity and peace, he said, according to the person.
Thornberry: Mistake to Give Trump State Visit (11:40 a.m.)
Emily Thornberry, foreign affairs spokeswoman for the opposition Labour Party, said the U.K. government should be speaking with Trump -- but not giving him the honor of a state visit.
Thornberry, who will join Labour leader Jeremy Corbyn at anti-Trump protests in London on Tuesday, said it was right for Corbyn not to attend the banquet at Buckingham palace on Monday night because any conversation between with Trump would need to be "heated," and that "it would be entirely inappropriate for us to be having such heated conversations in front of her majesty."
"I personally think Donald Trump only respects people who are strong, and if you kowtow to him he only kicks you harder,'' Thornberry told Bloomberg TV. "We have a government that seems to be unable to criticize him."
Labour wants to raise issues over Iran, Saudi Arabia and Israeli settlements with the president, Thornberry said.
May and Trump to Discuss Huawei, Iran (11:20 a.m.)
Theresa May and Donald Trump will discuss the role of Huawei Technologies Co. in U.K. networks, the prime minister's spokeswoman told reporters, adding that the government is still reviewing its policy on the Chinese company and will make a decision based on "hard-headed technical assessments."
The U.S. wants Huawei shut out of so-called 5G broadband networks across Europe and has said the U.K. risks jeopardizing intelligence sharing between the two allies if it chooses to use the company's equipment. It's one of the most contentious issues on the agenda for Trump's visit.
May's office also said the two leaders would discuss Iran and the nuclear deal -- another area where they disagree. Trump's administration has already pulled out of the 2015 accord and reimposed extensive sanctions on Iran. The U.K. is part of EU efforts to protect European trade with the Islamic Republic, but the U.S. has threatened penalties for using the workaround.
Trump Requests Meeting With U.K.'s Gove (10:50 a.m.)
President Donald Trump has asked for a meeting with U.K. Environment Secretary Michael Gove, according to a person familiar with the matter, though the appointment hasn't been confirmed. Gove is in the race to succeed Theresa May as Conservative Party leader and British prime minister.
Gove interviewed Trump when he was working as a columnist for Rupert Murdoch's Times newspaper in 2017. But all the talk before Trump's visit was about a different potential meeting. The president suggested May's successor should be Boris Johnson, and that the pair could meet in London. There's no word yet on whether it will happen.
Trump Sees 'Very, Very Substantial Trade Deal' (10:20 a.m.)
Some more words from Trump at the business breakfast (see 9:50 a.m.). The president told May and executives he sees "a very, very substantial trade deal'' with the U.K. May referred to the range of companies at the meeting, and said it showed the "huge scope there is to the transatlantic businesses that we have between the United States and the United Kingdom."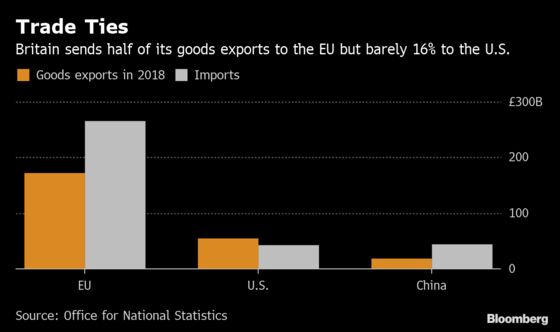 Trump's warm words on trade will delight Brexiteers, who have hailed a U.S. trade deal as one of the great prizes of Brexit. But the main opposition Labour Party -- as well as some contenders to succeed May as Conservative Party leader and prime minister -- have expressed concern over U.S. ambitions regarding the state-funded National Health Service and the implications for food safety standards in any agreement.
Protesters Gear Up for 'Carnival of Resistance' (10 a.m.)
The main anti-Trump protests -- dubbed a "Carnival of Resistance" by organizers -- aren't due to gather in Trafalgar Square for another hour. But at the other end of Whitehall in Parliament Square, perhaps a couple of hundred people have gathered as organizers inflate a giant blimp depicting Donald Trump as an oversized baby in a diaper, with tiny hands.
The balloon was also deployed when Trump visited last July, and the president at the time told The Sun newspaper that while he used to love London, the balloon and the protests -- organizers estimated 250,000 people took to the streets -- didn't make him "feel welcome."
Trump Calls for Stronger Trade Links (9:50 a.m.)
May and Trump are co-hosting a breakfast with business leaders at St. James's Palace in London. May opened proceedings speaking of opportunities and challenges ahead and her desire for "keeping markets free fair and open." Trump said the two nations have a "great opportunity to greatly enlarge" bilateral trade, and pledged to work on that in the coming days and weeks.
"This is something that your folks want to do, my folks want to do and we want to do, and we're going to get it done," Trump said. He also had some warm words for May, who steps down as leader of the Conservative Party on June 7 and is expected to be replaced as prime minister by the end of July.
"I don't know exactly what your timing is, but stick around, let's do this deal," he said.
Attendees at the meeting include executives from BAE Systems Plc, GlaxoSmithKline Plc, National Grid Plc, Barclays Bank Plc, Reckitt Benckiser Group Plc, JPMorgan Chase & Co, Lockheed Martin Corp, Goldman Sachs International, Bechtel Corp and Splunk Inc., according to May's office.