Powell to Cross Political Minefield as Trade War Clouds Outlook
(Bloomberg) -- Two of the biggest risks to Jerome Powell's monetary policy -- trade tensions and loose fiscal policy -- are also the stickiest political traps he'll try to avoid when he appears before lawmakers this week.
Powell, who took the Fed helm in February, delivers his second testimony to lawmakers as Fed chief when he answers questions from the Senate Banking Committee on Tuesday at 10 a.m. in Washington, followed by the House Financial Services Committee the next day.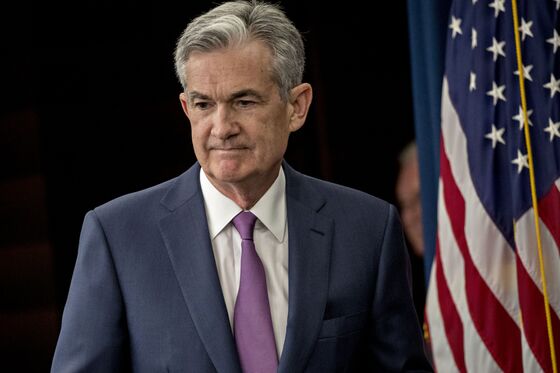 A Republican picked by President Donald Trump to lead the Fed who was initially put on the central bank by Barack Obama, Powell previewed his outlook in an interview Thursday with American Public Media's "Marketplace" and said the economy was in a "good place." The Fed chairman signaled no urgency to raise interest rates faster than the Fed already envisions.
With U.S. lawmakers girding for mid-term congressional elections in November, Republicans can point to an economy that continues to expand with low unemployment and inflation. Democrats are likely to attack the rollback of some regulations for big banks.
Neither line of commentary, however, addresses the big risks U.S. central bankers face over the next two years. They must raise interest rates fast enough to prevent growth from overheating from a tailwind of $1.5 trillion in tax cuts and $300 billion in federal spending.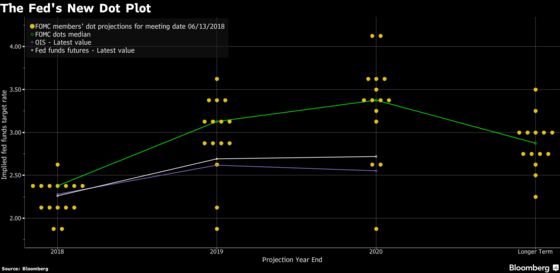 At a certain point, some components of that fiscal stimulus could fade and the Fed will have to show unusual agility to avoid making a policy mistake by setting rates too high relative to the underlying trend growth rate of the economy. Officials have no direct way to tell if they've got it wrong and instead have to navigate via signals from financial markets.
"Markets can tighten financial conditions at a very fast pace," as the Fed begins to lift the benchmark lending rate above neutral, said Priya Misra, head of global rates strategy at TD Securities USA in New York, referring to the level of interest rates that neither adds stimulus nor holds back growth. "They have to be nimble, and as an institution, they haven't done a great job at being nimble."
With the stimulus, Moody's Analytics Inc. estimates that the economy will grow four-tenths of a percentage point faster in both 2018 and 2019 than it otherwise would. That will require the Fed to raise rates a quarter point eight times in total over 2018 and 2019, a slightly faster path than the Fed itself signaled in projections updated in June, according to Moody's.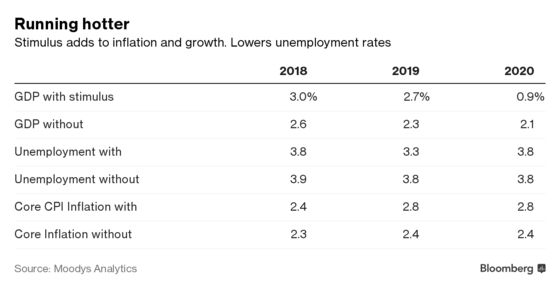 "It's not bad to run the economy on the hot side, at least in theory," said Mark Zandi, chief economist at Moody's in New York. "But you have to be very, very careful" about generating another recession as rates move into restrictive territory. "They are playing a tricky game. Maybe they pull it off. But it is going to be tough."
Fed officials do intend to slow the economy. Last month, they forecast moving rates slightly higher than neutral, which they estimated at 2.9 percent. The median estimate of their projections put rates at 3.1 percent at the end of 2019, and 3.4 percent at the end of 2020.
An escalating trade war is adding to the uncertainty facing policy makers, after Trump slapped tariffs on products ranging from steel and aluminum to washing machines and farm equipment. Other countries have retaliated with levies of their own on U.S. exports.
As it stands now, the tariffs should shave as little as 0.1 to 0.2 percentage points from growth this year, according to Carl Riccadonna, chief U.S. economist for Bloomberg Economics. But those estimates don't capture how uncertainty may change corporate investment and hiring plans.
The University of Michigan's preliminary July consumer sentiment data showed Friday that 18 percent of survey respondents, the smallest share since September, said they heard favorable news on business conditions related to government policy as concerns about tariffs mounted.
Forcing companies to re-organize supply chains and alter investment decisions because of tariffs "is becoming a headwind that is quite complicated," said Julia Coronado, founder of Macropolicy Perspectives LLC in New York. "The likelihood that they pause as they get close to what they estimate is a neutral interest rate is quite high."
Read Bloomberg Economics Take on Powell's Upcoming Testimony
Powell, a former private-equity banker, hedged his bets when asked about trade and fiscal policy in the interview Thursday.
If the trade skirmish results in lower tariffs, "that'll be a good thing for our economy." If there is a sustained period of high tariffs "that could be a negative." He took a similar line on fiscal policy. The tax cuts could result in "higher investment and higher productivity." In the longer-run, the U.S. is on an "unsustainable fiscal path."
Those answers are also in accord with his style. Stick to facts and don't overplay what are essentially estimates. Powell has given himself more flexibility by deciding to double the number of press conferences he holds a year to eight. That will allow him to signal to markets with greater frequency, and possibly avoid surprising investors.