Jerome Powell Sees Long Road Ahead for Jobs Market 
(Bloomberg) -- President Donald Trump says the U.S. economy will be back and better than ever next year. Federal Reserve Chairman Jerome Powell begs to differ.
In an almost hour-long virtual press conference Wednesday after the Fed left interest rates pinned near zero, Powell repeatedly played down the surprise, welcome news of a pick-up in jobs growth in May that Trump hailed last week as the "greatest comeback in American history."
Instead, the Fed chairman spotlighted the many millions of American still out of work and suggested it would take years for a return to anything like the strong labor market that the U.S. enjoyed before the coronavirus pandemic.
"We have to be honest that it's a long road," Powell said. "It's -- depending on how you count it -- well more than 20 million people displaced in the labor market."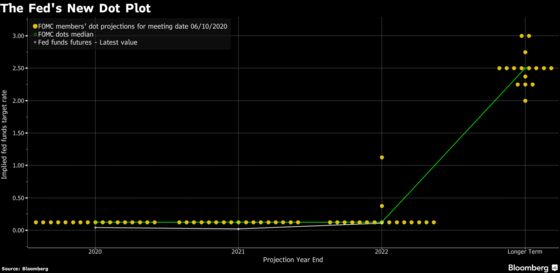 Just how long a road it will be was seen in the forecasts that policy makers released after their two-day meeting. While they expect the economy to begin to recover from its government-imposed lockdown in the second half of the year, they see unemployment falling slowly -- to 9.3% at the end of this year from May's 13.3% -- and don't envisage it returning to anywhere near its pre-Covid-19 rate of 3.5% by the end of 2022.
That dour outlook didn't stop Trump from telling reporters that the Fed delivered "some good news today" while the president again touted May's jobs numbers. He appeared to revise that judgment with a tweet on Thursday.
"The Federal Reserve is wrong so often," he wrote. "I see the numbers also, and do MUCH better than they do. We will have a very good Third Quarter, a great Fourth Quarter, and one of our best ever years in 2021."
Top White House economic adviser Larry Kudlow also weighed in: "I do think Mr. Powell could lighten up a little when he has these press offerings. You know, a smile now and then, a little bit of optimism, OK," Kudlow told Fox News later on Thursday. "I'll talk with him and we'll have some media training at some point," he added with a laugh.
Faced with sagging opinion-poll ratings, Trump has seized on last week's report of a fall in joblessness -- from April's post Great Depression high of 14.7% -- to make his case for re-election in November.
"We're going to actually be back higher next year than ever before," Trump said in triumphant remarks at the White House on June 5, setting aside a week of turmoil over his hostility toward nationwide protests against police brutality following the death of George Floyd. "The only thing that can stop us is bad policy."
Trump even invoked the memory of Floyd, the black man who died at the hands of Minneapolis police last month, as he touted the U.S. economic recovery from the coronavirus pandemic.
"Hopefully, George is looking down right now and saying there's a great thing happening for our country," Trump said in remarks at the White House on Friday. "It's a great day for him, it's a great day for everybody."
That drew an immediate rebuke from former Vice President Joe Biden, the president's presumed opponent in the November election. Not only did he take Trump to task for his comments on Floyd, Biden criticized the president for crowing about the May jobs number while millions of Americans are still unemployed.
In an unusual comment for the apolitical Fed, Powell also alluded to Floyd's death in his opening statement at the press conference -- to condemn racism in the U.S.
"There is no place at the Federal Reserve for racism, and there should be no place for it in our society," Powell said. "Everyone deserves the opportunity to participate fully in our society and our economy."
Prior to the pandemic, Powell had taken particular pride in the success the Fed had achieved pushing down unemployment to a half-century low and in the process spreading the benefits of the recovery to black and other workers who've historically been left behind.
That success had come in the face of withering criticism from Trump that the Fed was needlessly holding back the economy by keeping interest rates too high. It was only after the central bank cut rates effectively to zero in March that the president allowed that Powell had finally gotten policy right.
The Fed chairman expressed concern at Wednesday's press conference about the disproportionate loss of jobs among women, black and Latino workers as a result of the coronavirus, saying that the central bank wants to return these groups to pre-crisis levels of low unemployment.
"Unemployment has gone up more for Hispanics, more for African-Americans, and women have borne an extraordinary and notable share of the burden beyond their percentage in the workforce," he said. "That's really, really, really unfortunate."
Kathleen Bostjancic, an economist at Oxford Economics in New York, said the Fed's heightened awareness of the advantages to society from a tight jobs market will help convince officials to keep interest rates low even as the economy recovers and unemployment falls.
"The recent protests likely highlight for the Fed the importance of trying to ensure a broader spread of economic gains, which means running the labor market hot," she said in a note to clients.
Indeed, Powell pledged Wednesday that the Fed would do whatever it takes for as long as it takes to get the jobs market back to full health, even holding out the possibility that it would cap yields on Treasury securities -- a strategy it last employed during World War II and its immediate aftermath.
"We're not even thinking about raising rates," he told reporters, after the Fed released forecasts showing that almost all officials expect to keep rates effectively at zero through 2022.
He also suggested that the Fed, Congress and the Trump administration might need to do more to help the economy recover from its steepest downturn in almost a century.
Speaking on Capitol Hill on Wednesday, Treasury Secretary Steve Mnuchin said the U.S. needs additional fiscal stimulus -- particularly for businesses struggling to reopen from coronavirus-related closures -- even as he said the economy has started to recover.
Powell acknowledged that the jobs market may have bottomed out. But he seemed under no illusion that heralded a quick return to the super-healthy labor market that prevailed at the start of the year.
There could be "well into the millions of people who don't get to go back to their old jobs" or to the industry they used to work in, he said. "It could be some years before we get back to those people finding jobs."