Pound Traders Are Betting on May to Survive
The pound headed for the biggest gain in six weeks on increased confidence U.K. Prime Minister Theresa May will survive a leadership challenge, amid reports that she had the backing of a majority of Conservative Party members of parliament.
Sterling gained as much as 1.4 percent against the dollar and gilts fell as news outlets reported that a majority of Tory Party lawmakers have now said they will support May in Wednesday's vote. While the vote will be held in secret, supportive comments by many politicians have helped temper market concerns about the political risks. Implied volatility on overnight pound-dollar options soared to the highest level since June 2017.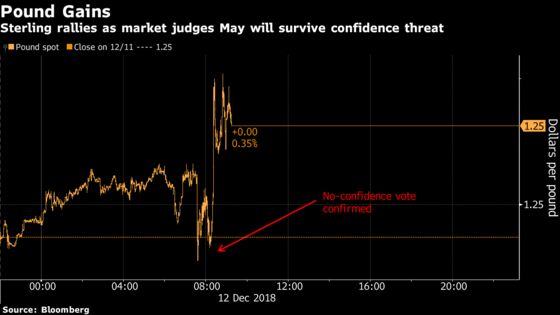 "Markets continue to price out the possibility of a loss," said Mikael Olai Milhoj, an analyst at Danske Bank A/S. "The hardliners are very attention-seeking but only make up a minority of the Conservative MPs."
The rally only takes the pound back to where it was early Tuesday, after the currency plunged Monday as the Prime Minister delayed a crucial Brexit vote. Sterling remains vulnerable to headlines, according to Nomura International Plc.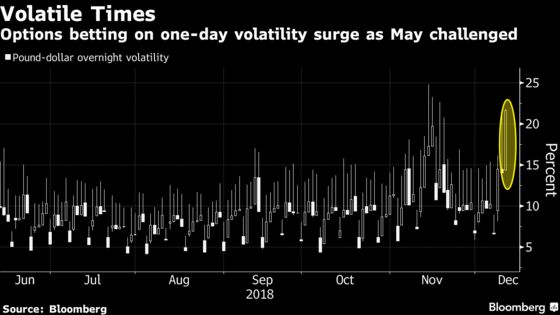 Sterling climbed to $1.2660, after earlier falling to $1.2478, the lowest since April 2017. The pound gained 0.8 percent to 89.92 pence per euro. Volumes on trading platform Cboe FX were 23 percent higher than the fourth-quarter average for the London morning. Government bonds fell, with 10-year yields rising six basis points to 1.25 percent, while the benchmark FTSE 100 Index of shares climbed 1.2 percent.
The pound could drop 3 percent on a trade-weighted basis within days if May loses the vote of confidence, and could climb 1 to 2 percent if she survives, according to Nomura.
May won support from senior allies in her government, including potential leadership rivals such as Foreign Secretary Jeremy Hunt and Pensions Secretary Amber Rudd. If a majority of Tory lawmakers vote that they have confidence in May, she cannot face another such vote for a year.
"While the risk of ousting PM May has clearly increased, I don't think that there is a credible candidate to replace the PM and who can make the no confidence vote successful," said Valentin Marinov, Credit Agricole SA's head of Group-of-10 currency strategy.