Pound Soars to 2018 High on Brexit Optimism, Dollar Weakness
(Bloomberg) -- The pound rallied on mounting speculation that Britain and the European Union are closing in on a Brexit trade agreement.
Sterling advanced as much as 0.7% to $1.3539, reaching its strongest level since May 2018 with the help of broad dollar weakness, before paring gains. Traders' sensitivity to Brexit-related headlines is heightened, with the cost of insuring a sudden swing in the pound against the euro climbing to the highest level since March.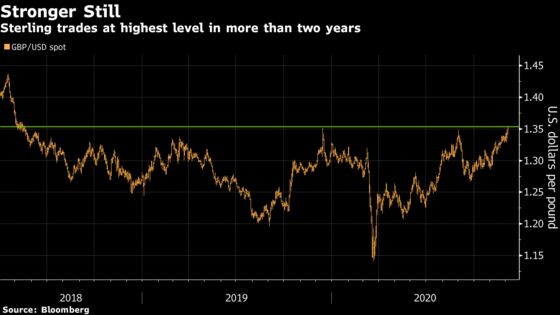 Hopes that the EU and U.K. can reach a deal before Dec. 31 have boosted the pound, which has risen over 9% against the dollar since June. Traders have taken their cues from over four years of Brexit drama to conclude a last minute resolution is likely.
"People feel a bit jittery this close to the deadline, especially given how aggressive the resulting foreign-exchange moves could be in the event of a (potential) disappointment," said Valentin Marinov, Credit Agricole SA's head of G-10 foreign-exchange strategy. That's why traders are loading up on volatility and buying the pound on dips.
It's the "FX trading version of 'hope for the best and plan for the worst' essentially," he said.
Despite a major dispute just hours before negotiators were expecting to announce an accord, diplomats are racing to save a deal between the U.K. and EU.
The pound could see a "knee-jerk" advance of about 1% to $1.3650 on an agreement, before climbing to $1.40 next year, according to Nomura International Plc currency strategist Jordan Rochester. The currency will surge and "then follow through into Christmas as U.K. assets outperform," he said, adding the weaker dollar and optimism over vaccine rollouts will further boost sterling.
Still, chasing the pound higher comes with risks, with several analysts saying any gains from a deal may be short-lived. The last time sterling rallied above $1.35 was when U.K. Prime Minister Boris Johnson's Conservatives won the general election one year ago. It failed to maintain those levels on the day and erased the entire rally in less than a week.
Options also signal doubts about the way forward. The relative cost of hedging against a weaker sterling over the coming week is the highest in seven months, according to a gauge of positioning and sentiment.
"The markets are expecting a bare-bones deal," which could see the pound rise more than 1% to around $1.37 before dropping again, according to Derek Halpenny, the head of global market research at MUFG. "If there are some positive surprises, $1.38 to 1.40 is possible."