Pound's World-Beating Rally Susceptible Even If Johnson Wins
(Bloomberg) -- The pound's rally on bets for a win by the ruling Conservative party in this week's U.K. election leaves it looking vulnerable to the actual result.
It wouldn't take much of a swing by undecided voters on Dec. 12 to turn a strong Conservative majority into a weak one, with a lot of areas set to come down to narrow margins. The risk is real, as demonstrated by a YouGov poll on Tuesday that successfully predicted the 2017 vote.
Sterling slipped from an eight-month high after the poll suggested Boris Johnson's party will win by a smaller majority than previously forecast, trimming the currency's world-beating advance in recent months. Options show increased demand to hedge an unexpected election outcome, with bets on the pound weakening at the highest since the aftermath of the June 2016 Brexit referendum.
"Broadly speaking, we believe that markets have gone a bit far ahead of themselves in pricing a robust Tory majority," said Mark Dowding, chief investment officer at BlueBay Asset Management, which closed a long position in the pound against the euro this week. "This election remains pretty unpredictable and although a majority for Johnson seems the most likely outcome, we don't think we can rule out surprises on Thursday evening."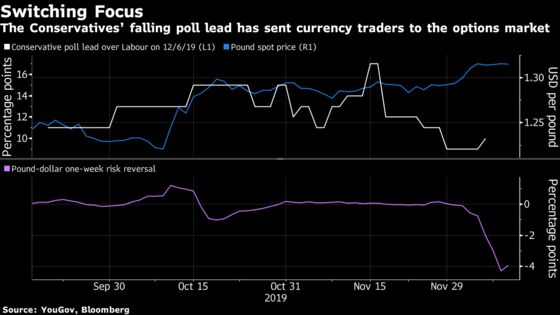 The pound has been the market barometer of political risk since the June 2016 Brexit vote. After touching an almost three-year low in early September, it has recovered on expectations that Johnson's gamble to call a snap poll could pay off by getting his deal to leave the European Union through Parliament.
Polls have consistently suggested the Conservatives are on track for a win, yet the latest YouGov survey forecast a majority of 28 seats, down from a bigger majority of 68 predicted in its poll two weeks ago. Toronto-Dominion Bank assigns a 55% probability to a large victory for the ruling party, but sees this base case as priced in by markets.
"Confirmation of a solid Tory majority may see a knee-jerk move higher in cable, but is vulnerable to 'sell the fact' profit taking and a shakeout of stale positions once the elections result is known," wrote Ned Rumpeltin, the bank's European head of currency strategy, in a note referring to the pound-dollar currency pair.
The pound traded 0.1% weaker at $1.3150 by 12:00 p.m. in London, after falling as much as 0.4% following the YouGov poll. The median forecast in Bloomberg currency surveys is for a climb to $1.35 by the end of 2020, but predictions wildly diverge depending on how analysts see the election result and what that means for the Brexit process.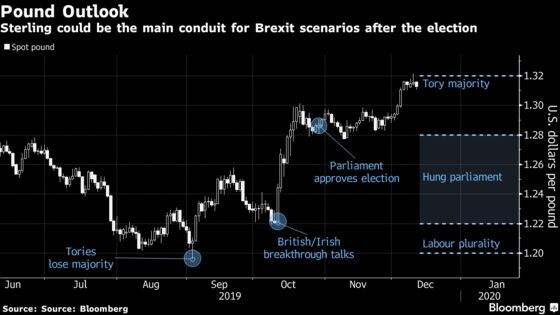 For strategists already betting on a Tory victory, it now comes down to how many seats they can gain: the bigger the majority, the less likelihood Parliament is once again trapped in a stalemate and unable to pass legislation. Johnson's predecessor Theresa May, lacking a majority, stepped down after seeing her Brexit deal repeatedly fail to convince lawmakers.
"A small Conservative majority would probably allow Johnson's Brexit deal to pass, but the prime minister might not have the political latitude to extend the transition period," wrote Andrew Wishart, an at Capital Economics, in a research note. "In that case, the prospect of a no deal at the end of 2020 would drag down the pound."
There is also the possibility that the ruling party doesn't win a majority at all in a hung Parliament, opening the door to opposition Labour to form a coalition with the smaller U.K. parties. A Bloomberg pound survey last month put the chances of this scenario at 29%, versus just 5% for an outright Labour win.
Demand for options to sell sterling over the next week has gained traction, with pound-dollar risk reversals moving to as much as 470 basis points in favor of puts, the most bearish sentiment for the U.K. currency since June 2016. Bets on swings in the next week are also elevated.
Some market participants see a Labour-led coalition as ultimately good for the currency, as the Labour leader Jeremy Corbyn has pledged to keep the U.K. in a customs union with the EU and put a new exit deal to a second referendum, but his left-wing policies mean in the short-term the currency could take a hit. For Societe Generale SA strategist Kenneth Broux, this scenario could see the currency drop to $1.28.