Pound Surges as Parliament Moves to Block Johnson's No-Deal Plan
The pound posted its biggest gain in six months after U.K. lawmakers took further steps toward blocking the government from pursuing a no-deal Brexit.
Sterling climbed as much as 1.5% to 1.2258 after lawmakers voted to force Prime Minister Boris Johnson to delay Brexit by three months. The embattled U.K. leader was dealt another blow after Parliament rejected Johnson's motion to hold early elections on Oct. 15, the third time Johnson suffered a major parliamentary defeat for his Brexit plan in 24 hours.
The U.K. currency has plunged since Johnson took power, but was able to claw back some of the losses this week as he lost his majority. The opposition Labour party said it will not support Johnson's call for an election until the Brexit delay is enshrined in law.
"Ultimately, if the risk of 'no deal' on Oct. 31 is shifting lower, and 'no deal' is one of the worst outcomes for the pound, then this likely opens the door to a more positive set of Brexit scenarios," said Adam Pickett, a Citigroup Inc. foreign-exchange analyst.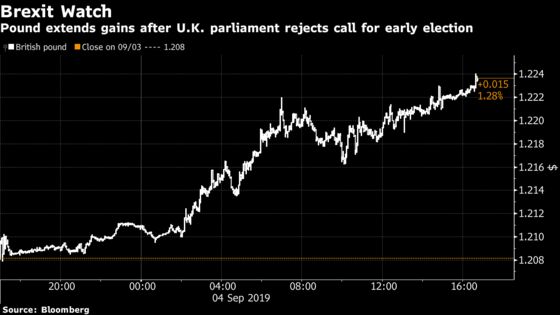 Investors are still expecting more political turmoil and are buying volatility to insure against price swings into the end of January 2020, which would become the next Brexit deadline, meaning this looks like "a temporary reprieve for the pound more than anything else," said Credit Agricole's Valentin Marinov.