Pound Pundits Give May a Fighting Chance of Winning Brexit Vote
(Bloomberg) -- For all the opposition to Theresa May's Brexit deal, the currency market views Parliament's looming vote on the pact as almost too close to call.
A Bloomberg survey of 17 strategists and fund managers sees a 55 percent chance that British lawmakers will reject the accord. That may sound low, considering the widespread political backlash it received, which cast doubt over her ability to get it through the House of Commons.
The findings of the survey suggest currency strategists see scope for May to use politicians' fear of a no-deal Brexit to her advantage, and push the deal through Parliament in the face of widespread opposition.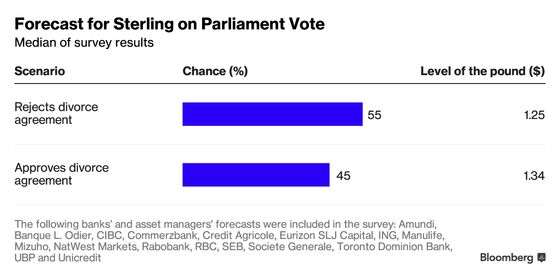 "The current draft proposal has attracted many objections, partly because the span of opinions in the U.K. is wide and no proposal would please all anyway," said Stephen Jen, chief executive at Eurizon SLJ Capital. "I still think May will get her 320 votes" necessary for the proposal to avoid defeat in Parliament, he said.
Two weeks after the deal sparked lawmaker protests and ministerial resignations, option-market sentiment on sterling is recovering from the most bearish levels since Britain voted itself out of the EU in 2016. Still, investors remain cautious as a rejection of the deal could reignite risks including that of a no-deal Brexit, an early election or even a second referendum.
The survey may help currency traders understand what's priced into the market after exchange-rate swings became more volatile as the divorce deal was agreed on. A 'no' vote could send sterling sliding to $1.25, about 2 percent lower from current levels, while a slightly lower-probability 'yes' outcome may spark a rally to $1.34, the survey showed. The most bearish call was for a tumble to $1.10.
Criticism by the opposition Labour Party was somewhat lost in the din of feuds within May's own Conservative Party, with hardline Brexiteers such as Boris Johnson calling for a clean break all EU rules and institutions. The Democratic Unionist Party, May's ally in Parliament, is also upset because she agreed to allow the EU closer post-Brexit ties with Northern Ireland than the rest of the U.K.
Indeed, the political sphere remains more pessimistic on the deal than the market. Opposition to May's agreement seems to be hardening with many lawmakers having come out against it in recent days, including her one-time ally Michael Fallon.
Cabinet members are considering urging May to abandon the deal, The Sun reported, citing unidentified ministers.
"No one thinks this will get through the first time," said Steve Fielding, a professor of politics at Nottingham University. "At least 90 MPs have said they will vote against it. The risk is actually that, with everyone discounting the first vote, you get more."
While the deal may eventually get through Parliament, it probably will have to undergo further tweaks and lawmakers may end up voting more than once before they approve it, according to some strategists and investors.
Sterling rose against all G-10 currencies Wednesday amid market optimism that there might be ways out of the impasse. A report that the government is going to allow votes on amendments to the Withdrawal Agreement bill and comments from a senior Labour politician backing the idea of a second referendum helped to stem negative sentiment. The pound was up 0.2 percent to $1.2775 by 2:45 p.m. in London.
"Pound short positions will be favored until we know how parliament votes," said Kenneth Broux, a strategist at Societe Generale SA, who sees a 70 percent chance of Parliament voting down the agreement in its current form, triggering a pound selloff. "The deal will only pass if its amended. Article 50 could be extended to avoid a no-deal scenario; no-deal threat will be used to negotiate and extract concessions."
Despite hurdles to lawmakers' approval for the agreement, strategists and fund managers surveyed see a relatively small chance -- a median probability of 23 percent -- of Britain crashing out of the EU without an economic accord. A no-deal Brexit would fuel a pound decline to $1.17, according to the poll. One-month risk reversals on the pound-dollar pair, a gauge of sentiment, have rebounded to minus 187 basis points from a low of minus 248 on Nov. 19.
"Anyone who votes against this is voting in favor of a hard Brexit," said Peter Kinsella, head of foreign-exchange strategy at Union Bancaire Privee. "I cannot imagine anyone in opposition would even seriously consider such a development."