Pound Outlook Is Most Bearish Since Brexit Vote
(Bloomberg) -- Investors are the most bearish on the pound since the U.K. voted to leave the European Union as markets brace for the possibility of a no-confidence vote in Prime Minister Theresa May's leadership.
The premium to buy put options on the currency relative to calls is the steepest since June 2016, even with sterling attempting a recovery on Monday. The Sun newspaper reported that 42 lawmakers have sent letters of no confidence against May, with six more needed to trigger a leadership challenge.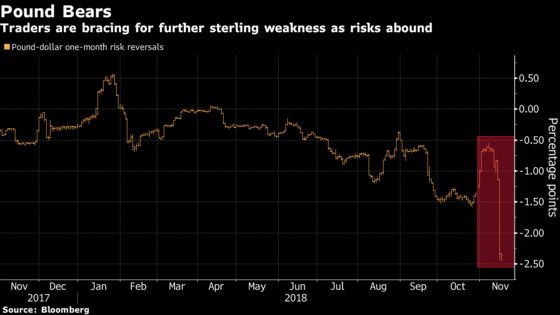 The pound declined more than 1 percent last week after several of May's ministers quit in disagreement over her Brexit divorce deal with the EU. The political turmoil has opened up a multitude of risks for sterling, including the prospect of new elections or even a second referendum.
Should the Prime Minister manage to stay on, she will still have a challenge getting her Brexit deal -- which leaves the U.K. tied to the EU's customs union -- through parliament. RBC Capital markets said last week that the best and worst-case scenarios could lead to a 10 percent swing in the currency.
May will spend Monday appealing to business leaders, addressing the Confederation of British Industry later in an attempt to convince them to back an agreement few in her own party think is ideal.
The pound gained 0.2 percent to $1.2857 as of 7:51 a.m. Monday in London. Against the euro, it advanced 0.3 percent worth 88.76 pence after having slumped close to 2 percent last week.
"The pound is attempting to stage a tentative rebound following last week's sharp Brexit related sell-off," Lee Hardman, an analyst at MUFG, said in a research note. "At the moment no news is good news for the pound, yet it would quickly come back under downward pressure if a leadership challenge is called in the coming days."
The cost of one-month put options on the pound relative to call options was 238 basis points, compared with a premium of 100 basis points at the end of last month. Data from the Depository Trust & Clearing Corporation shows that some 64 percent of all the pound-related options traded so far since the start of last week were for calls, suggesting possible interest in hedging upside risks.
Still, those outside the U.K. are getting more bullish on the pound, with Japanese retail investors boosting their net long positions against the yen last week for the first time this month. They have demonstrated a tendency to buy sterling on dips in the past 12 months to bet on a rebound, according to data from the Tokyo Financial Exchange Inc.