The Pound Is Being Held Hostage by Politics Again
(Bloomberg) -- The pound fell to a six-week low as traders grappled with the threat of a no-deal Brexit and the continuing risk of a challenge to U.K. Prime Minister Theresa May's leadership.
Sterling extended this week's slide as May was due to face angry colleagues at a gathering of her Conservative Party on Wednesday, and European Union Council President Donald Tusk said there was no guarantee a hard border between the Republic of Ireland and Northern Ireland can be avoided.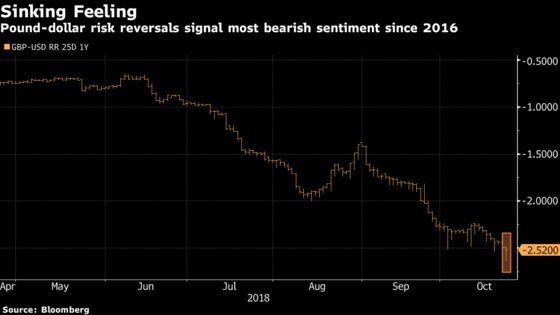 The cocktail of deadlocked Brexit talks and domestic political turmoil leaves traders little reason to be positive on the pound, with long-time pound bull Nomura International Plc switching to a neutral stance Monday.
Investors are watching for signs whether a much-anticipated challenge to May will actually materialize, and the outcome of her meeting with parliamentary colleagues on Wednesday could be crucial. Speculation grew after media reports at the weekend said the number of Conservative lawmakers opposing May was approaching the threshold required to officially mount a challenge.
"Markets remain very cautious on the pound given that the time is running out to clinch a Brexit deal," said Valentin Marinov, head of Group-of-10 currency strategy at Credit Agricole SA. "Today's meeting between May and the hard-Brexiteers in her own party is also among the sources of uncertainty. Evidence that political risks are growing in Westminster could fuel concerns about a no-deal Brexit and keep sterling under pressure."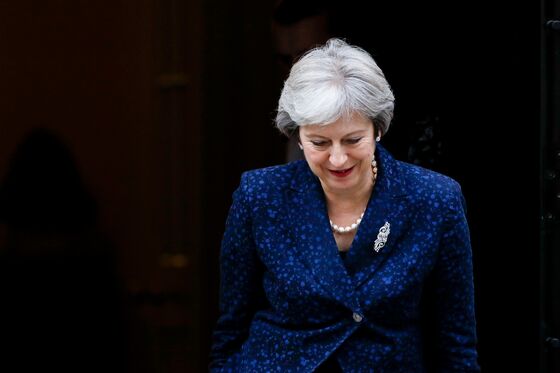 The pound fell as much as 0.6 percent to $1.2900, the lowest level since Sept. 10, and was trading at $1.2916 as of 11:52 a.m. London time. It weakened 0.6 percent last week as a key EU summit failed to yield much progress on Brexit. Option market sentiment on the sterling-dollar pair has turned more bearish, with risk-reversals on the one-year tenor hitting the lowest since just after the Brexit vote in 2016.
Should a leadership contest be triggered, then the pound could slump by 1 percent to 2 percent, according to Jordan Rochester, an analyst at Nomura.
"The way the pound is currently trading," with the drop below $1.30 this week, "it would appear the market is partially pricing in a challenge," said Neil Jones, head of hedge fund sales at Mizuho Bank Ltd.