May to Set Timetable for Departure in June: Brexit Update
(Bloomberg) -- Theresa May has agreed to fire the starting gun on the race to find her successor next month, after party colleagues allowed her one last chance to get her Brexit deal approved in Parliament.
May will meet Graham Brady, the chairman of rank-and-file Tory MPs, after her Brexit bill is voted on in the first week of June. They will set a timetable for a leadership race whatever way the vote goes, he said.
Labour demands 'entrenched' concessions in cross-party talks
Pound falls to three month low
May Will Set Timetable for Departure in June (2:45 p.m.)


Theresa May will meet with Graham Brady to agree a timetable for her departure as prime minister after a vote on the Withdrawal Agreement Bill in the week of June 3, the chairman of the 1922 committee of backbench MPs said in a statement.
"The prime minister is determined to secure our departure from the European Union and is devoting her efforts to securing the second reading of the Withdrawal Agreement Bill in the week commencing June 3," Brady said. "We have agreed that she and I will meet following the second reading of the Bill to agree a timetable for the election of a new leader of the Conservative and Unionist Party."
No date from May for Stepping Down, One MP Says (2:15 p.m.)
Theresa May didn't give a date by which she'll quit as leader and prime minister, according to one person who was at her meeting with leading rank-and-file Tory MPs.
Graham Brady, chairman of the 1922 committee of Conservative MPs will meet her early June after the House of Commons vote on the Withdrawal Agreement Bill, according to the person who declined to be identified because the meeting was private.
Boris Johnson Says He'll Run for PM (2 p.m.)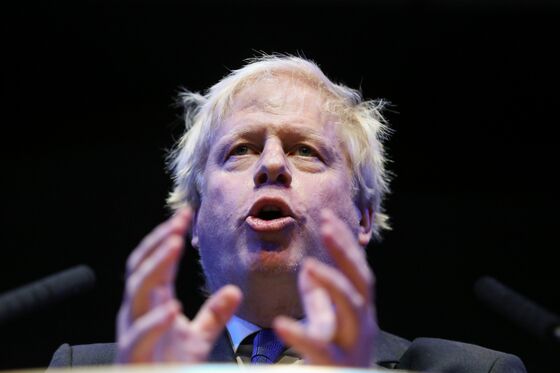 Former Foreign Secretary Boris Johnson has confirmed what was widely expected, that he'll run to replace May when she leaves office. Speaking at an insurance conference in Manchester, he said there wasn't currently a vacancy, but would stand if there was.
May Position Untenable If Bill Fails, Morgan Says (12:30 p.m.)
Nicky Morgan, chairwoman of the House of Commons' Treasury Select Committee and a former cabinet minister, said May would have to step down if she can't get the WAB passed in June.
If the bill doesn't go through "she is going to have to hand over to somebody else to see whether that change of momentum, that change in leadership, is able to make that difference," Morgan told Bloomberg TV.
Morgan said she'd be unlikely to serve as a minister if Boris Johnson succeeds May as prime minister. "I think it's unlikely I'd be asked and I think it's probably unlikely I'd say yes," she said.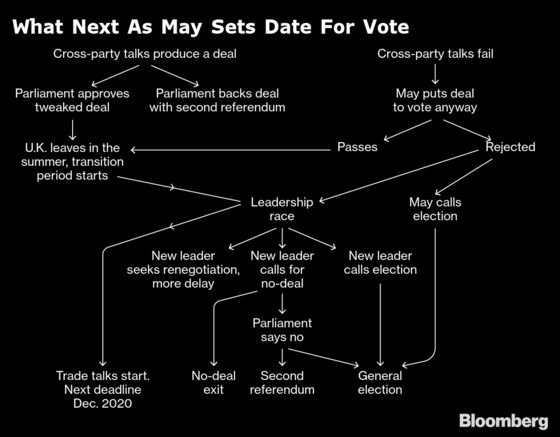 Leadsom: Brexit Vote in week of June 3 (11:40 a.m.)
House of Commons Leader Andrea Leadsom confirmed there will be a vote on the Withdrawal Agreement Bill in the week of June 3.
"The bill will be introduced as soon as possible to give colleagues the chance to consider the provisions within it," Leadsom added, saying she would update lawmakers in an additional business statement next week.
Leadsom said there will also be a "meaningful vote" on May's deal with the EU at some point -- to give Parliament a final say in line with legislation passed last year.

Labour Will Vote Against May's Bill (10:35 a.m.)
Labour will vote against May's key piece of Brexit legislation unless the government reaches an agreement with the opposition first, the party's Brexit spokesman Keir Starmer told Parliament.
It's "perfectly clear" that if May pushes her bill to a vote again without Labour agreement it "will fail for the fourth time," Starmer said.
There was some speculation on Wednesday that Labour could abstain when the bill comes for a first vote in Parliament early next month. May is putting the bill to lawmakers as a proxy for her deal, which the House of Commons has already rejected three times.

Pound Falls to Three Month Low on Brexit Fears (8:45 a.m.)
The pound dropped to a three-month low versus the dollar and headed for its longest losing streak versus the euro since 2000 as market anxieties over the Brexit process and the likelihood of a no-deal divorce from the EU flared up again.
Sterling fell as low as $1.2821, the weakest since mid-February; and fell 0.2% against the euro.
"We are pricing the risk of no-deal exit back in," said Adam Cole, head of G-10 strategy at RBC
Gauke: Removing May Won't Help in Parliament (8:40 a.m.)
Justice Secretary David Gauke warned potential Tory leaders jockeying to replace Theresa May as prime minister that they would face similar problems getting any Brexit arrangements through the House of Commons.
"The idea that if you change the prime minister suddenly the parliamentary arithmetic becomes significantly different is a nonsense and I think people need to bear that in mind," Gauke told Sky News.
"Some of the people who seem to be pushing for a change ought to be aware that they're not necessarily well placed to achieve a majority in the House of Commons by any means, certainly no more likely to do that than Theresa May" Gauke said. "The Conservative Party shouldn't focus on who the leader is and try to change the leader, we should be focusing on how we deliver the referendum result and do so in a way that minimizes disruption."

Labour Seeking 'Entrenched' Brexit Concessions (8 a.m.)


Rebecca Long-Bailey, business spokeswoman for the opposition Labour Party, said the government side hasn't yet moved enough in cross-party Brexit talks and Labour is seeking "entrenched" concessions before it would commit to any deal.
"We haven't reached an agreed position, the government has moved in some areas, they haven't moved in others," Long-Bailey told BBC Radio 4. "In terms of a customs union they haven't reached the position we'd like them to get to by any stretch. They haven't moved to the position we need them to."
Pressure on May from Tory MPs who say they won't support any deal with Labour have increased the opposition party's concerns that any agreement won't survive May's departure as leader.
"If we reach a deal we want to be sure that whoever the next Tory leader is doesn't rip that deal to pieces," Long-Bailey said. "We need to have the promises the government might make entrenched."