Pound Suffers Setback After 8% Rally as Brexit Deal Put on Hold
The pound weakened against all its major peers as U.K. lawmakers rejected Prime Minister Boris Johnson's plan to fast-track his Brexit accord through parliament.
After a rally of more than 8% since early September, currency strategists had predicted that only a win for the government would enable sterling to extend its gains. Many said losses would be limited in the event of a defeat, since the risks of a no-deal exit from the European Union had already been largely neutralized.
In the event, sterling slid as much as 0.8% against the dollar before recovering from its intra-day low. The decline was contained as the government won an initial vote on the deal and Johnson opened the door to a potential extension to an Oct. 31 deadline, after earlier threatening to throw out the deal if lawmakers rejected his plans. Citigroup Inc. analysts said the lower pound created a buying opportunity.
"For now it seems the market is still generally expecting this is a setback, but not a fatal setback, to a negotiated Brexit," said Jeremy Stretch, head of G-10 currency strategy at Canadian Imperial Bank of Commerce. "There hasn't been a rapid uptick in no-deal pricing at this point."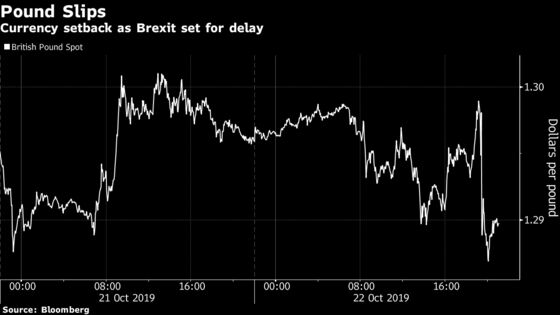 Parliament's vote to reject the planned schedule makes it virtually impossible for Johnson to get his agreement ratified by the end of the month. Still, the two votes taken together potentially move the U.K. even further from a no-deal scenario, while also raising the chances of an extension to the deadline. Another possibility is a general election to try to break a parliamentary deadlock.
"The market simply wants some degree of certainty at this stage, and if an election is part of that journey, it will accept that," said Shahab Jalinoos, global head of foreign-exchange strategy at Credit Suisse. "The alternative is that PM Johnson agrees to the delayed timetable for this bill, which is also unlikely to be upsetting to the market at this point."
The U.K. currency had stayed in a tight range in Tuesday's session before the vote, trading close to its average level since the Brexit referendum in 2016, based on Bloomberg's British Pound Index. It was at $1.2897 at 9:21 p.m. London time, after touching $1.1959 on Sept. 3.
For strategists at Citigroup, there's room for it to build on those gains.
"We would buy dips -- our view remains that Johnson is not a no-deal Brexiteer and that no-deal risk on Oct. 31, or indeed ever, remains relatively low," said Adam Pickett, a foreign-exchange strategist at the bank. Even on an election, the two most likely outcomes are Johnson getting his deal through with a majority or that a coalition leads the U.K. to ultimately remain in the EU, and "both of those outcomes are sterling bullish in the medium term."