Tornadoes Leave 5 Dead in Central U.S. and 438,000 in Dark
(Bloomberg) -- A powerful storm that ripped across the Midwest and Great Plains with hurricane-force winds killed at least five people, ripping trees from the ground and knocking out power to more than 438,000 homes and businesses. 
Winds reached 97 miles (156 kilometers) per hour in parts of Nebraska and approached that speed in many other areas as the storm combined with already stiff breezes and warm air to set record-breaking temperatures across the region. Wednesday set the record for the most gusts of 75 mph or more since 2004, with 55 reported, the U.S. Storm Prediction Center said in a tweet.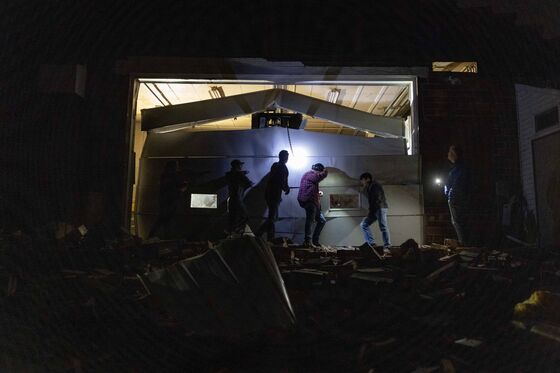 The storm also spawned 21 tornado reports, 501 instances of wind damage and at least 19 outbreaks of hail, some of which reached softball size, according to the National Weather Service. At least five people died in Minnesota and Iowa, the Associated Press reported.
A steady wind of 21 mph was blowing at Chicago's O'Hare International Airport, where the temperature had dropped to 39 degrees Fahrenheit (4 degrees Celsius), down from 61 earlier, around 1 p.m. local time. Wednesday's high reached a record 66 degrees. 
"I cannot recall a system like this in recent memory," said Rich Otto, a forecaster with the U.S. Weather Prediction Center. "Today things look quieter and that is good news."
What made the system worse is that conditions were already ripe for high winds across the central U.S. and then the thunderstorms were embedded in it, Otto said.
Damage was reported from New Mexico to Minnesota from winds, which caused more widespread impacts than the tornadoes spawned by the storm. Aircraft were damaged and a radio tower collapsed in New Mexico, power lines were downed throughout the region and there were numerous reports of toppled trees and roofs ripped off buildings, according to the Storm Prediction Center.
As of 2:16 p.m. New York time, 438,384 customers in six Midwestern and Plains states were without power, down from 555,141 earlier in the day, according to PowerOutage.us, which tracks outages reported on utility websites. An additional 30,150 are blacked out in California after heavy snowfall in the Sierra Nevada.
The low pressure system has moved into Canada and high wind warnings have been posted throughout southern Ontario by Environment and Climate Change Canada. The agency said power outages are possible through Thursday. Ontario's Hydro One Ltd. utility reported 386 active outages with nearly 33,000 customers affected as of 2 p.m. Toronto time.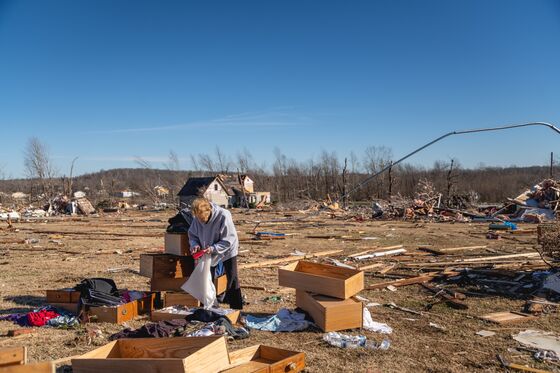 The latest storm comes a week after a devastating outbreak of tornadoes last week killed at least 89 people in Kentucky and neighboring states, including collapsing an Amazon warehouse in Illinois.
The ferocity of the storms stunned many meteorologists, who took to Twitter to express shock that such an event was unfolding in December, when such systems tend to be rarer.
"OK, nocturnal mid-December thunderstorms along the north shore of Lake Superior by Canada. When I was an undergrad meteorology student in the 70s at Michigan, predicting such an event would occur in my career would have seemed ludicrous!" Jeff Masters, a meteorologist for Yale Climate Connections, wrote in a tweet.
In addition to the winds, temperatures rose to record highs on Wednesday across the Great Plains. In Topeka, Kansas, the high reached 76 degrees; 74 in Omaha; 70 in Sioux City, Iowa; and 74 in Des Moines, the weather service said.