Postmaster DeJoy Slams 'Outrageous Claim' of Trump Meddling
(Bloomberg) -- U.S. Postmaster General Louis DeJoy said there's been no attempt by President Donald Trump or his administration to interfere with Postal Service operations in order to thwart voting by mail, as he defended his management of the agency.
DeJoy called allegations that cutbacks at the post office are aimed at having an impact on the November election an "outrageous claim." He said he's voted by mail for years and that everyone should be able to do so.
"The American people can feel comfortable that the Postal Service will deliver on this election," DeJoy said Friday at a Senate Homeland Security Committee hearing.
The Postal Service is at the center of political clash between Democrats and Trump over voting and the integrity of the November election. Trump, who is trailing Democrat Joe Biden in pre-election polls, has repeatedly decried the increase in voting by mail and claimed, without evidence, that it's ripe for fraud.
The president repeated his assertions on Friday, saying that Americans might not ever know who won because of mail-in ballots and alleging that the outcome would be tainted. Voting by mail, Trump said in a speech, "will be a tremendous embarrassment for our country, it will go on forever and you will never know who won."
Republican Senators Mitt Romney of Utah and Rick Scott of Florida each expressed support for mail-in-voting during Friday's hearing. "In Florida, we've had vote-by-mail for a long time and it's worked really well," Scott said.
Democrats have questioned whether recent slowdowns and cutbacks at the post office may be part of an effort to suppress voting. Former Postal Service Board of Governors Vice Chairman David C. Williams said at an informal hearing organized by progressive Democrats on Thursday that Trump sought to turn the Postal Service into a "political tool." He said that effort was being led by Treasury Secretary Steven Mnuchin.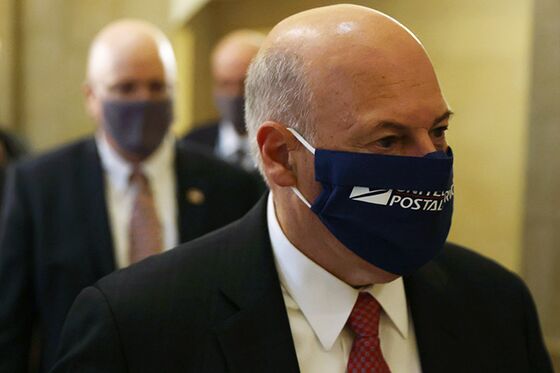 Under questioning from Democrats on the panel, DeJoy said he never discussed post office operations with Trump or specific policy changes with Mnuchin.
"I will remain independent" of the Trump administration, DeJoy told Senator Thomas Carper, a Delaware Democrat who cited Trump's objections to voting by mail.
Romney told DeJoy that it must be "frustrating" to be accused of being accused of letting political considerations guide his management. But he also added a dig at the president.
"Any surprise at such concerns has to be tempered by the fact that the president has made repeated claims that mail-in voting will be fraudulent and that he doesn't want to get more money to the post office because without more money you can't have universal mail-in voting," Romney said.
Republicans as well as Democrats raised complaints they've heard about delayed mail deliveries.
"I am concerned about the delays we've seen," Republican Senator Rob Portman of Ohio said, telling the story of a Vietnam veteran with a lung disease who didn't receive an inhaler on time.
DeJoy acknowledged that there have been such problems.
"Unfortunately, our production processing within the plants was not fully aligned with this established schedule" so that resulted in "some delays," he said. Fixes that were supposed to take days took "weeks."
The Postal Service has decommissioned sorting machines and removed some mail boxes as part of broader cutbacks. In addition, the post office has warned 46 states that it couldn't guarantee that ballots mailed before Election Day would arrive in time to be counted because of deadlines they've set.
DeJoy, who suspended operational changes before the election under pressure from Democrats, said that since he took over as postmaster, the agency has removed 700 collection boxes as part of a regular reallocation.

"This is a normal process that's been around 50 years," he said.

The dismantling of postal sorting machines, which was cited by Democrats on the committee, is the result of changes in the mix of letters and packages, DeJoy said. The changes are being made to accommodate the growing number of packages in proportion to regular mail.

Under questioning, DeJoy said the decommissioned sorting machines won't be put back into service. "They are not needed," he said.
DeJoy said Congress was at fault for the agency's dire financial situation because lawmakers hadn't enacted changes that would allow it to get on a sustainable path.
"We have a $10 billion shortfall, and will continue to have," he said. "Over the next 10 years we'll have a $245 billion shortfall."
While providing few details he said the service would seek new revenue and pricing freedom.
"One thing that is not in the plan, is not doing anything after the election," DeJoy said.
Republicans have been mounting a defense of the Postal Service and of DeJoy, dismissing Democratic alarm over its operations and the possible effect on the November vote that will decide control of the White House and both chambers of Congress.
DeJoy "has already been subjected to character assassination as Democrats have put him in the crosshairs of another hyperbolic false narrative perpetrated to gain political advantage," Senator Ron Johnson, the Wisconsin Republican who leads the Homeland Security Committee, said in his opening remarks.
Senator Gary Peters of Michigan, the panel's top Democrat, said DeJoy has "undermined one of our nation's most trusted institutions and wreaked havoc on families, veterans, seniors, rural communities and people across our country."

Peters said the damage to the institution should be "quickly reversed."
The testimony left Senator Elizabeth Warren, a Massachusetts Democrat, calling for DeJoy's dismissal.
"Louis DeJoy flat-out lied to the Senate today about the changes he's implemented at the @USPS, refused to cooperate with requests for documents, and rejected the idea of fixing his damage," Warren said in a tweet. "Enough is enough: the Board of Governors must remove DeJoy & reverse his acts of sabotage."
The House Oversight Committee is scheduled to question DeJoy on Monday. Postal Service Board of Governors Chairman Robert Duncan is to join him at that hearing.
The Democratic-controlled House is set to vote Saturday on legislation that would bar the post office from making any changes to its operations amid the coronavirus pandemic. The bill also would give the agency $25 billion in additional financing. Senate Majority Leader Mitch McConnell has indicated that there were no plans to take up the legislation in the Senate, where Republicans hold the majority.
DeJoy was selected in May by the Postal Service Board of Governors, which is controlled by Trump appointees, and took over in June. He is a major Republican donor who once played host to Trump at his North Carolina home. He served as national finance chairman for the Republican National Convention, which was scheduled to be held in his home state's biggest city, Charlotte.
Since 2009, DeJoy and his wife, Aldona Z. Wos, have given $2.6 million to Republicans, Federal Election Commission records show.
DeJoy was an executive with Connecticut-based supply chain company XPO Logistics Inc. and served on its board of directors until 2018, according to the Postal Service. Wos was nominated in February to be the U.S. ambassador to Canada.
The USPS on Friday announced a website -- usps.com/votinginfo -- that it said would provide clear and concise information about voting by mail.