Portugal Says Any Brexit Outcome Is Better Than No Deal
(Bloomberg) -- Portuguese Foreign Minister Augusto Santos Silva said any Brexit deal is better than the catastrophic scenario of failing to reach an agreement.
"We've supported the British government and the British prime minister on everything for a deal to be possible," Santos Silva said at a conference in Lisbon. "Portugal is one of the countries that has firmly backed the idea that every outcome is preferable to not having a deal."
Santos Silva spoke as a study sponsored by the Business Confederation of Portugal showed the country's exports to the U.K. could drop between 15 percent and 26 percent in the medium-to-long term with Brexit. The split could also knock 0.5 percent to 1 percent off Portugal's gross domestic product, according to the study.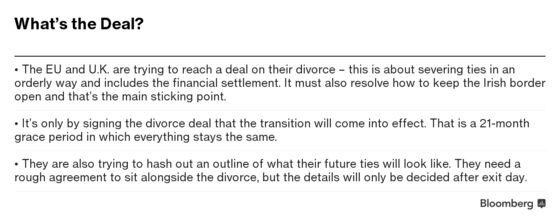 The U.K. is the fourth-biggest destination for Portuguese goods and the biggest market for the export of Portuguese services, Santos Silva said, citing the study. Everyone stands to lose from Brexit and that's why it's crucial for the European Union and the U.K. to carry out this "divorce in the smoothest and most regulated possible way," said Santos Silva.
"The only thing we're not willing to accept is an agreement that shows that those that leave the EU will have better conditions than those that remain behind," he said.