Populist Surge Eclipsed by New Faces in Latvia
(Bloomberg) -- A populist surge was eclipsed by other newcomers in Latvian elections that are set to usher in another pro-Western government, but only after potentially lengthy coalition talks.
The Baltic nation of 2 million people, once an unwilling part of the Soviet Union, is on the front line of growing tensions between the West and Russia, with which it shares a border. The current ruling alliance lost its majority in Saturday's ballot after a year of banking and corruption scandals. But while a brash anti-establishment upstart took a sixth of parliament's seats, two other parties nearer the political center together won a third.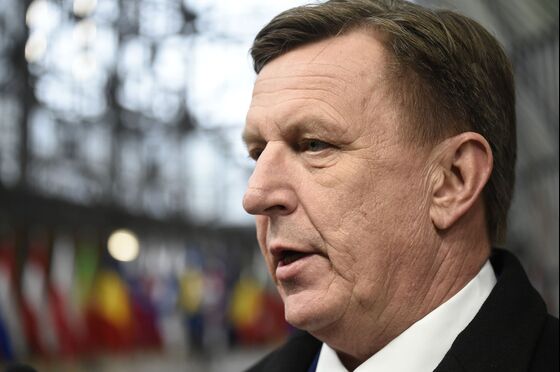 They're likely to join forces with as many as three other similarly minded parties to form a government. That would once again lock out the Russia-leaning Harmony, which won most votes for a third straight time but can't find partners in a nation that remains wary of its bigger neighbor, particularly after the annexation of Crimea and the conflict in eastern Ukraine.
"Parliament will be very fragmented and I don't think that's what voters would have wanted," Juris Rozenvalds, dean of the social science faculty at the University of Latvia, said by phone. "Government formation will take a long time and I don't rule out seeing in the New Year with the current prime minister."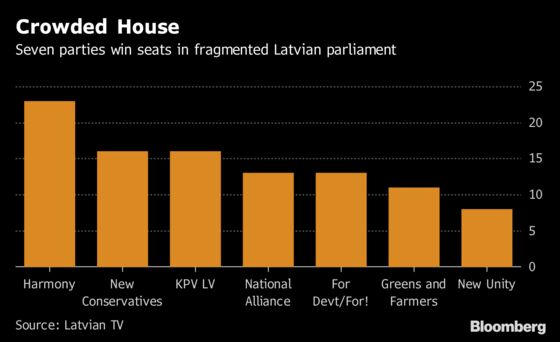 Echoing populist waves from London to Rome, Latvia's elections got an injection of drama from the arrival of KPV LV, which means 'Who does the state belong to?' But rather than the "radical change" it promised, voters in the European Union and NATO member -- who're generally quite conservative -- opted for something more incremental.
The other two new parties are the New Conservatives, which campaigned on a law and order platform, and For Development/For!, which combines elements of libertarianism with socially progressive policies. While KPV LV may yet play a role, the next government will be dominated by center-right forces, as has been the case for more than 25 years.
"Everyone will have to sit at one table and talk," except Harmony, Raivis Dzintars, head of current coalition-member National Alliance told Latvian TV on Saturday.
President Raimonds Vejonis urged the new coalition to maintain Latvia's current pro-European and American direction, which provides a security guarantee as Russia flexes its muscles. He plans to start holding meetings on forming a government in two weeks, saying in a tweet that it should plan for a balanced budget.
Prime Minister Maris Kucinskis, whose Union of Greens and Farmers lost half its seats, said in an interview with LTV that creating a government will be "very difficult."
Harmony had sought to improve its image by abandoning a much criticized cooperation agreement with the United Russia party that backs President Vladimir Putin and joining the European Socialists. But fear of Kremlin meddling remains acute. About a quarter of the population identifies as ethnic Russian.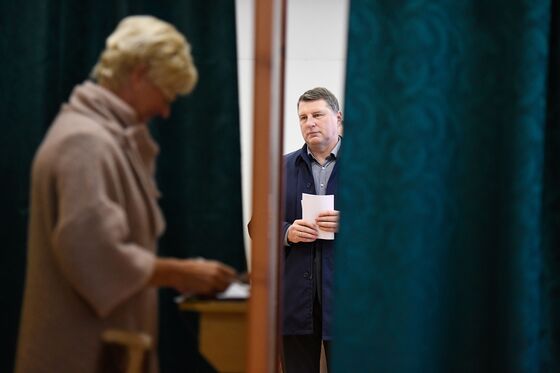 The popularity of new parties is understandable in a year of money-laundering scandals for Latvia's lenders and bribery charges against the central bank governor. The second-fastest economic growth in the EU and unemployment near a decade low haven't convinced the public that Latvia is on the right path, according to a survey from September.
The election hasn't affected markets, with 10-year yields on Latvian government Eurobonds little changed at 1.032 percent.