Populist Duterte Risks Public Dismay After TV Giant Is Shut Down
(Bloomberg) -- Philippine leader Rodrigo Duterte has put his public approval to the test after the closure in the middle of the coronavirus pandemic of the nation's largest broadcaster, a producer of newscasts and romantic soap operas that as many as three out of four Filipinos wanted to stay on the air.
ABS-CBN Corp.'s repeated bids to renew its franchise suffered a fatal blow on July 10, when it was rejected by Duterte's allies in the House of Representatives. The refusal, even in the face of public opposition, shows the president still has strong backing from lawmakers for his rigorous and often controversial agenda to overturn the old order.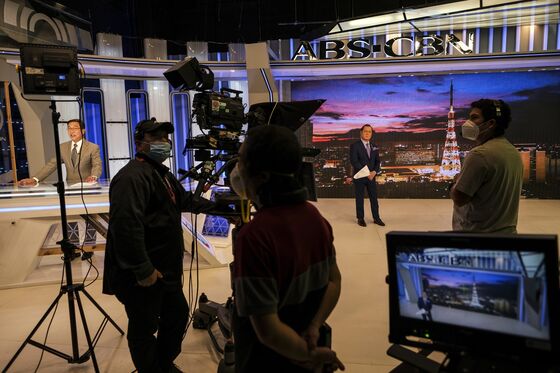 "It's about sending a signal and an assertion of power that he can do anything he wants to do," said Tony La Vina, who teaches political law at the Ateneo de Manila University and is a former dean of the Ateneo School of Government.
Duterte, in his first public appearance since the broadcaster was denied a franchise, said he can already die "very happy" knowing that he has "dismantled the oligarchy."
"Without declaring martial law, I destroyed individuals who control the economy," he said Monday, without elaborating. His spokesman Harry Roque said the president has remained neutral on the issue of the broadcaster's franchise renewal and that he wasn't referring to the Lopez family, which controls ABS-CBN.
ABS-CBN wasn't the only large corporation in the president's cross hairs as he drove his populist agenda to force concessions from businesses for the benefit of taxpayers, but it is one that has perhaps the strongest bond with the public. The broadcaster said it had a 44% audience share nationwide and aired nine out of 10 most-watched shows last year, including a top-rated nighttime police drama.
Duterte has criticized the network since 2017, alleging that it didn't air his campaign advertisement and accusing it of unfair reporting. He told the group's owners in December to sell the media company as its fate remained uncertain. His Congressional allies accused ABS-CBN of bias and violations of labor and tax laws, allegations the broadcaster has repeatedly denied.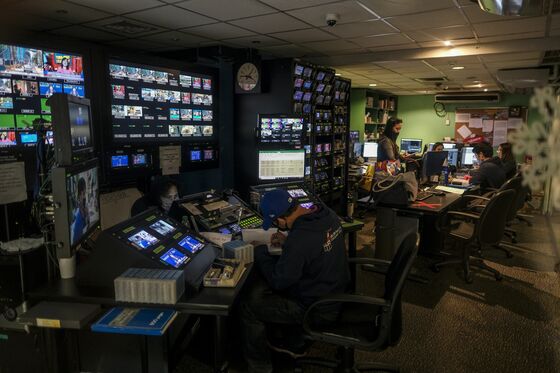 "It wasn't the government who shut ABS-CBN down, rather it was their owners' playing fast and loose with our laws in the past decades, that made the shutdown inevitable," House Speaker Alan Peter Cayetano said in a statement on his Facebook page on July 13. He said the move was in line with the Duterte's efforts to loosen "the grip of the oligarchs on vital socio-economic interests."
Still, closing down the media group may hurt Duterte's popularity if the public sees it as politically motivated, said Dindo Manhit, managing director of Manila-based political consultancy firm Stratbase. The Social Weather Stations poll of 1,555 Filipinos from July 3 to 6 showed that 75% of respondents wanted ABS-CBN to keep broadcasting. The results, released a day after the House panel's vote, showed more than half considered the rejection of the franchise bid was "a major blow to press freedom."
"We're not talking about a small television network here," Manhit said. "We're talking about a big national network which has been a source of news and entertainment."
With the coronavirus spreading through the country, millions of Filipinos tuned in daily to hear the broadcaster's news about the pandemic. Philippine Covid-19 infections have more than tripled since the start of June when lockdowns were eased over large parts of the country, with infections exceeding 58,000 on Wednesday.
"At a time when we need every media outlet to disseminate life-saving information, we don't shut down the one with the widest reach," said Deputy Senate President Ralph Recto. "ABS-CBN does not deserve the death penalty. If it erred, penalize it. Because if corporate misdeed is punishable with extinction, no business will be left standing in this land."
ABS-CBN's bid for a new 25-year franchise was rejected by a panel of 84 lawmakers by a 70-11 vote. The broadcaster's main television and radio stations have been shut since May when its previous franchise lapsed, affecting 11,000 employees. ABS-CBN has a petition pending before the Supreme Court questioning the closure.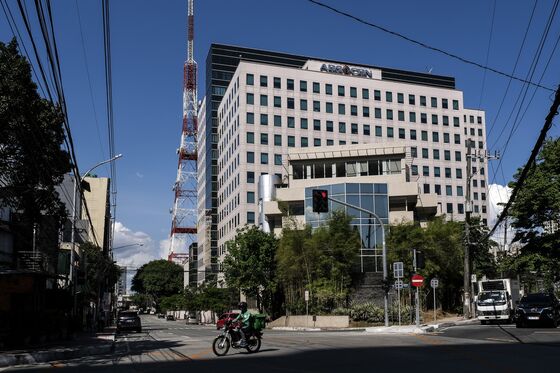 Minority Leader Bienvenido Abante said in an ABS-CBN News Channel interview on July 13 that the franchise bid should have been voted on by the full house of more than 300 representatives.
"I've already said that this will not be accepted by the Filipino people and I was right," Abante said. "If you go to the plenary and let every congressman vote according to their conscience then whatever the result might be, I guess we would accept that."
The termination of ABS-CBN's service has a prequel -- it was also shut down by the late dictator Ferdinand Marcos in 1972 and only returned to air once Marcos was ejected in 1986. On both occasions, the move raised calls from critics about curbing press freedom.
"Many politicians, including me many times, have been on the receiving end of unflattering reports from ABS-CBN," Senator Recto said. "But reply is the best response, not closure, because such is the ultimate form of censorship."