Pop-Star Politician's Return to Uganda Prompts Police Protection
(Bloomberg) -- A Ugandan pop star returned from the U.S. to face treason charges and was escorted home by police striving to prevent any show of support for the lawmaker who's become President Yoweri Museveni's biggest challenger.
Robert Kyagulanyi, who goes by the stage name Bobi Wine, arrived back in the East African nation on Thursday after receiving treatment for injuries he said were sustained during his detention in northwestern Uganda in August. Patrols by police and soldiers on the streets of the capital, Kampala, underlined the growing influence of the self-styled "ghetto president" who was elected to parliament last year.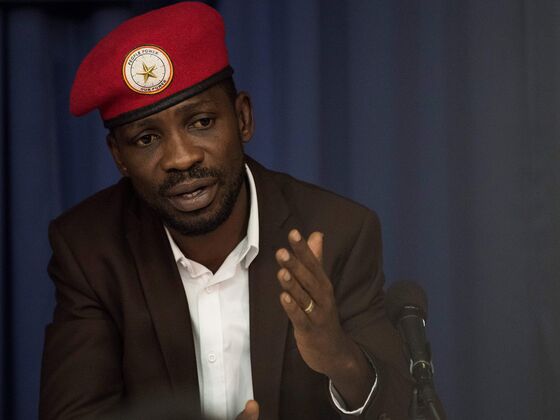 Police picked up Kyagulanyi when he arrived at Entebbe airport and he was escorted home, police spokesman Emilian Kayima said by phone, denying he'd been arrested. A lawyer for Kyagulanyi reported that about two dozen people, including the politician's brother, were detained to stop them greeting him at the airport.
The 36-year-old now faces treason charges leveled at him after supporters of a by-election candidate he backed in northwestern Uganda on Aug. 13 allegedly threw stones at a convoy carrying Museveni, who's ruled the country for more than three decades. On traveling to the U.S. two weeks later, he dismissed the accusations as politically motivated, alleged he had been tortured and called on Washington to review the aid it gives Uganda's government.
Footage on Uganda's NBS television channel showed Kyagulanyi arriving home.