Pompeo Trip Fails to Ease Questions Over U.S. Goals in Mideast
(Bloomberg) -- Secretary of State Michael Pompeo arrived in the Middle East a week ago on a mission to prove the Trump administration can be a reliable partner in tackling the region's thorniest problems. He returns having failed to stifle doubts that have dogged the U.S. for years.
With stops in eight countries in eight days, Pompeo sought to hammer home how different President Donald Trump's approach is from that of his predecessor Barack Obama: It will focus on countering, not embracing, Iran's regime. Despite Trump's decision to withdraw troops from Syria, Pompeo said the U.S. is committed to finishing the fight there against Islamic State. The U.S., he argued, is a "force for good."
But progress was slim. Missing throughout the trip was any concrete plan or vision for how to move beyond the problems that already bedevil the region -- from the 18-month diplomatic spat between the gas-rich state of Qatar and its Gulf neighbors to the investigation into the death of columnist Jamal Khashoggi, whose killing has become a hurdle for U.S.-Saudi ties.
In the background was the drumbeat of the continuing federal government shutdown, new reports about the investigations into Trump and Russia, and the president's own Twitter feed. It all made for weakened leverage for America's top diplomat.
"The U.S. rolls in hot without a plan or the architecture of policy planning and bureaucracy to support its aims," said Karen Young, a resident scholar at the American Enterprise Institute who focuses on the Middle East. "The underlying anxiety of dealing with the Trump administration, with its domestic upheaval, and its foreign policy towards the Middle East that changes daily, is exhausting and counterproductive to diplomacy."
Like his predecessor Rex Tillerson, Pompeo wasn't immune from the Trump Twitter treatment. The president fired off a missive on Sunday that threatened economic "devastation" against NATO ally Turkey if it attacked U.S.-allied Kurdish fighters in Syria after American troops withdraw.
Pompeo, who grew close to Trump when he served as CIA director, seemed uncharacteristically unprepared. Asked to explain the president's remark, Pompeo said only: "We apply sanctions in many places around the world. I assume he's speaking about those kinds of things, but you would have to ask him."
On Monday, almost 24 hours after his first tweet, Trump sent a much more conciliatory message, saying he had talked with Erdogan "about economic development between the U.S. & Turkey - great potential to expand!"
The original rationale for the trip had been for Pompeo to attend two strategic dialogues -- with Qatar and Kuwait -- that the State Department deems crucial for U.S. interests.
He took advantage of those appointments to visit other allies such as Egypt, Iraq and the Gulf states to underscore the Trump administration's commitment to its allies.
That included a keynote speech in Cairo that emphasized that Trump, who abandoned the 2015 Iran nuclear accord, believes the leadership in Tehran is the primary threat to the region. Pompeo castigated the Obama administration as too timid, convinced that it was a "force for what ails the Middle East."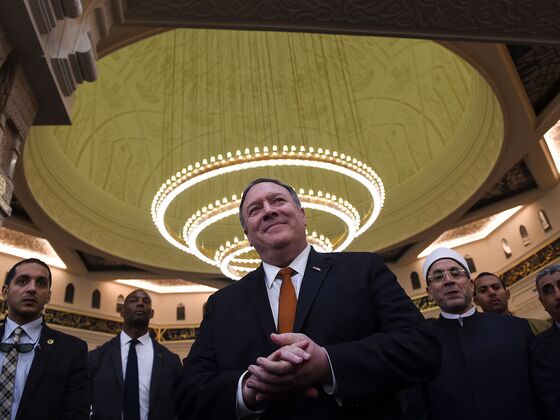 "So today, what did we learn from all of this?" he asked. "We learned that when America retreats, chaos often follows."
That message continued to be muddled over the U.S. goals in Syria, where Trump has promised to withdraw 2,000 U.S. troops but went from saying they'd be coming home "now" to insisting it would happen "slowly."
Pompeo said planning was well underway for the troops to withdraw, but in a subsequent meeting with reporters, he insisted that the departure would have no major impact on the administration's ability to carry out military action in the region.
"Their approach is rhetorical and in many ways not unlike Obama's approach -- there is a big gap between the big speeches and the policy," said Brian Katulis, a senior national security fellow at the Center for American Progress. "The message coming from the actions from this administration -- and the previous administration -- is, 'You're on your own.'"
A stopover by Pompeo in Iraq was geared as much toward damage control -- healing a rift over Trump's trip to the country last month, when he didn't meet the nation's new leaders -- as it was about reinforcing the U.S. commitment to Iraq's stability.
Pompeo's most significant stop was Saudi Arabia, where he had rushed in October in the wake of Khashoggi's killing by Saudi officials in Istanbul. At the time, the secretary of state faced criticism back home for photographs that showed him smiling broadly in his meetings.
This time, the photos that were made public showed Pompeo's expression was stern -- as were his words, even though he indicated that the U.S. isn't about to sacrifice its broader relationship with the kingdom over Khashoggi's case.
"Our expectations have been clear from early on -- every single person who has responsibility for the murder of Jamal Khashoggi needs to be held accountable," Pompeo said. He didn't say how that would be possible considering that U.S. intelligence agencies believe the leader Pompeo was meeting with, Crown Prince Mohammed Bin Salman, ordered the killing or at least knew about it in advance.
Pompeo's messaging in the Middle East was weakened by the reality that the administration still has no confirmed assistant secretary of state for Near Eastern affairs or confirmed ambassadors in several of the countries where Pompeo stopped -- including Saudi Arabia.
Many of the staff helping Pompeo were doing so without pay, thanks to the partial government shutdown back home. Meeting embassy workers in Doha, he was asked about when the shutdown might lift, and responded, to applause, "I hope it ends tomorrow."
"As I have traveled these days with a shutdown underway, you all get that we still have a mission," Pompeo said. "It's the nature of our democracy that these things happen."