U.S. Sets Two-Month Deadline on Russia Over 1987 Nuclear Treaty
(Bloomberg) -- The U.S. is giving Russia two months to get back in compliance with a 1987 treaty on nuclear weapons before carrying out President Donald Trump's threat to withdraw from the accord, Secretary of State Michael Pompeo told NATO allies in Brussels on Tuesday.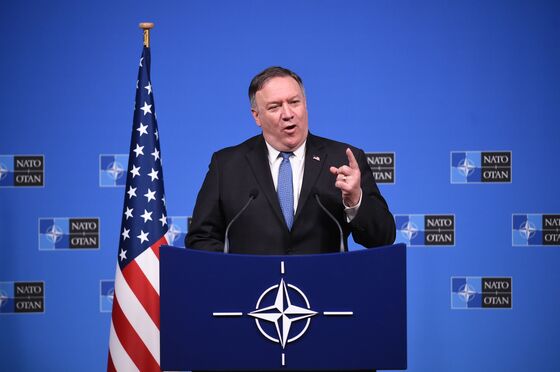 NATO partners agreed with the U.S. position that Russia has jeopardized the Intermediate-Range Nuclear Forces Treaty for years by deploying ground-launched missiles that fall within the banned range of 500 kilometers (311 miles) to 5,500 kilometers. While not echoing the two-month deadline, the 29-nation alliance said in a statement late Tuesday that the Kremlin needs to show compliance "urgently." Russia denies that it's violating the agreement.
"We must confront Russian cheating on their nuclear obligations," Pompeo said at the conclusion of the North Atlantic Treaty Organization meeting. "Our nations have a choice: We either bury our head in the sand, or we take common-sense action in response to Russia's flagrant disregard for the express terms of the INF Treaty."
Pompeo's effort builds on increasing frustration in the West over Russian behavior following its firing on Ukrainian ships in the Sea of Azov near Crimea last week, which resulted in the capture of Ukrainian sailors who the U.S. says should be freed immediately. Trump canceled a planned meeting with President Vladimir Putin in Argentina last week over the issue.
The Ukrainian move was just the latest in a long list of issues widening the divide between Russia on the one hand and Europe and the U.S. Others include Russian interference in the 2016 U.S. presidential election and the alleged poisoning of a former spy living in the U.K. by use of a banned chemical agent. Pompeo also cited what he said was Russian intransigence on conflicts from Georgia to Syria.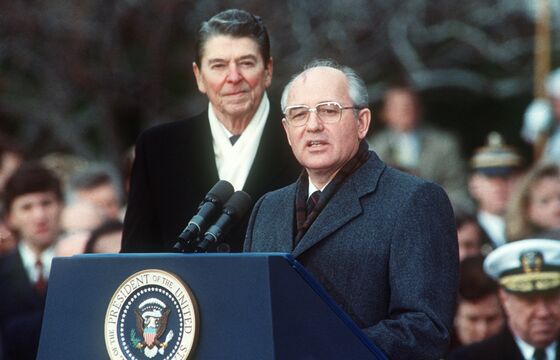 For its part, Russia has repeatedly denied violating the INF treaty and instead accuses the U.S. of breaching it. Russian Defense Minister Sergei Shoigu warned earlier Tuesday that pulling out of the accord signed by Ronald Reagan and Mikhail Gorbachev would trigger an arms race, Interfax reported.
"Russia is unlikely to yield to US/NATO ultimatum on its cruise missile which US says violates #INF treaty. Should this happen, Washington will successfully shift burden for INF cancellation on Moscow," Dmitri Trenin, director of the Carnegie Moscow Center, wrote on Twitter Tuesday.
But NATO Secretary General Jens Stoltenberg predicted the accord will collapse and called the two-month window offered by the U.S. a "last chance" for Russia. "But we must also start to prepare for a world without the treaty," he told reporters in Brussels after Pompeo spoke.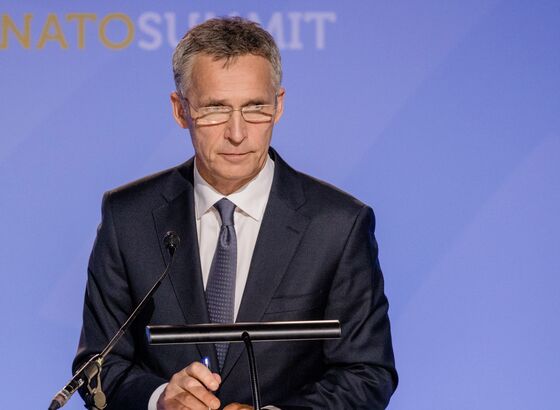 Trump said in October that he would pull out of the INF treaty. National Security Adviser John Bolton later said it's an outdated agreement that doesn't address the rising military threat from China, a position that Pompeo alluded to in his speech Tuesday and that was seconded by Republican Senator Tom Cotton, a foreign policy hawk close to Trump.
"Moscow has deployed intermediate-range weapons that can strike at the heart of Europe --in violation of their treaty commitments -- while Beijing stockpiles missiles in an attempt to limit American action in the Pacific," Cotton said in a statement. "We need to change old policies to ward off new threats."
In Europe, however, there's been less support for abandoning the INF agreement. NATO has in the past credited the treaty with playing a crucial role in ensuring security for 30 years by ending the proliferation of ground-launched intermediate-range nuclear missiles.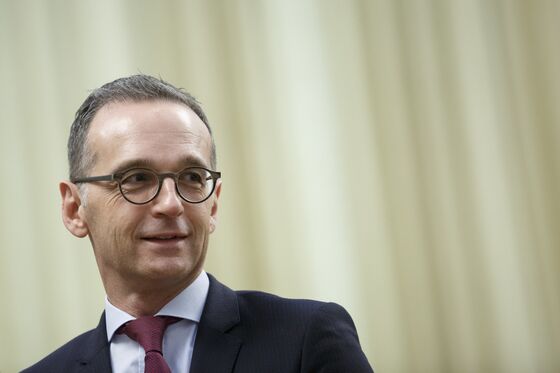 Trump's announcement in October raised "difficult questions for Europe," German Foreign Minister Heiko Maas said in a statement at the time. While Russia has failed to resolve allegations of treaty breaches, the U.S. should "reflect on the possible consequences" of a pullout, he added.
The Trump administration also has received opposition from key foreign policy lawmakers on Capitol Hill. On Monday, Democratic Senators Mark Warner, Jack Reed and Bob Menendez said quitting the accord unilaterally would be a "political and geostrategic gift to Russia," allowing it to expand production and deployment of missiles the treaty sought to constrain.
Withdrawing "takes the focus away from Russia's transgressions and malign behavior and instead feeds a narrative that the United States is willing to shred our commitments unilaterally without any strategic alternative," the senators said in a letter to Trump.
With the NATO gathering concluding, Stoltenberg said he regretted that a "pillar" of Cold War diplomacy was likely to crumble.
"We don't want a new arms race, we don't want a new Cold War," he said.