Pompeo Signals Some Turkey Sanctions Could Be Lifted
(Bloomberg) -- U.S. Secretary of State Michael Pompeo signaled that some sanctions imposed on Turkey over its detainment of pastor Andrew Brunson could be eased now that the American has been freed.
While Pompeo cautioned that no final decision has been made, he said there is a "logic" to doing so following Brunson's release on Oct. 12.
The lira extended gains following Pompeo's comments. The currency strengthened 1.2 percent to 5.6166 per dollar at 10:51 a.m. New York time.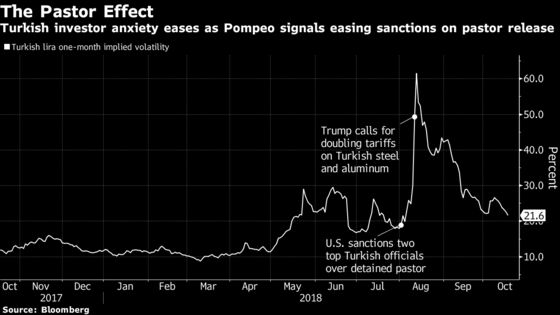 "Some of the sanctions that were put in place were directly connected to pastor Brunson and there's a logic to now removing those as well," Pompeo told reporters aboard his plane Wednesday after it departed Turkey.
While Pompeo didn't offer more details, the U.S. in August sanctioned Turkey's Minister of Justice Abdulhamit Gul and Minister of Interior Suleyman Soylu, for playing "leading roles in the organizations responsible for the arrest and detention of Pastor Andrew Brunson," according to a statement from the Treasury Department. While targeted, the restrictions added to the winds already buffeting investors and sent markets reeling.