Pompeo to Testify Before Senate Committee Following Deadlock
(Bloomberg) -- Secretary of State Michael Pompeo is set to testify before the Senate Foreign Relations Committee later this month after Republican lawmakers agreed to schedule hearings for his top three nominees over Democratic opposition, according to a letter from the panel's chairman.
The decision by Senator James Risch, the Idaho Republican who controls the committee, appears to break a deadlock with the State Department. Pompeo had defied bipartisan requests to appear for the customary hearing to answer questions about the State Department's 2021 budget until it considered department nominees he said were crucial.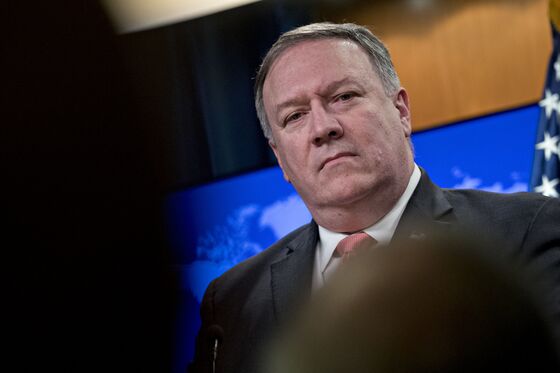 That dispute, borne in part from Democrats' concerns over some nominees and complaints that Risch was shirking the committee's oversight of the State Department, had ground its work to a halt for weeks. Pompeo's agreement to testify also amounts to a partial victory for the Democrats, who had protested his refusal to appear.
In the July 14 letter obtained by Bloomberg News, Risch said Pompeo is set to testify the week of July 27, one week after the committee holds hearings for the Trump administration's nominees for jobs including three that were a priority for Pompeo: undersecretary for arms control, assistant secretary for Western Hemisphere affairs and legal adviser.
"Since I have the responsibility of moving the process forward, I am writing to inform you of the path I have chosen for a robust agenda before the August recess," Risch wrote to Senator Robert Menendez of New Jersey, the top-ranking Democrat on the committee. "At some point, the members of this committee, as a body, must vote on whether to move the nominees forward."
A person familiar with the matter, who asked not to be identified discussing private correspondence, confirmed that Pompeo has agreed to testify. The State Department press office declined to comment.
In a letter last month, Pompeo had told Risch he wouldn't testify until confirmation hearings on the nominees of most concern to him were on the committee's agenda. The secretary hasn't gone before the committee that oversees his department since April 2019.
Democrats say that Pompeo's refusal to testify amounted to an extraordinary defiance of congressional oversight. Pompeo largely refused to cooperate with the Ukraine impeachment inquiry before the House, where he was once sat as a representative from Kansas. And he has subsequently clashed with Menendez over the decision in May to fire State Department Inspector General Steve Linick.
In their own letter in June, all 10 Democrats on the committee accused Risch of failing to stand up to the Trump administration and told him they wouldn't consider nominees unless he scheduled more substantive policy hearings as well, including by Pompeo.
"When the secretary of State is allowed to rebuff us, it sets the tone for the entire department," the Democrats wrote in the June 17 letter.