Afghanistan Talks on Hold After Trump Blames Taliban for Setback
(Bloomberg) -- Talks between the U.S. and the Taliban are off and the American envoy to Afghanistan was recalled after President Donald Trump said he canceled secret meetings at Camp David this weekend intended to allow a drawdown of U.S. forces after 18 years in the war-torn country.
Secretary of State Michael Pompeo on Sunday defended the administration's efforts to press for a deal with the Taliban, despite a persistent string of attacks across Afghanistan for months, saying it was a risk worth taking in order to try to save the lives of American soldiers and reduce costs he estimated at $30 billion per year.
"If you're going to negotiate peace, you often have to deal with some pretty bad actors," Pompeo said on ABC during one of five televised interview appearances. "We understand who the Taliban are, we're clear eyed." He added that the administration would be weighing whether to try to go forward with troop withdrawals "in the coming days," despite the breakdown.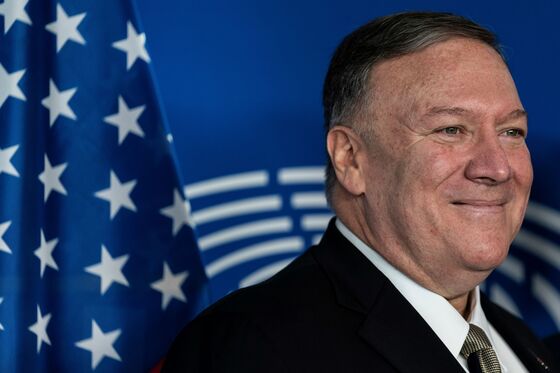 Trump said Saturday that he canceled the previously-undisclosed meetings and discontinued peace negotiations after a U.S. soldier was among a dozen people killed in a bomb blast in Kabul on Thursday. Pompeo said Trump didn't want to reward the Taliban for bad behavior, despite progress having been made in talks.
Pressed about the timing of hosting Taliban officials in the U.S. -- and at the symbolic Camp David retreat in Maryland -- days before the anniversary of the Sept. 11, 2001, terror attacks, Pompeo repeatedly said that was the president's call.
"President Trump ultimately made the decision," Pompeo said on Fox News. "He said 'I want to talk to President Ghani. I want to talk to these Taliban negotiators. I want to look them in the eye.'"
But the administration's sudden about-face also appeared to underscore unease among his top advisers at the long-shot effort to secure a deal in a country still riven by violence. U.S. talks with the Taliban focused on ways of begin reducing American troop levels after the Islamist group and President Ashraf Ghani's government began their own negotiations toward peace, a process that doesn't appear close to starting. The Taliban have ridiculed Ghani as an American puppet and refused to talk with him.
As a decision neared on finalizing an agreement, Trump had a meeting with a core group of national security advisers about a week ago at the White House, according to an official familiar with the plans. The idea of bringing Ghani and the Taliban to the U.S. for talks emerged from that meeting. At that meeting, the person said, it was clear that National Security Adviser John Bolton wasn't comfortable with the proposal.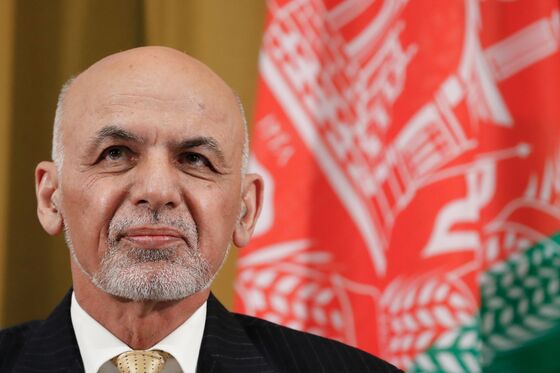 Asked whether U.S. special envoy on Afghan reconciliation Zalmay Khalilzad's peace efforts are dead, Pompeo said "he's coming home for now." On NBC's "Meet the Press," Pompeo said it "absolutely the case" that talks are off completely." But he also said, "We're still at this hard, we'll still be at it hard," Pompeo said on CBS.
"I hope it's the case that the Taliban will change their behavior, will recommit to the things that we've been talking to them about for months," Pompeo said on ABC.
Trump surprised many officials in his own administration on Saturday evening when he said in a series of three tweets that he'd called off the previously unreported talks because the Taliban representatives "probably don't have the power to negotiate a meaningful agreement anyway."
The Taliban admitted to an attack in Kabul that killed 12 people -- including an American soldier -- in order to "build false leverage," Trump said. "What kind of people would kill so many in order to seemingly strengthen their bargaining position?"
On Thursday, a U.S. soldier and Romanian service members were among those killed when a Taliban car bomb exploded near the U.S. embassy in Kabul. It was the second major attack there in a week, even as the protagonists were nearing a peace deal that's been months in the making.
At the time, Ghani decried the attack in the "strongest terms," saying that making peace with Taliban militants who are still killing "innocent people will be pointless," according to an emailed statement.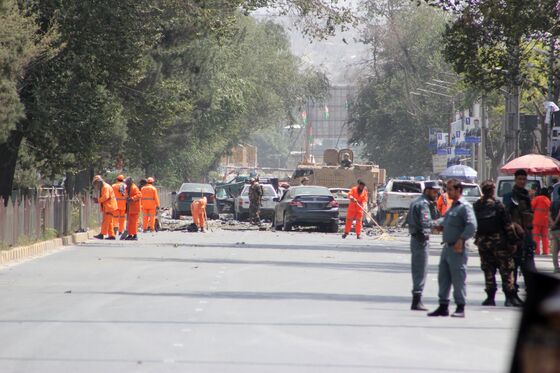 But the attack was hardly outside the norm for what has become a steady barrage of deadly strikes by both the Taliban and terrorist forces in Afghanistan. An Islamic State-claimed suicide bombing at a wedding hall last month killed more than 60 people. Taliban-claimed attacks killed seven Afghan policemen in early August, while a car bombing killed at least 12 people and wounded more than 30 school children in early July.
While American forces ousted the Taliban from running Afghanistan's government in late 2001, the group -- which still praises the 9/11 attacks -- controls or contests about half the country.
Khalilzad had projected public optimism in recent days that talks would succeed, saying in a tweet days ago that "we are at the threshold of an agreement that will reduce violence and open the door for Afghans to sit together to negotiate an honorable & sustainable peace and a unified, sovereign Afghanistan that does not threaten the United States, its allies, or any other country."
But Bolton argued that Khalilzad was accepting terms from the Taliban that were too vague. So instead of hosting potentially historic peace talks, the president traveled via motorcade to his golf club in northern Virginia on Sunday morning.
The Afghan government said it's committed to working with the U.S. and allies in bringing peace, according to a statement from Ghani's press office on Sunday in response to Trump's tweets. About 14,000 U.S. troops are in Afghanistan and the administration has signaled it wants to initially reduce that to about 8,600.
"The government considers the Taliban's obstinacy to increase violence against Afghans as the main obstacle to the ongoing peace negotiations," according to the statement. "We have consistently stressed that genuine peace is possible when the Taliban stop the killing of Afghans, embrace an inclusive ceasefire, and enter into direct negotiations with the Afghan government."
The breakdown in negotiations raises the prospect that Trump won't be able to deliver on his campaign pledge to bring troops home -- or that if he does, the result will be revived Taliban rule with no assurances the group would curb terrorists.
"No one thinks it's great that we have to negotiate with the Taliban, but the reality is that if we want to ensure our security interests in Afghanistan in a sustainable way it requires some kind of settlement to the civil war that's been going on in Afghanistan for the last 40 years," said Richard Olson, a former special representative for Afghanistan and Pakistan under President Barack Obama.
"My suspicion is that the president had seen the opposition building in certain quarters, particularly among conservatives, but others as well, and it was too much," Olson said.
Indeed, Republican Representative Liz Cheney of Wyoming, daughter of one of the architect's of the U.S. invasion of Afghanistan, former Vice President Dick Cheney, decried the notion of hosting Taliban leaders at Camp David.
"Camp David is where America's leaders met to plan our response after al Qaeda, supported by the Taliban, killed 3000 Americans on 9/11," Liz Cheney said on Twitter. "No member of the Taliban should set foot there. Ever."