Pompeo Weighing Kansas Senate Bid in 2020, Source Says
(Bloomberg) -- Secretary of State Michael Pompeo is weighing a 2020 bid for the Kansas Senate seat that will open with the planned retirement of fellow Republican Pat Roberts, according to a person familiar with his thinking.
Pompeo met in recent days with Republican political strategist Ward Baker and spoke by phone with Senate Majority Leader Mitch McConnell about the possibility, according to the person, who asked not to be identified because Pompeo hasn't spoken publicly about the possibility.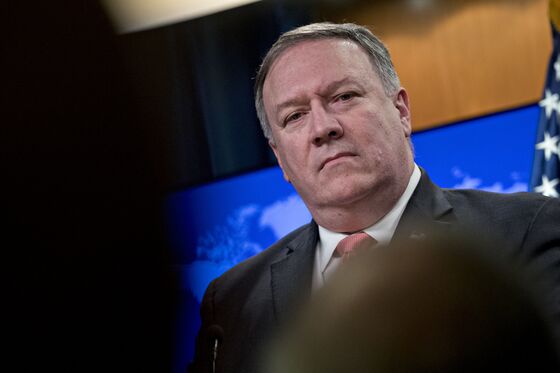 Asked about Pompeo's plans, State Department spokesman Robert Palladino said the secretary was "focused on serving the president and protecting the American people as secretary of state." A McConnell spokesman and Baker's office didn't immediately return emails seeking comment on Pompeo's potential candidacy, which Politico reported earlier.
Pompeo, who represented the Wichita area in the House of Representatives for six years before becoming President Donald Trump's CIA director in 2017, has made no secret about his ambitions for higher office in the past, even at the risk of upsetting members of his own party.
He incurred the ire of some Kansas Republicans in 2016 when he criticized Senator Jerry Moran and declined to rule out a primary challenge. Earlier, he had said he was weighing a run for House speaker.
Claiming a Senate seat would also give Pompeo other options -- including laying the groundwork for a potential run for the presidency in 2024, according to the person familiar with his thinking.
Pompeo has plenty of time to make a decision on a Senate bid, the person said, because the filing deadline isn't until 2020.
As Trump's top diplomat, Pompeo has echoed the president's "America First" theme in foreign policy since replacing Rex Tillerson, who was fired by Trump for resisting that approach. As a House member, he won praise from Republican conservatives for his relentless efforts to blame Secretary of State Hillary Clinton for the death of Americans in a terrorist attack in Benghazi, Libya.
Pompeo, who also emphasizes his evangelical Christian faith, has kept in touch with his political base as secretary of state, granting interviews to Kansas-based radio stations and news outlets aimed at a Christian audience.
Pompeo could face a crowded field for the Kansas Senate seat. Former state Secretary of State Kris Kobach, a staunch Trump loyalist, told the Associated Press last week that he was mulling a run.