Lawmakers Warn Pompeo of Possible Charges: Impeachment Update
(Bloomberg) -- House Democrats accelerated their impeachment inquiry into President Donald Trump's interactions with Ukraine's president, issuing a subpoena that seeks documents from his personal lawyer Rudy Giuliani.
Secretary of State Michael Pompeo has until the end of the week to turn over documents subpoenaed by three House committees. Pompeo was among those listening in on Trump's July 25 phone call with Ukraine President Volodymyr Zelenskiy, according to a person familiar with the matter.
Here are the latest developments:
Chairmen Accuse Pompeo of Conflict of Interest (10:17 p.m.)
Three Democratic House chairmen turned up the heat on Pompeo -- warning him of possible criminal charges -- after he rejected a plan by their committees to take testimony from five State Department officials starting Wednesday.
In a letter on Tuesday night, Intelligence Chairman Adam Schiff, Oversight & Reform Chairman Elijah Cummings and Eliot Engel, the chairman of the Foreign Affairs Committee said Pompeo "appears to have an obvious conflict of interest" because he listened to the call.
If that's the case, the chairmen wrote, "he should not be making any decisions regarding witness testimony or document production in order to protect himself or the president."
The lawmakers said that State Department officials who interfere with congressional inquiries could face criminal charges or the withholding of their salaries.
Earlier Tuesday, Pompeo called the proposed depositions an attempt to "intimidate, bully, & treat improperly" his employees.
State's Watchdog to Brief House on Ukraine Documents (6:12 p.m.)
The State Department's inspector general plans to brief several House committees Wednesday about documents related to Ukraine, according to a House official familiar with the matter.
Pompeo has been subpoenaed to provide documents by Friday to House committees, but it wasn't clear whether those documents are the subject of Wednesday's briefing.
That subpoena demands that Pompeo produce, among other things, "a full list of any department officials who participated in, assisted in preparation for, or received a readout of the July 25 call" between Trump and the Ukraine president.
ABC News reported earlier that Senate committees also will be briefed by the inspector general.
Volker to Testify Despite Pompeo Letter (5:02 p.m.)
Kurt Volker, who resigned last week as U.S. special representative to Ukraine, has confirmed that he'll testify in private on Thursday in front of three House committees as part of their impeachment investigation, according to an official from one of the committees.
Volker resigned on Friday after he was named in a whistle-blower's complaint over Trump's telephone call with Zelenskiy.
Earlier Tuesday, Pompeo accused House committees of trying to "bully" State Department staff by calling them to testify starting this week.
Marie Yovanovitch, the former ambassador to Ukraine, will appear in front of the panels on Oct. 11, the official said. Yovanovitch was U.S. ambassador to Ukraine from 2016 to 2019, and she still is in the foreign service. Trump recalled her to Washington on May 20, the day of Zelenskiy's inauguration.
McGahn Asks Judge to Block Testimony (4:18 p.m.)
Attorneys for former White House Counsel Don McGahn asked a federal judge to deny a House Judiciary Committee request to enforce a subpoena for his testimony.
McGahn, who resigned last October and refused to comply with a subpoena issued in April, said in a court filing Tuesday that he's immune from compelled testimony because of his former role as an "immediate adviser" to Trump.
U.S. District Judge Ketanji Brown Jackson's ruling in the matter could provide a road map for future proceedings in House efforts to demand testimony from Trump administration insiders as part of Democrats' impeachment inquiry.
Presidential autonomy and confidentiality would be "impermissibly and irreparably impaired if his immediate advisers could be summoned to publicly account for the advice and assistance they gave to the president the moment they left office," McGahn's lawyers told the judge in court papers.
Alternatively, McGahn's lawyers suggested the judge delay the matter to allow negotiations between both sides. Arguments are set for Oct. 31.
Giuliani's Lawyer Is Ex-Watergate Prosecutor (3 p.m.)
Attorney Jon Sale confirmed in an interview that he's representing Giuliani in the congressional investigations.
Sale said he couldn't say yet whether Giuliani will comply with the subpoena.
"I've been representing Rudy for less than a day," he said. "It's a complex issue. A lot of potential privileges."
Sale, of Miami, was an assistant to Watergate Special Prosecutors Archibald Cox and Leon Jaworski during the early 1970s. He later served as chief assistant U.S. attorney in Florida's southern district.
Democrats Warn Pompeo on Blocking Witnesses (2:31 p.m.)
Three House committee chairmen called on Pompeo to "immediately cease intimidating" State Department witnesses. Earlier Tuesday, Pompeo rejected the committees' plan to take testimony starting Wednesday from several State Department officials.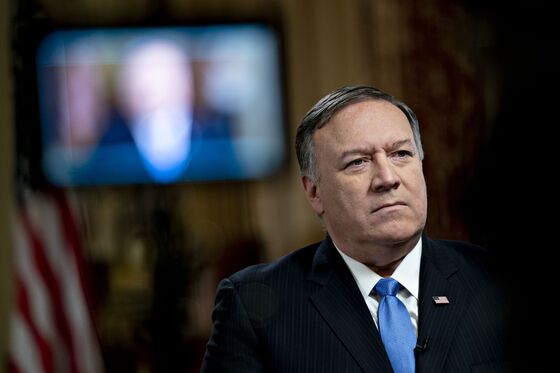 "Any effort to intimidate witnesses or prevent them from talking with Congress —including State Department employees — is illegal and will constitute evidence of obstruction of the impeachment inquiry," the chairmen of the Foreign Affairs, Intelligence, and Oversight and Reform said in a statement.
The chairmen said that if reports that Pompeo listened to the July 25 call between Trump and Ukraine's president are correct, "Secretary Pompeo is now a fact witness in the House impeachment inquiry."
The chairmen are Eliot Engel of Foreign Affairs, Adam Schiff of Intelligence, and Elijah Cummings of Oversight and Reform.
Zelenskiy Says He Never Spoke with Giuliani (1:01 p.m.)
Zelenskiy said he never met or spoke by phone with Trump's personal lawyer Rudy Giuliani, whose Ukrainian contacts are now part of an impeachment inquiry in Washington.
"I have never met Rudy Giuliani. Never. And never had any phone calls with him," Zelenskiy told reporters in Ukraine's capital Kyiv on Tuesday, speaking in English.
The president reiterated he was not under pressure from Trump to investigate Joe Biden during a call on July 25.
"I want to tell you that I never feel any pressure and there are very many people in the west and in Ukraine who would like to influence me," Zelenskiy said. "But I am a president of independent Ukraine and I think that, and I hope my steps demonstrate this, that it is impossible to influence me."
Zelenskiy also said that the transcript of the conversation, released by the White House, is similar to the Ukrainian version.
"This is the same text. I spoke Ukrainian and President Trump unfortunately did not speak Ukrainian, he spoke English," Zelenskiy said. -- Volodymyr Verbyany and Kateryna Choursina
DOJ Says Barr Not Asked to Investigate Biden (12:03 p.m.)
Attorney General William Barr hasn't been asked by Trump to investigate political rival Joe Biden, a Justice Department official said Tuesday.
Barr also hasn't talked with Trump's personal lawyer, Rudy Giuliani, about doing an investigation or anything having to do with Ukraine, the official said.
Barr has been drawn into controversy because Trump told the president of Ukraine to work with the attorney general and Giuliani on investigating Biden, as well as on probing the origins of the investigation into whether Trump's presidential campaign conspired with Russia to interfere in the 2016 election.
Barr is reviewing what U.S. intelligence agencies did in 2016 and has met with officials from Italy and Australia, the official said. Barr has tasked U.S. Attorney John Durham to lead that review. Durham hasn't spoken with Giuliani in many years, the official said. -- Chris Strohm
Poll Shows Disapproval of Trump Actions (11:35 a.m.)
Just over six in 10 Americans, 63%, say it's wrong for a U.S. president to request help from a foreign leader to investigate a political rival and about the same proportion believe Trump probably did just that, according to a Monmouth University poll released Tuesday.
Those polled are less sure whether Trump made promises or put pressure on Ukraine's president in return for investigating former Vice President Joe Biden and his son, with 45% saying that the president exerted some pressure. The poll also found almost two-thirds of Americans said it was inappropriate for the director of National Intelligence to withhold a whistle-blower complaint from Congress.
There was a slight increase in the support for impeachment from earlier this year with 44% of Americans saying that Trump should be impeached and removed from office, up from 35% in August. Still, 52% of Americans disagree with this course of action, according to the poll.
Patrick Murray, the director of polling, said support for impeachment has increased over the last week, but is not significantly higher than where it has been at other points in Trump's presidency. -- Daniel Flatley
Grassley Calls for Protecting Whistle-Blower (11:08 a.m.)
Republican Senator Chuck Grassley said the whistle-blower who raised an alert about Trump's call with Ukraine's president followed the law and deserves to be "heard out and protected."
The statement from the senior Republican lawmaker, long a proponent of whistle-blower protections, represents a rebuke of Trump's call for the anonymous intelligence official to be unmasked and questions from other Republican lawmakers about the complaint's credibility because it wasn't entirely based on first-hand knowledge.
"No one should be making judgments or pronouncements without hearing from the whistle-blower first and carefully following up on the facts," Grassley said. "When it comes to whether someone qualifies as a whistle-blower, the distinctions being drawn between first- and second-hand knowledge aren't legal ones." -- Erik Wasson
Pompeo Rejects Panel's Deposition Request (10:44 a.m.)
Pompeo rejected a House committee's plan to take testimony starting Wednesday from several State Department officials. He said the proposed dates were "not feasible," in a letter to Foreign Affairs Committee Chairman Eliot Engel.
Pompeo said in the letter he's "concerned" about portions of the request for information from the State Department and its employees. The committee appears to trying to "intimidate, bully, & treat improperly the distinguished professionals of the Department of State," he wrote.
"Let me be clear: I will not tolerate such tactics, and I will use all means at my disposal to prevent and expose any attempts to intimidate the dedicated professionals whom I am proud to lead and serve alongside at the Department of State," Pompeo wrote.
Pompeo, who is currently traveling in Italy, will face considerable congressional scrutiny over Ukraine, now that it's known he heard the Trump-Zelenskiy exchange on July 25. Pompeo brushed off the whistle-blower's complaint at a news briefing on Friday in New York, saying he hadn't read the document. -- Nick Wadhams
Trump's private lawyer Rudy Giuliani was subpoenaed for documents Monday by Democrats on the House Intelligence Committee, as the impeachment inquiry accelerates.
Secretary of State Mike Pompeo and Attorney General William Barr were drawn deeper into the inquiry. Pompeo listened to a July 25 phone call between Trump and Ukraine's president, according to a person familiar with the matter. The Justice Department said Barr asked Trump to contact "other countries" for help with a probe into the origins of the investigation of Russian interference in the 2016 election.
The intelligence community's inspector general said the law doesn't require first-hand knowledge for whistle-blower complaints. Some Republicans have asked about recent changes used to forms used for whistle-blower complaints and have tried to dismiss the one about Trump as "hearsay."