Pompeo, Esper Push Closer India Ties to Counter China Threat
(Bloomberg) -- U.S. Secretary of State Michael Pompeo and Defense Secretary Mark Esper pushed for closer ties with India at a high-level ministerial meeting with their Indian counterparts, at a time when New Delhi is facing a prolonged border conflict with China.
"The United States will stand with the people of India as they confront threats to their sovereignty and to their liberty," Pompeo said after the U.S. officials met with foreign minister Subrahmanyam Jaishankar and defense minister Rajnath Singh at the 2+2 meeting in New Delhi Tuesday.
The two sides discussed cooperation on pandemic response and challenges in the Indo-Pacific region. They signed a number of agreements including one that will give New Delhi access to U.S. geo-spatial intelligence to help improve the accuracy of automated hardware systems, missiles and drones, according to an Indian defense ministry statement.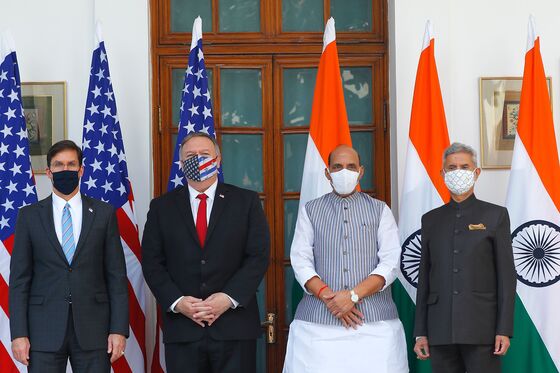 Pompeo said the challenge of defeating "the pandemic that originated from Wuhan fed into the robust discussions about the Chinese Communist Party."
The talks took place barely a week before the presidential election in the U.S. and at a time when India, a member of the informal four-nation Quad grouping along with America, Japan and Australia, is in talks to de-escalate military tensions with Beijing.
"The agreements signed today clearly show that India and the U.S. are not shying away from closer security and intelligence cooperation," said Rajeswari Pillai Rajagopalan, a distinguished fellow at the New Delhi-based think tank Observer Research Foundation. "It is also a clear message to China that it stands with India in the ongoing conflict. And that there will be more cooperation between nations like India and the U.S. in the Indo-Pacific region."
The Chinese Embassy in New Delhi issued a statement on Wednesday criticizing Pompeo and Esper for "openly attacking China and the Communist Party of China during their visit to India."
"The U.S. officials repeated old lies, attacked and made allegations against China," statement said. "The Chinese side expresses its firm opposition to it."
India's Singh called on American defense companies to take advantage of the easing of foreign direct investments rules in the sector. The talks are expected to boost New Delhi's defense purchases from the U.S., currently at $20 billion, and help address its security concerns in the Indian Ocean region as it seeks to compete with China.
Pompeo is scheduled to visit Sri Lanka, the Maldives and Indonesia later in the week. The U.S. has been increasingly concerned about China expanding its influence in the region through infrastructure and security investments in smaller neighbors. Beijing committed $126 billion in Central and South Asia between 2000-2017, of which $120 billion was for infrastructure, according to Virginia-based AidData.
Meanwhile, India is working with U.S. companies on vaccines and is committed to building "more resilient and trusted" supply chains, Jaishankar said. With over 7.9 million infections India is the second-most virus affected nation after the U.S.
India is "now focused on recovery, resilience and reforms," as it welcomes an expanded partnership with the U.S., Jaishankar added.